Color TV Day
Today in 1951, the CBS network broadcast the first color television show. The variety show included Arthur Godfrey, Ed Sullivan, Garry Moore and Robert Alda with several others, and featured appearances by the chairman of the FCC and the chairman and president of CBS. Only special color-ready TVs could pick up the broadcast, which was sent out to Washington, D.C., Boston, Philadelphia and Baltimore from the network's New York studio; black-and-white sets couldn't see the telecast at all.
While this was the first commercial broadcast with 16 sponsors, color television had been in development for a decade. CBS first demonstrated a color system in August 1940, and NBC was secretly developing their own color broadcasts. In fact, NBC supposedly set up a color broadcast from 30 Rockefeller Plaza in 1943 to Princeton, New Jersey. The show featured a young Jerry Lewis, famed dancer Bill "Bojangles" Robinson and Arlene Woods. The telecast went out to a single viewer, but he held more scientific clout than anyone else: Albert Einstein. After the show, the cast was driven to New Jersey to meet their lone audience member. Forget Twitter: this was the first immediate feedback for a television program.
While we don't know what his reaction was, we do know that he and Lewis discussed the theory of relativity. That moment should have been the first color broadcast!
Day of The Seafarer
June 25 is observed worldwide as the Day of the Seafarer.
In 2010, the International Maritime Organization (IMO), decided to designate June 25th as the International Day of the Seafarer as a way to recognize that almost everything that we use in our daily lives has been directly or indirectly affected by sea transport.
The purpose of the day is to give thanks to seafarers for their contribution to the world economy and the civil society; and for the risks and personal costs they bear while on their jobs.
According to IMO's estimates, ships transport almost 90 percent of the world's goods trade. Seafarers are not only responsible for the operations of such ships, but are also responsible for the safe and smooth delivery of the cargo.
The day not only acknowledges the invaluable work of seafarers, but also aims to bring global attention to the issues affecting their work and lives, such as piracy. It calls on governments to develop policies that lead to fair treatment of seafarers at ports, and asks private ship companies and owners to provide their employees proper facilities and comforts while they are at sea.
Since 2011, the IMO has taken the celebration of the Day of the Seafarer online, calling for the public to use social media such as Facebook and Twitter, to voice their support for seafarers and to thank them for their work.
The United Nations has now included the Day of the Seafarer in its list of observances.
Global Beatles Day
June 25 is the 48th anniversary of the Beatles' worldwide TV broadcast in 1967 of "All You Need Is Love" on the "Our World" program seen by satellite all over the world.
It's also "Global Beatles Day," a now annual celebration of the phenomenon and music of the Beatles that originated in 2009. And at the center of it is "All You Need Is Love," both the song and the words.
"The purpose is to have a globally recognized day to thank and acknowledge the Beatles for all they have done to change the world," says Faith Cohen, the originator of the idea.
Why a holiday to remember the Beatles?
"When I launched my idea of Global Beatles Day in February of 2009, I was aware that there was a Beatles Day held in Liverpool on July 10th," Cohen said in 2011.
Liverpool's Beatles Day commemorates July 10, 1964, a special day in Liverpool. It was the day the Beatles returned to Liverpool from America. It was also the premiere date for their first movie, "A Hard Day's Night."
"I felt my idea of a 'Global Beatles Day' was different," she said. "The date I chose has a particular meaning in the global sense. It was the first global transmission ever and the Beatles were a part of that, singing 'All You Need Is Love.'"
"My idea was to have a global holiday that would not pigeonhole the Beatles' contributions or their impact on the world. It is not limited to their amazing and transcendent music."
Cohen helped get word about Global Beatles Day to at least one of the Beatles when she gave a Global Beatles Day shirt to Paul McCartney's wife Nancy Shevell at a concert in Cincinnati.
Fans don't have to do anything. As the event's Facebook page says, "Just a day set aside to reflect, promote good ideas, and send good intentions into the present which becomes the future. It is not about being a 'fan.' It is about so much more."
National Bomb Pop Day
Invented in 1955 in Kansas Missouri, National Bomb Pop Day is celebrated each year on the last Thursday of June. Bomb Pops are known to people as the red, white and blue Popsicle! Having one of these frozen treats is a great way to kick off the upcoming 4th of July celebrations in your community!
Bomb Pops are a frozen confection currently manufactured by Blue Bunny. The original flavor contains Cherry, Lime, and Blue Raspberry flavorings. As of 2015, there are 8 main Bomb Pop flavors. The current Bomb Pop flavors are Original, Watermelon, Hawaiian Punch, WARHEADS, Jolly Rancher, Original Sugar Free, Banana Fudge, and Tongue Splashers.
Bomb Pops were invented by James S. Merritt and D.S. Abernethy in Kansas City, Missouri on July 30, 1955. When D.S Abernethy's company Merritt Foods closed down, Wells' Dairy bought the business including Bomb Pops.
In 1999, Stephen Labaton of The New York Times used bombpop.com as an example of why there needs to be new rules to protect children's privacy. Any child that wanted to win a Nintendo Game Boy had to fill out their personal information including their address.
In 2003, The Walt Disney Company made a deal with Wells' Dairy to release Buzz Lightyear Bomb Pops.
Blue Bunny celebrated Bomb Pops' 50th anniversary in 2005 by starting a sweepstakes. The sweepstakes included giving a trip to Disneyland to two winners and giving 50 winners a Game Boy Advance. The 50th anniversary was also the start of National Bomb Pop Day which is celebrated on the last Thursday in June.
National Catfish Day
Today is National Catfish Day! Catfish is a versatile and delicious type of fish that is usually associated with Cajun-style cooking. In fact, about 95% of the nation's catfish comes from Mississippi, Arkansas, Alabama, and Louisiana. In traditional recipes, each catfish fillet is coated with a blend of spices and then fried or blackened in a cast-iron skillet.
Did you know that catfish is one of the most sustainable species of fish? Most of the catfish we eat is farm-raised, which is very eco-friendly. In 1987, President Reagan declared the first National Catfish Day to recognize the importance of the catfish farming industry.
To celebrate National Catfish Day, fry up some homemade catfish for dinner, or head to a local Cajun restaurant to sample a little taste of the South!
National Handshake Day
The last Thursday of each June, people across the nation celebrate National Handshake Day.
Today, shake the hand of, at least one person, that you would not have on any other day. You may just want to wish them a good day while doing so.
The tradition of handshaking goes way back: "Archaeological ruins and ancient texts show that handshaking was practiced in ancient Greece as far back as the 5th century BC".
In order to give respect to the person you meet or greet, this day is celebrated to spread the importance of handshaking in our life. Even National Handshake Day is celebrated to make people aware of the proper gesture of handshaking and all.
National Handshake Day is being evident from the past era, that handshaking is the perfect gesture for greeting and sending your message to the others in a meeting. National Handshake Day is important in various public meets like:
show
meeting
call
interview
National Handshake Day is from the first day of greeting that incorrect handshaking has the power breaking or building relation with the other. Proper handshaking is the gateway to the prospective business deal. Hand shaking is the vehicle of conveying message of trust, friendliness and warmth. Proper handshaking is the means of making person ensured how much confidence you have in you.
According to one survey by the Incomm Center for Trade Show Research, many visitors of trade show reacts to the handshake by being very open and friendly. This study has opened the percentage of 76 for a kind of visitors. This research has also uncovered the fact that if you shake your hand with the person you meet then the person becomes keener to keep your presence in mind in future rather with whom you do not shake hands. According study of 2001, even many interviews can turn into your future job if you can convey positive handshake to your employer. Undoubtedly, weaker handshakes have less effect on employer's mind.
National Handshake Day is quite evident fact that any professionals even if well-dressed, perfectly groomed and carrying good profile but lacking proper handshaking gesture may not impart perfect impression in any business dealing. If the message by the handshaking is disrespect and weak heartedness, then definitely National Handshake Day will become major turn off in any situation.
Negative types of Handshake
Below is the list of negative types of handshakes which has to be avoided:
The "dead fish"
The wimp
The "I've got you covered" grip
The "four finger"
The "I won't let go
The sweaty palm
The "ringed torture"
The "southpaw"
The cold & clammy
The "macho cowboy"
So, National Handshake Day is highly evident that perfect hand shaking is the perfect gateway to your future success. Thus, by celebrating National Hand Shake day, people try to honor this gesture properly.
National Log Cabin Day
National Log Cabin Day brings you back to a quieter, simpler, more rugged era. A couple hundred years ago, life was far more rugged. Americans moving West (west at the time may have been Ohio, or Tennessee) found an untouched wilderness, filled with pristine forests. They built their homes out of logs. These log cabins were solid, long lasting, and served them well.
Life was rustic and simple. Heat was provided by an open fireplace, where they also cooked their meals. Need air conditioning in the summer? Just open the window (there wasn't any glass or screening). There was no electricity (no television, stereos or boom boxes blasting, or computers). And, plumbing? Just look back towards the woods to the outhouse. The path to it is well worn.
National Log Cabin Day celebrates what was then the "Modern" home in America, and all of the lifestyle that accompanied it. Today is a day to appreciate the history and significance of log cabins. Visit them at historical museums today, or sometime this summer.
The Log Cabin Society, founded by Virginia Handy, and the Bad Axe Historical Society, in Michigan created the annual Log Cabin Day on June 25, 1986. Their objectives included promoting the preservation of Log Cabins, and awareness and education of life during the era in America when log cabins were common.
National Strawberry Parfait Day
June 25 is National Strawberry Parfait Day. Celebrate with a simple new recipe that will make your parfait a piece of pie!
Strawberries have been in our diet since wild strawberry plants were first found in various parts of Italy in 234 BC. Strawberries are a member of the rose family and the first fruit to ripen in the spring. Strawberries are the only fruit with seeds on the outside and the average strawberry has 200 seeds. The ancient Romans believed that strawberries relieved symptoms of fainting, inflammation, depression, fevers, throat infections & kidney stones. Strawberry is the second most popular natural flavor. The first most popular flavor, will come as no surprise, is chocolate.
Every U.S. state grows strawberries that have been specially bred for that region of the country. California grows about three-fourths of U.S. strawberries. Florida is the next largest producer. All the different varieties grown in all the different countries can trace their ancestry back to the marriage of the Virginia and Chile strawberry in Europe 250 years ago.
A healthy diet includes approximately 2 cups of fruit a day, so enjoy.
Strawberry Pie Parfait
Ingredients
1 slice strawberry pie
8 ounces vanilla ice-cream
5 ounces cold milk
Place all ingredients in blender for 8 swirls. Serve in a wine glass.
World Vitiligo Day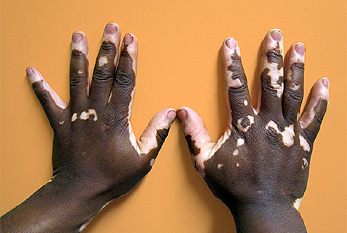 World Vitiligo Day is an annual day specially dedicated to people with vitiligo. Conceived by patients for patients, World Vitiligo Day is a truly global event that aims to increase awareness of vitiligo and raise funds needed for research and education.
The idea of a World Vitiligo Day was first put forward by Steve Haragadon, the founder of the Vitiligo Friends network from USA and then later developed and finalized by Ogo Maduewesi, a vitiligo patient who is the Founder and Executive Director of the Vitiligo Support and Awareness Foundation (VITSAF) in Nigeria. In early 2012, the VR Foundation has launched the 25June campaign and the dedicated website.
Over 100 million people suffer from vitiligo as a result of the social stigma and severe psychological burden that result. They are the victim of ostracism, discrimination and many lose their homes, families and livelihoods because of this disease, yet there is no cure in sight. By focusing on collaboration and education we can make a real difference in the lives of so many, and we can get closer to finding a cure.
What Is Vitiligo? Vitiligo (pronounced vit-ill-EYE-go) is an unpredictable, generally progressive skin disease, which results in a loss of inherited skin color over the lifetime of the person. Vitiligo is a non-lethal, non-contagious disease and it does not cause any organic harm, but it has a devastating effect on social life of the affected person and their family. Over 100 million people have vitiligo worldwide, and a great majority of us affected suffer severely as a result of the social stigma and severe psychological burden that result.
How Many People Are Affected By Vitiligo? The prevalence of vitiligo is believed to be between 0.5% to 2% of the world population on the average, but local numbers may vary greatly, with spikes up to 4% and even higher in some regions (see World Vitiligo Map). The total number of people suffering from vitiligo is estimated at around 65-95 million people worldwide. However, the actual number may be much higher because vitiligo is a very underreported disease. Why?
No reporting requirement. Since vitiligo is not considered an infectious disease governments do not require medical care practitioners to report the number of patients diagnosed with vitiligo.
No effective treatment. Drugs currently prescribed for vitiligo have a limited ability to slow or reverse the progress of the disease. Temporary repigmentation can be achieved in 2/3 of patients but it requires a combination therapy, which is not available in some places, at a considerable time and cost expense.
Reluctance to diagnose. Since there are no effective treatments, dermatologists are reluctant to diagnose vitiligo, especially in countries with underdeveloped national healthcare system.
Demorgaphics. The disease affects all races, men and women, and all age groups. It is most common in regions closest to equator, where there is a tendency for patients having limited access to qualified dermatologists.
What Is Current State Of Vitiligo Affairs? Two thousand years ago, the only positive thing people could say about vitiligo was this: it does not kill it's victim. Things have not changed much since then. The history of vitiligo can be traced to as early as Rig Veda, an ancient Indian sacred collection of Vedic Sanskrit hymns.
The systemic research into causes and treatment of this disfiguring disease is surprisingly limited. Lack of effective therapies is directly linked to insufficient funding from either the public or the private sector.
At the current rate of research funding, leading experts estimate finding a cure will take another 25-30 years and cost over $2 billion. Although vitiligo affects dozens of million of people, it has been a low priority for government research funding.
What Is Known About Vitiligo? Vitiligo is a very complex skin disease. It is characterized by a sudden loss of melanin in the skin, which turns it milky white in irregular patches. Complete knowledge of its etiology has been elusive for decades of intense research. Vitiligo is a chronic, persistent and often progressive disorder; spontaneous repigmentation is uncommon.
The current thought is that vitiligo represents a group of different disorders with a similar outcome: the appearance of white patches on the skin. The convergence theory states that stress, accumulation of toxic compounds, infections, autoimmunity, genetic predisposition, altered cellular environment, and impaired melanocyte migration can all contribute to the initiation process of vitiligo. Autoimmune mechanisms likely underlie generalized vitiligo, while a more localized phenomenon (i.e. the altered activities of sensitive nerves in the skin) may be responsible for segmental or focal vitiligo. Vitiligo may develop at the site of physical skin trauma; this is known as the "Koebner phenomenon."
Not all white patches on skin are vitiligo, but white patches resembling vitiligo are not unusual in the skin. They are named leukodermas. As a matter of fact, vitiligo is a specific form of leukoderma with distinct features that separate it from other leukodermas.
Chemical leukoderma can be induced by dyes, perfume, detergents, cleansers, insecticides, rubber condoms, rubber slippers, black socks and shoes, eyeliner, lip liner, lipstick, toothpaste, antiseptics with phenolic-derivatives, and mercuric iodide-containing ''germicidal'' soap. Chemical leukoderma may trigger "occupational vitiligo" or generalized vitiligo.
Occupational vitiligo may occur in those who work with depigmenting substances like hydroquinone, paratertiary butyl catechol, paratertiary butyl phenol, paratertiary amyl phenol, and hydroquinone monomethyl ether. The only way to know if a depigmented patch on the skin is vitiligo or not is to consult a dermatologist with special interest in Pigmentary Disorders of the skin.
Vitiligo is significantly more prevalent in young women (≤ 30 years of age) than young men. The peak in females occurs in the first decade of life. Male peak prevalence is in the fifth decade of life.
How Can I Treat Vitiligo? Vitiligo is a disease that presently cannot be cured, but successfully managed with many different approaches. Treatment for vitiligo is difficult and prolonged. It is typically a combination of the UV light and topical drugs. Although there is no therapeutic full solution yet, high repigmentation percentages, mostly on facial and neck, can be achieved. Existing therapies are less effective on trunk and limbs, and poor on the acral parts of the extremities.
Choosing a treatment for vitiligo can sometimes be overwhelming. In general, first-line therapy should be safe, effective, minimally invasive, and cost efficient. More complex, invasive, and time-consuming options should be reserved for subjects with stable vitiligo. Each therapeutic option should be tried for a sufficient period of time, which may last for 6-9 months, because the initiation of pigmentation varies and is in general rather slow.
When administered in patients with active disease, a short course of oral or intravenous steroids can arrest the vitiligo progression and induce repigmentation in many patients. However, the optimal dose to maximize benefits and reduce the incidence of side effects has yet to be determined.