"Happy Birthday to You" Day
Once upon a time (in 1893), a pair of sisters wrote a simple song for their nursery school and kindergarten students. Mildred J. Hill wrote a simple tune, and Patty Smith Hill wrote some equal simple, repetitive words:


Good morning to you,
Good morning to you,Good morning,
dear children,Good morning to all.
The two sang the catchy song with their young students, but they also published it in a songbook for children.
The song caught on. (That's the thing about catchy songs, isn't it? They catch on!)
In many classes, the young students sang the song to the teacher, so the words were changed a little – "good morning to all" became another repetition of "good morning to you," and "dear teacher" was sung in place of "dear children."
And somebody, somewhere, changed the song again to be a birthday song. Perhaps you have heard it somewhere?


Happy birthday to you,
Happy birthday to you,
Happy birthday dear so-and-so [insert name here],
Happy birthday to you.
Well, this latest version really caught on! It is by far the most well-known song in the English-speaking world—maybe the entire world!—and it's been used in millions of music boxes, watches, musical greeting cards, and other for-profit products. It's been sung on TV and on Broadway and in movies, in space and underwater living spaces, in homes and schools, businesses and hospitals.
(By the way, many people think that students who sang the Good Morning song spontaneously changed the lyrics at birthday parties. Which would mean that the most widely known song in the world was "written" by a bunch of five- and six-year-old kids whose names we do not know!)
Okay, here's the weird part...this super-simple, almost ubiquitous (heard everywhere) song—this song that was written in the 1800s, maybe by a bunch of kids—is still protected by copyright!
Wh-wh-what???
My sources are unclear about who filed copyright on "Happy Birthday to You," when, on whose behalf. Some sources say that another Hill sister sued and received copyright protection for Patty and Mildred Hill, and that the Hill Foundation collects royalties even to this day, but another source says that the publisher of the Hill's original "Good Morning" song filed for copyright on the birthday version.
Whatever the case, it seems that some of the profit-making enterprises that use the popular birthday song do pay royalties—adding up to perhaps two million dollars worth of royalties per year! It's totally fine to sing the song in private, with small groups at birthday parties, for example, but it is technically a violation to sing it in profit-making venues with a lot of people. This is why a lot of restaurants use original songs or other birthday songs—they want to avoid any copyright lawsuits! Many movies and television shows show people singing just a few notes (apparently this is "fair use" and doesn't cost anything), but those who show people singing the entire song have to pay $10,000 for the privilege! Yikes!
By the way, copyright laws differ from nation to nation. The song will become "public domain" (free for anyone to use, even for-profit or large groups) in Europe in 2016, and it will move to public domain status in the U.S. in 2030. And, here's one more fact to confuse you: some lawyers think that the song is already in public domain, right now, because the actual "authors" of the song (who, remember, might be a bunch of kids) weren't the ones who filed for copyright.

Decide to Be Married Day
June 27 is decide to be married day. There are several ways to celebrate decide to be married day depending on where you are in your own life. Marriage is a huge responsibility and step in a person's life. The decision should never be taken lightly.
A single person might long to be happily married, and that is a wonderful thing to want to have. Before marrying that special someone, spend time thinking if they are really what you're looking for to spend the rest of your life with. Are they slow to anger? Do they share the similar goals? Do you have similar morals and ideas concerning children? These are important questions before entering into a lifetime commitment.
Being in love is truly terrific, but love and compatibility are both essential to the future. If you love someone, but have little in common, married life is going to be more difficult. The more you have in common, the happier and calmer your life will be.
If you are already married, today contemplate how you can improve on your marriage. Being selfless sounds ridiculous but so true to have a happy relationship. Putting their needs above yours might seem silly but sometimes that is what it's about. No, never accept abuse of any kind. However, in a normal relationship, being selfless has awards that you might not expect.
In honor of decide to be married day, surprise your spouse. Let your romantic side come out even if your marriage is not in the best condition. A little tenderness and love can go a long way, and at the very least, you will see a smile!
After you thought about all the important questions, decide to be married day would be an excellent day to become engaged or married. Plan a special proposal and incorporate the decide to be married day. You both will never forget the anniversary.
Decide to be Married Day, was inspired by Barbara Gaughen-Muller's poem Decide to be Married:
Decide to be married
To become one heart, one body,
one mind and one soul
To share your joy
To live life as an art
And to make every moment precious
Whether together or apart
Remember as a couple
You are now more than one
To create harmony and perfect love
that will last through eternity
even after this life is done
Remember also there is a power
In this union of two
to protect this planet
And humanity too
As a couple you can do it
It's in the deciding
To be united in love
To express your joyful oneness
To every person you meet, and
In every action you take
And together a perfect marriage you'll make
Great American Backyard Campout
The Great American Backyard Campout is celebrated on the fourth Saturday of June. This is the effort of the National Wildlife Federation to help inspire Americans to protect wildlife. All you need to prepare for this event is a tent, some snacks and a couple of flashlights! This is an ideal way to introduce children the joys of tent camping in their safe own backyard.
Since 2005, thousands of people from many countries and regions have come together and joined in the Great American Backyard Campout. This annual event is organized with an aim to promote the benefits of camping as well as make it a great way to connect people with nature.
Today, National Wildlife Federation continues to be the sponsor of the Great American Backyard Campout and the nation's leading advocate for wild places and wildlife.
The Great American Backyard Campout was organized to coax more families outdoors by the National Wildlife Federation's Be Out There campaign. Today's American child averages only 4 to 7 minutes outside per day, according to Anne Keisman of the Be Out There campaign. This shift has contributed to a variety of health issues, including rising diagnoses of obesity, ADHD, and depression. Backyard camping, Keisman says, offers "a way to slow down those busy family schedules, enjoy being together, and appreciate the simple joys only nature can deliver." You can participate even if your campout is planned for another day. Just recruit some friends and register at backyardcampout.org. You'll get access to packing lists and tips to cover all the safety and comfort basics. Then, start planning the fun.
Prepare activities that focus on nature. For toddlers, Keisman says, organize a simple picture scavenger hunt with items like a flower, a rock, and a leaf. Lynn Brunelle, author of Camp Out! The Ultimate Kids' Guide, says to look for signs of animals like "footprints, nests, feathers, or even wild animal poop!" Gather binoculars and magnifying glasses to admire nature near and far and field guides to study birds, bugs, flowers, or stars. Collect jars for catching fireflies and turn over rocks to see what other bugs you can find. Brunelle suggests you try to "sprout your socks." Let your children wear socks over their shoes while taking a walk or hike. "It's a wonderful way to see how plants send their seeds as hitch-hikers through the world," Brunelle explains. "Then you can spritz your socks with water, stick them in a baggie, and let them sprout." Plan to have at least one flashlight per person. Flashlights are a kid-favorite for play, but they'll also make everyone feel more secure all night.
Cooking out might be the best part of camping, and kids love to help. Roasting hot dogs on sticks is a classic, or offer a buffet so that each person can make a personalized campfire dish. Start by cutting foot-long pieces of aluminum foil and labeling each person's name with a permanent marker. Then let campers fill them with a selection of ground or cubed meat and potatoes; pepper strips, sliced mushrooms, or other vegetables; and about a tablespoon of butter or dressing. Seal packets tightly and put them into hot coals for 30 to 40 minutes. The result is so delicious that I still remember my first foil dinner as a Brownie decades ago, and the novelty of preparation might inspire your pickiest eater to try something new.
For dessert, roasted marshmallows are practically required, but you can also get creative. Brunelle suggests Banana Boats: cut a banana in half and open the peels a bit, canoe-style, then stuff them with goodies like chocolate chips and marshmallows and wrap the dessert in foil to heat for ten minutes. All these recipes are flexible because discovering what works is part of the adventure. On one of our campouts, rain began pouring just as we'd started to roast marshmallows, melting them into wet goo before we could produce a single s'more. I expected tears until I realized that my daughters were shrieking with joy through the rain to feast on plain chocolate bars in their tent.
As you settle in for the night, enjoy the camaraderie of camping. Oya Simpson, a mom who organized a Great American Backyard Campout, says "There is no doubt that when the sun goes down, kids love the mystery it brings. Just to be outside with our fire pit to sit around and talk about the stars, the sounds of the frogs and watching the fire was enough for the kids. I think it helps families to focus on each other without the interruption of phones ringing, TV, or other chores we may have to do at home." Tell stories or bring musical instruments for a jam-and-sing around the campfire. Have extra blankets on hand so that sleeping arrangements can be flexible. On a special night of camping, your usually-clingy child might want to join a tent slumber party, so be prepared to seize the night.
Just before bedtime, take a last visit to the bathroom and confirm that flashlights have batteries to last all night. Read books as usual, then play a quiet listening game, asking children to try to hear as many different nature sounds as they can. This is an opportunity to learn, but it will also calm everyone down and give you a chance to explain any noises that might seem scary if a child wakes up during the night.
In the morning, offer a simple breakfast that won't require the kids to enter the kitchen. It will be easier on you, and it helps preserve that special camping spell a little bit longer. Brunelle says that camping "creates an appreciation for the world and history and family and nature. It's a great way to connect with each other, to get perspective, and to learn respect and awe."
Once everyone is awake and the morning dew has dried, that awestruck spell is broken, and it's back to normal life. Get the kids to help clean up, setting a precedent for future camping adventures. Then, plan to take it easy for the rest of the day. All of that fresh air and fun is exhausting!
Helen Adams Keller was born on June 27, 1880, on a farm near Tuscumbia, Alabama. A normal infant, she was stricken with an illness at 19 months, probably scarlet fever, which left her blind and deaf. For the next four years, she lived at home, a mute and unruly child. Special education for the blind and deaf was just beginning at the time, and it was not until after Helen's sixth birthday that her parents had her examined by an eye physician interested in the blind. He referred the Kellers to Alexander Graham Bell, the inventor of the telephone and a pioneer in teaching speech to the deaf. Bell examined Helen and arranged to have a teacher sent for her from the Perkins Institution for the Blind in Boston.
The teacher, 20-year-old Anne Sullivan, was partially blind. At Perkins, she had been instructed how to teach a blind and deaf student to communicate using a hand alphabet signaled by touch into the student's palm. Sullivan arrived in Tuscumbia in March 1887 and immediately set about teaching this form of sign language to Helen. Although she had no knowledge of written language and only the haziest recollection of spoken language, Helen learned her first word within days: "water." Keller later described the experience: "I knew then that 'w-a-t-e-r' meant the wonderful cool something that was flowing over my hand. That living word awakened my soul, gave it light, hope, joy, set it free."
Under Sullivan's dedicated guidance, Keller learned at a staggering rate. By April, her vocabulary was growing by more than a dozen words a day, and in May she began to read and arrange sentences using raised words on cardboard. By the end of the month, she was reading complete stories. One year later, the seven-year-old Keller made her first visit to the Perkins Institution, where she learned to read Braille. She spent several winters there and in 1890 was taught to speak by Sarah Fuller of the Horace Mann School for the Deaf. Keller learned to imitate the position of Fuller's lips and tongue in speech, and how to lip-read by placing her fingers on the lips and throat of the speaker. In speaking, she usually required an interpreter, such as Sullivan, who was familiar with her sounds and could translate.
When she was 14, Keller entered the Wright-Humason School for the Deaf in New York City. Two years later, with Sullivan at her side and spelling into her hand, she enrolled at the Cambridge School for Young Ladies in Massachusetts. In 1900, she was accepted into Radcliffe, a prestigious women's college in Cambridge with classes taught by Harvard University faculty. She was a determined and brilliant student, and while still at Radcliffe her first autobiography, The Story of My Life, was published serially in The Ladies Home Journal and then as a book. In 1904, she graduated cum laude from Radcliffe.
Keller became an accomplished writer, publishing, among other books, The World I Live In (1908), Out of the Dark (1913), My Religion (1927), Helen Keller's Journal (1938), and Teacher (1955). In 1913, she began lecturing, with the aid of an interpreter, primarily on behalf of the American Foundation for the Blind. Her lecture tours took her several times around the world, and she did much to remove the stigmas and ignorance surrounding sight and hearing disorders, which historically had often resulted in the committal of the blind and deaf to asylums. Helen Keller was also outspoken in other areas and supported socialism all her life. For her work on behalf of the blind and the deaf, she was widely honored and in 1964 was awarded the Presidential Medal of Freedom, the nation's highest civilian honor, by President Lyndon B. Johnson.
"My life has been happy because I have had wonderful friends and plenty of interesting work to do," Helen Keller once wrote, adding, "I seldom think about my limitations, and they never make me sad. Perhaps there is just a touch of yearning at times, but it is vague, like a breeze among flowers. The wind passes, and the flowers are content."
On June 1, 1968, Helen Keller dies in Westport, Connecticut, at the age of 87. Blind and deaf from infancy, Keller circumvented her disabilities to become a world-renowned writer and lecturer.
Industrial Workers of The World Day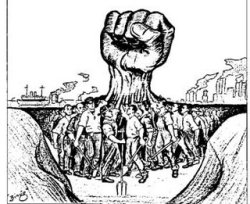 Most people living in the United States know little about the International Workers' Day of May Day. For many others there is an assumption that it is a holiday celebrated in state communist countries like Cuba or the former Soviet Union. Most Americans don't realize that May Day has its origins here in this country and is as "American" as baseball and apple pie, and stemmed from the pre-Christian holiday of Beltane, a celebration of rebirth and fertility.
In the late nineteenth century, the working class was in constant struggle to gain the 8-hour work day. Working conditions were severe and it was quite common to work 10 to 16 hour days in unsafe conditions. Death and injury were commonplace at many work places and inspired such books as Upton Sinclair's The Jungle and Jack London's The Iron Heel. As early as the 1860's, working people agitated to shorten the workday without a cut in pay, but it wasn't until the late 1880's that organized labor was able to garner enough strength to declare the 8-hour workday. This proclamation was without consent of employers, yet demanded by many of the working class.
At this time, socialism was a new and attractive idea to working people, many of whom were drawn to its ideology of working class control over the production and distribution of all goods and services. Workers had seen first-hand that Capitalism benefited only their bosses, trading workers' lives for profit. Thousands of men, women and children were dying needlessly every year in the workplace, with life expectancy as low as their early twenties in some industries, and little hope but death of rising out of their destitution. Socialism offered another option.
A variety of socialist organizations sprung up throughout the later half of the 19th century, ranging from political parties to choir groups. In fact, many socialists were elected into governmental office by their constituency. But again, many of these socialists were ham-strung by the political process which was so evidently controlled by big business and the bi-partisan political machine. Tens of thousands of socialists broke ranks from their parties, rebuffed the entire political process, which was seen as nothing more than protection for the wealthy, and created anarchist groups throughout the country. Literally thousands of working people embraced the ideals of anarchism, which sought to put an end to all hierarchical structures (including government), emphasized worker controlled industry, and valued direct action over the bureaucratic political process. It is inaccurate to say that labor unions were "taken over" by anarchists and socialists, but rather anarchists and socialist made up the labor unions.
At its national convention in Chicago, held in 1884, the Federation of Organized Trades and Labor Unions (which later became the American Federation of Labor), proclaimed that "eight hours shall constitute a legal day's labor from and after May 1, 1886." The following year, the FOTLU, backed by many Knights of Labor locals, reiterated their proclamation stating that it would be supported by strikes and demonstrations. At first, most radicals and anarchists regarded this demand as too reformist, failing to strike "at the root of the evil." A year before the Haymarket Massacre, Samuel Fielden pointed out in the anarchist newspaper, The Alarm, that "whether a man works eight hours a day or ten hours a day, he is still a slave."
Despite the misgivings of many of the anarchists, an estimated quarter million workers in the Chicago area became directly involved in the crusade to implement the eight hour work day, including the Trades and Labor Assembly, the Socialistic Labor Party and local Knights of Labor. As more and more of the workforce mobilized against the employers, these radicals conceded to fight for the 8-hour day, realizing that "the tide of opinion and determination of most wage-workers was set in this direction." With the involvement of the anarchists, there seemed to be an infusion of greater issues than the 8-hour day. There grew a sense of a greater social revolution beyond the more immediate gains of shortened hours, but a drastic change in the economic structure of capitalism.
In a proclamation printed just before May 1, 1886, one publisher appealed to working people with this plea:
Workingmen to Arms!
War to the Palace, Peace to the Cottage, and Death to LUXURIOUS IDLENESS.
The wage system is the only cause of the World's misery. It is supported by the rich classes, and to destroy it, they must be either made to work or DIE.
One pound of DYNAMITE is better than a bushel of BALLOTS!
MAKE YOUR DEMAND FOR EIGHT HOURS with weapons in your hands to meet the capitalistic bloodhounds, police, and militia in proper manner.
Not surprisingly the entire city was prepared for mass bloodshed, reminiscent of the railroad strike a decade earlier when police and soldiers gunned down hundreds of striking workers. On May 1, 1886, more than 300,000 workers in 13,000 businesses across the United States walked off their jobs in the first May Day celebration in history. In Chicago, the epicenter for the 8-hour day agitators, 40,000 went out on strike with the anarchists in the forefront of the public's eye. With their fiery speeches and revolutionary ideology of direct action, anarchists and anarchism became respected and embraced by the working people and despised by the capitalists.
The names of many - Albert Parsons, Johann Most, August Spies and Louis Lingg - became household words in Chicago and throughout the country. Parades, bands and tens of thousands of demonstrators in the streets exemplified the workers' strength and unity, yet didn't become violent as the newspapers and authorities predicted.
More and more workers continued to walk off their jobs until the numbers swelled to nearly 100,000, yet peace prevailed. It was not until two days later, May 3, 1886, that violence broke out at the McCormick Reaper Works between police and strikers.
For six months, armed Pinkerton agents and the police harassed and beat locked-out steelworkers as they picketed. Most of these workers belonged to the "anarchist-dominated" Metal Workers' Union. During a speech near the McCormick plant, some two hundred demonstrators joined the steelworkers on the picket line. Beatings with police clubs escalated into rock throwing by the strikers which the police responded to with gunfire. At least two strikers were killed and an unknown number were wounded.
Full of rage, a public meeting was called by some of the anarchists for the following day in Haymarket Square to discuss the police brutality. Due to bad weather and short notice, only about 3000 of the tens of thousands of people showed up from the day before. This affair included families with children and the mayor of Chicago himself. Later, the mayor would testify that the crowd remained calm and orderly and that speaker August Spies made "no suggestion... for immediate use of force or violence toward any person..."
As the speech wound down, two detectives rushed to the main body of police, reporting that a speaker was using inflammatory language, inciting the police to march on the speakers' wagon. As the police began to disperse the already thinning crowd, a bomb was thrown into the police ranks. No one knows who threw the bomb, but speculations varied from blaming any one of the anarchists, to an agent provocateur working for the police.
Enraged, the police fired into the crowd. The exact number of civilians killed or wounded was never determined, but an estimated seven or eight civilians died, and up to forty were wounded. One officer died immediately and another seven died in the following weeks. Later evidence indicated that only one of the police deaths could be attributed to the bomb and that all the other police fatalities had or could have had been due to their own indiscriminate gun fire. Aside from the bomb thrower, who was never identified, it was the police, not the anarchists, who perpetrated the violence.
Eight anarchists - Albert Parsons, August Spies, Samuel Fielden, Oscar Neebe, Michael Schwab, George Engel, Adolph Fischer and Louis Lingg - were arrested and convicted of murder, though only three were even present at Haymarket and those three were in full view of all when the bombing occurred. The jury in their trial was comprised of business leaders in a gross mockery of justice similar to the Sacco-Vanzetti case thirty years later, or the trials of AIM and Black Panther members in the seventies. The entire world watched as these eight organizers were convicted, not for their actions, of which all of were innocent, but for their political and social beliefs. On November 11, 1887, after many failed appeals, Parsons, Spies, Engel and Fisher were hung to death. Louis Lingg, in his final protest of the state's claim of authority and punishment, took his own life the night before with an explosive device in his mouth.
The remaining organizers, Fielden, Neebe and Schwab, were pardoned six years later by Governor Altgeld, who publicly lambasted the judge on a travesty of justice. Immediately after the Haymarket Massacre, big business and government conducted what some say was the very first "Red Scare" in this country. Spun by mainstream media, anarchism became synonymous with bomb throwing and socialism became un-American. The common image of an anarchist became a bearded, eastern European immigrant with a bomb in one hand and a dagger in the other.
Today we see tens of thousands of activists embracing the ideals of the Haymarket Martyrs and those who established May Day as an International Workers' Day. Ironically, May Day is an official holiday in 66 countries and unofficially celebrated in many more, but rarely is it recognized in this country where it began.
Over one hundred years have passed since that first May Day. In the earlier part of the 20th century, the US government tried to curb the celebration and further wipe it from the public's memory by establishing "Law and Order Day" on May 1. We can draw many parallels between the events of 1886 and today. We still have locked out steelworkers struggling for justice. We still have voices of freedom behind bars as in the cases of Mumia Abu Jamal and Leonard Peltier. We still had the ability to mobilize tens of thousands of people in the streets of a major city to proclaim "THIS IS WHAT DEMOCRACY LOOKS LIKE!" at the WTO and FTAA demonstrations.
Words stronger than any I could write are engraved on the Haymarket Monument:
THE DAY WILL COME WHEN OUR SILENCE WILL BE MORE POWERFUL THAN THE VOICES YOU ARE THROTTLING TODAY.
Truly, history has a lot to teach us about the roots of our radicalism. When we remember that people were shot so we could have the 8-hour day; if we acknowledge that homes with families in them were burned to the ground so we could have Saturday as part of the weekend; when we recall 8-year old victims of industrial accidents who marched in the streets protesting working conditions and child labor only to be beat down by the police and company thugs, we understand that our current condition cannot be taken for granted - people fought for the rights and dignities we enjoy today, and there is still a lot more to fight for. The sacrifices of so many people can not be forgotten or we'll end up fighting for those same gains all over again. This is why we celebrate May Day.
National HIV Testing Day
National HIV Testing Day is a reminder that when you know your HIV status, you can take care of yourself and your partners. HIV testing is recommended, it's empowering, and it's easy. Have you been tested?
Get Tested on National HIV Testing Day, June 27
This year marks the 20th annual National HIV Testing Day, a time to promote one of our best tools for HIV prevention.
Too many people—one in six—who are living with HIV are not aware of it. That means they are not getting the treatment they need to stay healthy and may pass the virus on to others without knowing it.
HIV can be spread when someone with HIV has sex or shares injection drug equipment with someone who does not have HIV. If the partner with HIV is on medicine to treat HIV (antiretroviral therapy, or ART), or the partner who is HIV-negative is on medicine to prevent HIV infection (pre-exposure prophylaxis, or PrEP), the risk can be much lower.
Testing Is Recommended
CDC recommends that everyone between the ages of 13 and 64 get tested for HIV at least once as part of routine health care and that some people with risk factors get tested more often. Gay and bisexual men, people with more than one sex partner, people with sexually transmitted diseases (STDs), and people who inject drugs are at high risk and should get tested at least once a year.
You should also be tested if you have been sexually assaulted or if you are a woman who is pregnant or planning to become pregnant.
Testing Is Empowering
When you know your HIV status, you can take care of yourself and your partner(s). If you find out that you are infected with HIV (if you test positive), you can seek medical care and get treatment. Besides allowing you to live a longer, healthier life, being on ART can protect the health of your partners because it can greatly reduce the risk that you can pass HIV to others.
If you don't have HIV (if you test negative), you can take steps to stay negative, such as using condoms consistently and asking your health care provider about PrEP if you are at substantial risk. Remember that if you have risky sex or share needles for drug use after you've tested negative for HIV, you need to get tested again to make sure you are still HIV-negative. Your HIV test result "expires" every time you have risky sex or share needles or related works.
Testing Is Easy
Getting tested for HIV is easier than ever. You can ask your doctor for a test, check National HIV and STD Testing Resources for a nearby testing site, call 1-800-CDC-INFO, or text your ZIP code to "KNOW IT" (566948). Health insurance usually covers the test, and some sites offer free testing. You can also use one of the FDA-approved home testing kits.
What You Can Do
Everyone can
Get tested at least once for HIV.
Get tested once a year or more often if you are at risk of getting HIV.
Lower your risk of getting HIV by using condoms, using PrEP if appropriate, limiting your number of partners, choosing less risky sexual behaviors, and getting checked for STDs, which can increase the risk of HIV transmission. See our Prevention Q&Asfor more HIV prevention options.
If you have HIV, get medical care and treatment as soon as possible to stay healthier longer and lower your risk of passing the virus to others.
Health care providers can
Offer patients HIV tests as a routine part of their health care, as recommended by CDC and the US Public Health Service. See resources for the HIV Screening. Standard Care. campaign.
Test women for HIV each time they are pregnant.
Connect people at high risk for HIV to services that help them lower their risk and prevent them from getting infected.
Work to ensure your patients who have HIV get treatment and the services they need to stay healthy and lower their risk of passing the virus to others. Currently only 43% of people who test positive for HIV are in care with their virus under control.
Download materials for health care providers (en Español) from CDC's Act Against AIDS website.
State and local health departments can
Coordinate National HIV Testing Day awareness and testing events to help prevent the spread of HIV and build a local network that responds year-round to address HIV in the United States.
Create programs and adopt policies to get people at high risk tested early and often. Create linkages to care so that those who have a positive test get care quickly. Currently, one in five people who test positive are not linked to care within 3 months.
Provide services, such as medical care, social services, and programs, shown to change behavior and lower risk to people at risk for HIV and those living with HIV.
Promote and use national referral systems for places to get tested, such as National HIV and STD Testing Resources, and let clients know about their home testing options.
Use CDC's Act Against AIDS (en Español) materials to promote HIV testing in high-risk populations.
Start Talking. Stop HIV. encourages gay and bisexual men to communicate about testing and other HIV prevention issues.
Reasons/Razones (en Español) promotes HIV testing among gay and bisexual Hispanic/Latino men.
Testing Makes Us Stronger encourages African American gay and bisexual men to get tested for HIV.
Take Charge. Take the Test. encourages African American women to get tested for HIV.
Let's Stop HIV Together, a general-awareness campaign to reduce stigma, urges everyone to "Get the facts. Get tested. Get involved."
National Orange Blossom Day
Orange you glad we get to celebrate a warm summer day with a fresh and tasty cocktail? June 27 is National Orange Blossom Day!
Ah, the delicate orange blossom. When you think about orange trees, you usually only think about their fruit: bright orange rinds, the juicy citrusy flesh inside, the many foods and flavors associated with oranges. But those fruits, as all fruits do, have to come from flowers first! And the orange blossom is celebrated in its own right. The official state flower of Florida, the orange blossom is widely used in floral bouquets and as an essence in perfumerie. Culinarily speaking, the orange blossoms are steeped, much like tea, to make orange blossom water, useful for just a slight taste of orange, but lighter, and fainter than using the orange fruit. In Middle East cuisines, orange blossom water is used much like rosewater, to flavor desserts and baked goods, and gives it not only that familiar citrusy taste, but also the flowery flavor that many associate with rose-infused waters and teas. It's that perfect blend of bright, vibrant orange flavor and the sweet, light floral accents of a flower.
The exact history of the Orange Blossom is unknown, but it rose to prominence in the 1920s during Prohibition, when orange juice was used to cut the rancid flavor of illegal bathtub gin. A.S. Crockett's Old Waldorf-Astoria Bar Book, published in 1935, contains two Orange Blossom recipes. Orange Blossom No. 1 is served neat and contains equal parts gin, vermouth, and OJ. It was allegedly invented by "some young bridegroom who wanted something novel to use at his final stag party." Orange Blossom No. 2 is served in an old-fashioned glass with ice and omits the vermouth, calling for a 1:1 ratio of gin and orange juice. Since vermouth is sort of the Rodney Dangerfield of the alcohol world – it truly gets no respect – I'm not surprised that this second recipe doesn't even bother with it.
National Post Traumatic Stress Disorder Awareness Day
In order to bring greater awareness to the issue of posttraumatic stress disorder (PTSD), the United States Senate designated June 27th as National PTSD Awareness Day. In addition, June has been designated as PTSD Awareness Month by the National Center for PTSD (NCPTSD).
According to the NCPTSD, PTSD is an anxiety disorder resulting from exposure to a single traumatic event or multiple traumatic events, such as sexual or physical assault, natural or man-made disaster, and war-related combat stress. Symptoms of PTSD include persistent intrusive thoughts and distressing dreams about the traumatic event, triggered emotional responses to reminders of the trauma, efforts to avoid thinking or talking about the trauma, and persistent hypervigilance for cues that indicate additional danger or trauma re-occurring.
The mission of the National Child Traumatic Stress Network (NCTSN) is to raise awareness about child traumatic stress. The NCTSN joins this effort to raise awareness about PTSD. We offer the following resources to help educate individuals, families, professionals, policy makers, and communities about the significant impact that PTSD has on men, women, and children. Effective psychological interventions and drug treatments are available to assist those who suffer with PTSD to heal from their traumas and to lead healthy, productive lives.
Sunglasses Day
It's Sunglasses Day! Sunglasses are quite possibly the most important fashion accessory of the entire summer season. Humans have been wearing protective eyewear for centuries, but the stylish designs we're accustomed to today are a much more recent invention.
While even in prehistoric time Inuit peoples wore flattened walrus ivory glasses to block harmful reflected rays of the sun, the earliest historical reference to sunglasses dates back to ancient China and Rome. The Roman emperor Nero watched gladiator fights through polished gems.

In China, sunglasses were used in the 12th century or possible earlier. These sunglasses were made out of lenses that were flat panes of smoky quartz. They offered no corrective powers nor they protect from harmful UV rays but did protect the eyes from glare. Ancient documents describe the use of such crystal sunglasses by judges in ancient Chinese courts to hide their facial expression when they interrogated witnesses.

James Ayscough began experimenting with tinted lenses in spectacles around 1752. Ayscough was steadfast in the belief that blue-or green-tinted glass could potentially correct specific vision impairments. Protection from the sun's rays was not a concern at this time.

Glasses tinted with yellow-amber and brown were also a commonly-prescribed item for people with syphilis in the 19th and early 20th century because one of the symptoms of the disease was sensitivity to light.

In the early 1900s, the use of sunglasses become more widespread, especially among Hollywood movie stars.

Inexpensive mass-production of sunglasses started in 1929 when Sam Foster introduced them to America. Foster sold his sunglasses on the beaches of Atlantic City, New Jersey under the name Foster Grant from a Woolworth on the Boardwalk. These sunglasses were made to protect people's eyes from the sun's rays.

Polarized sunglasses first became available in 1936, when Edwin H. Land began using his patented Polaroid filter when making sunglasses.

Sunglasses even played a significant role during the World War II, when Ray Ban created anti-glare aviator style sunglasses, using polarization. Ray-Ban Aviator sunglasses became popular with the celebrities and the community in 1937 when they started to be sold for the public.

Today, sunglasses with UV protection has almost become an industry standard, and there are a lot of tints available for sunglasses, and sunglasses styles are changing every year.
To celebrate Sunglasses Day, pick up a new pair of shades at your local sunglasses store!