All American Pet Photo Day
On All American Pet Photo Day celebrate your pet by taking some creative memory making photos of your pet. Pictures can be of them playing, sleeping, acting goofy, or dressed up. Pictures can be put into a photo album, refrigerator, work desk, or posted on the Internet.
Over 1/2 of U.S. households have a pet. The most common pet in the USA are dogs followed closely by cats. The most common specialty animal is fish. According to a Forbes.com 2007 article "The combined total of cats and dogs in the U.S. is estimated at 163 million, or more than one for every two people." and "Colorado Springs, Colo., tops our list of America's Most Pet-Friendly Cities".
Pet photography combines the action of sports photography, the intimacy of portrait work, and the patience of a saint. It's messy, chaotic, and hilarious. On the one hand pets are not self-conscious and can be really playful, but on the other hands they are not always known for taking direction well and can take a lot of patience to work with.
But despite this, pet photography is a huge amount of fun, and once you master the basics, you can let your creativity run wild.
Bowdler's Day
Thomas Bowdler (/ˈbaʊdlər/; 11 July 1754 – 24 February 1825) was an English physician and philanthropist, best known for publishing The Family Shakespeare, an expurgated edition of William Shakespeare's work, edited by his sister Henrietta Maria Bowdler, intended to be more appropriate for 19th century women and children than the original. Although early editions of the work were published with the spelling "Shakespeare", after Bowdler's death, later editions (from 1847) adopted the spelling "Shakespeare", reflecting changes in the standard spelling of Shakespeare's name.
The verb bowdlerise (or bowdlerize) has associated his name with the censorship not only of literature but also of motion pictures and television programmes.
After several other publications, some reflecting his interest in and knowledge of continental Europe, Bowdler's last work was an expurgated version of Edward Gibbon's Decline and Fall of the Roman Empire, published posthumously in 1826 under the supervision of his nephew and biographer, Thomas Bowdler the Younger.
Thomas Bowdler was born at Box, near Bath, Somerset, the youngest son of the six children of Thomas Bowdler (c. 1719–1785), a banker of substantial fortune, and his wife, Elizabeth, née Cotton (d. 1797), the daughter of Sir John Cotton of Conington, Huntingdonshire. Bowdler studied medicine at the universities of St. Andrews and Edinburgh, where he took his degree in 1776, graduating with a thesis on intermittent fevers. He spent the next four years in travelling in continental Europe, visiting Germany, Hungary, Italy, Sicily and Portugal. In 1781 he caught a fever in Lisbon from a young friend whom he was attending through a fatal illness. He returned to England in broken health, and with a strong aversion to his profession. In 1781 he was elected a Fellow of the Royal Society and a licentiate of the College of Physicians, but he did not continue to practice medicine. He devoted himself instead to the cause of prison reform. Bowdler was a strong chess player and once played eight recorded games against the best chess player of the time, François-André Danican Philidor, who was so confident of his superiority that he played with handicaps. Bowdler won twice, lost three times, and drew three times.
Bowdler's first published work was Letters Written in Holland in the Months of September and October, 1787 (1788), which gave his eye-witness account of the Patriots' uprising. In 1800 Bowdler took a lease on a country estate at St Boniface, on the Isle of Wight, where he lived for ten years. In September 1806, when he was 52, he married Elizabeth Frevenen or Trevennen, the widow of a naval officer. The marriage was unhappy, and after a few years Bowdler and his wife lived apart. They had no children. After the separation, the marriage was never referred to by the Bowdler family, and in the biography of Bowdler by his nephew, Thomas Bowdler, there is no mention of Bowdler's ever marrying.
In 1807 the first edition of the Bowdlers' The Family Shakespeare was published, in four small volumes. From 1811 until his death in 1825, Bowdler lived at Rhyddings House, overlooking Swansea Bay, from where he traveled extensively in Britain and continental Europe. In 1815 he published Observations on Emigration to France, With an Account of Health, Economy, and the Education of Children, a cautionary work propounding his view that English invalids should avoid French spas and go instead to Malta. In 1818 Bowdler published an enlarged edition of The Family Shakespeare, which had considerable success. By 1827 the work had gone into its fifth edition. In his last years, Bowdler prepared an expurgated version of the works of the historian Edward Gibbon, which was published posthumously in 1826. His sister Jane Bowdler (1743–1784) was a poet and essayist, and another sister Henrietta Maria Bowdler (Harriet) (1750–1830) collaborated with Bowdler on his expurgated Shakespeare.
Bowdler died in Swansea at the age of 70 and was buried there, at Oystermouth. He bequeathed donations to the poor of Swansea and Box. His large library, consisting of unexpurgated volumes collected by his ancestors Thomas Bowdler (1638–1700) and Thomas Bowdler (1661–1738), was donated to the University of Wales, Lampeter. In 1825 Bowdler's nephew, also called Thomas Bowdler, published his Memoir of the Late John Bowdler, Esq., to Which Is Added, Some Account of the Late Thomas Bowdler, Esq. Editor of the Family Shakespeare.


National Blueberry Muffin Day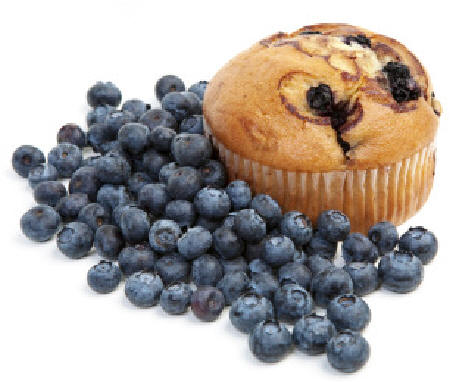 On the 11th day of July each year, Americans across the country indulge in a sweet, fruity baked treat in honor of National Blueberry Muffin Day. This holiday is intended to honor not just muffins, but ones that have been stuffed with either fresh or dried blueberries. This is fitting, as the entire month of July has been designated as National Blueberry Month by the U.S. Department of Agriculture (who officially made this designation in the year 2003).
Although this day is specific to blueberry muffins, muffins also come in a variety of other flavors, including banana, chocolate chip, bran, pumpkin, corn, raspberry and more. They may be eaten for breakfast or as a snack or side dish.
There is very little documentation to be found on the Web regarding National Blueberry Muffin Day, unfortunately. It is difficult to tell how the holiday got its start and where it originated.
We do know a thing or two about the history of the muffin, however. The baked treats can be traced back to the mid 19th century, when they began to appear in cookbooks in America. They vary from their English cousins in that they contain no yeast and are shaped like small cakes rather than discs. The first muffin mix was created in the 1920's by a New Jersey man named Mr. McCollum.
The blueberry muffin is also known as the official muffin of the state of Minnesota.
While there are likely to be no major, widespread celebrations of National Blueberry Muffin day, there may possibly be muffin specials available at bakeries and restaurants. You can also choose to celebrate the day by baking a batch of blueberry muffins on your own and sharing with friends and family members.
National Cheer Up The Lonely Day
Each year on July 11, people across the United States are trying to make someone happy as it is National Cheer Up The Lonely Day.
If you know someone who is lonely or going through a difficult time due to health issues, financial reasons, grief from loss, or personal reasons, today was created as a day to reach out to them and try to cheer them up. Your small act of kindness can make a big difference to them.
Today on National Cheer Up The Lonely Day, visit someone, send flowers, make a phone call, send a card or etc., but somehow, find a way to cheer up someone's day!
Our research found that this day was created by Francis Pesek of Detroit, Michigan. His daughter, L.J. Pesek reports that he "was a quiet, kind, wonderful man who had a heart of gold. The idea came to him as a way of promoting kindness toward others who were lonely or forgotten as shut-ins or in nursing homes July 10 was the birth date of Mr. Pesek. National Cheer Up The Lonely Day is an "unofficial" national holiday.
Loneliness is a complex and usually unpleasant emotional response to isolation or lack of companionship. Loneliness typically includes anxious feelings about a lack of connectedness or communality with other beings, both in the present and extending into the future. As such, loneliness can be felt even when surrounded by other people. The causes of loneliness are varied and include social, mental or emotional factors.
Research has shown that loneliness is widely prevalent throughout society among people in marriages, relationships, families, veterans and successful careers. It has been a long explored theme in the literature of human beings since classical antiquity. Loneliness has also been described as social pain — a psychological mechanism meant to alert an individual of isolation and motivate him/her to seek social connections.
National Rainier Cherries Day
It's National Rainier Cherry Day! And I couldn't think of a better way to celebrate then by sharing the history of this variety and all the effort it takes to grow, harvest, pack, and ship Rainiers cherries to your grocery stores.
Every year on July 11th cherry enthusiasts across the U.S. celebrate the Rainier cherry variety. This golden colored cherry with a red blush is a specialty variety that was born right here in Washington State as a cross between – believe it or not – two red cherry varieties!
In 1952, Washington State University researcher Harold Fogle crossed the Bing and Van varieties to create the delicate and exceptionally sweet Rainier cherry variety. Named after the great Mount Rainier in Washington State, growers began planting this variety once it was released for commercial production in 1960. Since then, Rainier has become a popular tree to aid in pollenizing dark-sweet varieties of cherries (Rainier trees are planted between red cherry trees to help attract bees to their flower blossoms in the spring) and is also grown on a large scale because its sweetness is a favorite of many.
It's no coincidence that July 11th is National Rainier Cherry Day. This time of year marks the peak of Rainier cherry harvest for growers in Washington, which is a big deal considering Rainier cherries are only in season for two months each summer. What makes a Rainier cherry so unique? It's the dessert, almost candy-like flavor of the fruit, which is made possible from higher Brix, or sugar levels, than their red counterparts.
But getting to that dessert experience isn't easy. Ask any cherry grower and they'll tell you that growing ANY cherry is a challenge, but nothing is more challenging than growing Rainier cherries. That's because the fruit has a thin, delicate skin that is highly susceptible to bruising. Rainier cherries are hand-picked from the tree with extra caution and placed in small bags or lugs to minimize contact. Rainiers are sensitive to extreme weather and so hot temperatures, rain, or strong winds are worrisome for growers. There are also birds, who like us, love the sweet flavor of Rainier cherries. Though these challenges aren't unique to Rainier cherries, the damage they cause is often irreversible simply because the variety is so fragile.
Because of these challenges, growers take extra measures to successfully harvest Rainier cherries. They put nets up to keep birds out of the orchard, use windscreens to protect the fruit, and hope that Mother Nature stays on their side in the days and weeks leading up to harvest.
The caution continues after Rainier cherries are harvested. Fruit is hydrocooled immediately after harvest to start the important cold chain process and maximize fruit freshness. For packing, Stemilt has dedicated lines for Rainier cherries. The lines are designed to be gentle with the variety with modern sizing equipment to help reduce sorting and handling. The fruit is also kept cold all the way to its final destination.
All of these efforts are done with one goal in mind – to produce the best tasting Rainier cherries for a true dessert eating experience. On behalf of Stemilt, Happy National Rainier Cherry Day! I hope you can celebrate in style with a bowl of plump, sweet, and juicy Rainier cherries in hand. They are truly one-of-a-kind!
Slurpee Day
A Slurpee is a frozen flavored drink sold by the 7-Eleven company. In 1967, 7-Eleven licensed the product from The Icee Company, and began selling it as the Slurpee.
Machines to make frozen beverages were invented by Omar Knedlik in the late 1950s. The idea for a slushed ice drink came when Knedlik's soda fountain broke down, forcing him to put his sodas in a freezer to stay cool, which caused them to become slushy. Many people loved them, which gave him the idea to make a machine to help make a "slushy". When it became popular, Knedlik hired artist Ruth E. Taylor to create a name and logo for his invention. She created the ICEE name and designed the original logo, which is used today. Early prototypes for the machine made use of an automobile air conditioning unit. In 1965, 7-Eleven began a licensing deal with The ICEE Company to sell the product under certain conditions. Two of these were that 7-Eleven must use a different name for the product, and that the company was only allowed to sell the product in 7-Eleven locations in the US, a non-compete clause ensuring the two drinks never went head to head for distribution rights. 7-Eleven then sold the product that in 1967 became known as the "Slurpee" (for the sound made when drinking them). The term was coined by Bob Stanford, a 7-Eleven agency director.
The Slurpee machine has a separate spout for each flavor at the front of a tumbler or freezer, where patrons pour their own Slurpees. When Slurpees were first introduced, the dispensing machine was located behind the counter, and the clerk was tasked with dispensing the product. Common flavors are frozen Coke, Mountain Dew, and cherry, but new flavors are introduced regularly. In the Slurpee's early history, flavors rotated much more frequently than today. Slurpee flavors were given names. Some of the names used were Pink Fink, Adults Only, Moonshine, Kissin Cousin, Gully Washer Sticky Icky, and Redeye.
A dual-chambered Slurpee cup was announced for June 2011 release which uses a double straw and switchable valve to allow consumers to drink either of the flavors alone or both flavors simultaneously.
World Population Day
The United Nations' (UN) World Population Day is annually observed on July 11 to reaffirm the human right to plan for a family. It encourages activities, events and information to help make this right a reality throughout the world.
World Population Day aims to increase people's awareness on various population issues such as the importance of family planning, including gender equality, poverty, maternal health and human rights. The day is celebrated worldwide by business groups, community organizations and individuals in many ways. Activities include seminar discussions, educational information sessions and essay competitions.
In 1968 world leaders proclaimed that individuals had a basic human right to determine freely and responsibly the number and timing of their children. About 40 years later modern contraception remains out of reach for millions of women, men and young people. World Population Day was instituted in 1989 as an outgrowth of the Day of Five Billion, marked on July 11, 1987. The UN authorized the event as a vehicle to build an awareness of population issues and the impact they have on development and the environment.
Since then, with the United Nations Population Fund's (UNFPA) encouragement, governments, non-governmental organizations, institutions and individuals organize various educational activities to celebrate the annual event.
The UN logo is often associated with marketing and promotional material for this event. It features a projection of a world map (less Antarctica) centered on the North Pole, enclosed by olive branches. The olive branches symbolize peace and the world map represents all the people of the world. It has been featured in colors such as blue against a yellow background.