Amelia Earhart Day
A pioneering aviator and inspirational figure, Amelia Earhart became the first woman to fly solo across the Atlantic Ocean and set many other records throughout her career. Her disappearance in 1937 during an attempt to circumnavigate the globe devastated admirers across the United States and around the world. Her public career lasted less than a decade (from 1928 to 1937), but she used her fame to promote two causes dear to her: the advancement of commercial aviation and the advancement of women.
Earhart symbolizes the fascination that aviation held for Americans in the 1920s and 1930s. Like Charles Lindbergh, she became a national celebrity because of her exploits in the air. Her modest demeanor and short, tousled hair made her a perfect heroine for a media-conscious age.
Earhart's entire life had a certain restless quality. By 1928, she had found a calling of sorts as a social worker in Boston who flew in her spare time. When New York publisher George Palmer Putnam asked if she wanted to be the first woman to fly the Atlantic, she readily agreed. The June 1928 flight from Newfoundland to Burry Port, Wales, made her an instant celebrity, although she was quick to note that she had been merely a passenger, 'a sack of potatoes,' who kept the log. When she soloed the Atlantic in 1932, another first for women, she proved to the world and, more important, to herself that 1928 had not been a fluke.
After the 1928 flight, Earhart turned her hobby of flying into a paying career. As a lecturer, author, and airline industry vice president, she preached her message that flying would soon be an accepted part of everyday life. Many of her widely publicized flights-the 1932 transatlantic crossing, her 1935 solo from Hawaii to California, the 1937 round-the-world attempt-hastened the introduction of commercial air routes. Her career was managed by Putnam, whom she married in 1931 in what was as much a business relationship as a love match. Earhart kept her own name professionally and made no plans to have children. She continued to identify herself publicly with feminism and served as the first president of the Ninety-Nines, an organization of women pilots.
Amelia Earhart had a poet's appreciation of flight, and she flew because she wanted to, which to her individualistic mind-set was the best reason of all. She was delighted when Purdue University, where she had served as aviation consultant and counselor on careers for women since 1935, presented her with a Lockheed Electra so advanced she dubbed it 'the flying laboratory.' Now she could fulfill her ambition to fly around the world. The first attempt in March 1937 ended prematurely when her plane crashed on takeoff in Hawaii. A second attempt began two months later, now following a west-to-east direction. On July 2, 1937, during the hardest leg, a 2,556-mile segment from New Guinea to a tiny speck in the mid-Pacific called Howland Island, Earhart and her navigator, Fred Noonan, disappeared.
The circumstances of Earhart's 'popping off' (her matter-of-fact phrase) have been a source of speculation ever since. Was she on a spy mission for Franklin Roosevelt? Did she land on a desert island and become a Japanese prisoner? The weight of evidence suggests that her plane ran out of fuel somewhere near Howland Island and sank quickly. But given the aviator's hold on the popular imagination, the search for Amelia Earhart continues.
Cousins Day
Cousins Day is celebrated on July 24th of each year. We were unable to discover the origin of Cousins Day.
In kinship terminology, a cousin is a relative with whom one shares one or more common ancestors. The term is rarely used when referring to a relative in one's immediate family where there is a more specific term to describe the relationship (e.g., one's parents, siblings and descendants). The term "blood relative" can be used synonymously and establishes the existence of a genetic link. A system of "degrees" and "removals" is used to describe the relationship between the two cousins and the ancestor they have in common.
The "degree" (first, second, third cousin, etc.) indicates one less than the minimum number of generations between both cousins and the nearest common ancestor. For example, a person with whom one shares a grandparent (but not a parent) is a first cousin; someone with whom one shares a great-grandparent (but not a grandparent or a parent) is a second cousin; and someone with whom one shares a great-great-grandparent (but not a great-grandparent, grandparent or parent) is a third cousin; and so on.
The "removal" (once removed, twice removed, etc.) indicates the number of generations, if any, between the two cousins. The child of a first cousin is a "first cousin once removed" because the one generation gap represents one "removal". The child is still considered first cousin, as the grandparent (the child's great-grandparent), is the most recent common ancestor and thus represents one "degree".
Non-genealogical usage often eliminates the degrees and removals, and refers to people with common ancestors merely as "cousins" or "distant cousins". The system can handle kinships going back any number of generations (subject to the genealogical information being available).
National Drive-Thru Day
In 1951, a businessman named Robert O. Peterson opened the first Jack in the Box® restaurant in San Diego on the main east-west thoroughfare leading into city. Equipped with an intercom system and drive-thru window, the tiny restaurant served up hamburgers to passing motorists for just 18 cents, while a large jack-in-the-box clown kept watch from the roof.
Along with his Jack in the Box restaurants, Mr. Peterson operated other restaurant concepts as well as a food-manufacturing facility as divisions of a parent company called San Diego Commissary Co. In 1960, San Diego Commissary changed its name to Foodmaker Co., and Jack in the Box expanded outside of California with the opening of its first restaurants in Phoenix, Ariz. Three years later, Jack in the Box expanded into Texas, where it opened restaurants in the Houston and Dallas-Ft. Worth areas.
In 1968, Ralston Purina Co. acquired controlling interest in Foodmaker and operated the company as a wholly-owned subsidiary. Under Ralston Purina, Jack in the Box restaurants underwent a major expansion in an effort to penetrate the eastern and midwestern markets, and the business grew to more than 1,000 restaurants by 1979. That same year, Foodmaker decided to concentrate its efforts and resources in the western and southwestern markets, which it believed offered the greatest growth and profit potential. Accordingly, the company sold or closed more than 200 Jack in the Box restaurants in the eastern and midwestern markets.
An investment group, including members of Foodmaker management, completed a leveraged buyout of the company from Ralston Purina in 1985. Foodmaker went public two years later before an investment group, again including members of Foodmaker management, converted the company to a privately owned corporation in 1988. In 1992, Foodmaker again went public, with an offering of 17.2 million shares priced at $15 per share.
In 1995, Foodmaker launched an advertising campaign that featured Jack as the company's fictional founder, CEO and ad pitchman. Longtime customers will remember Jack as a clown who formerly served atop the company's family-friendly drive-thru speaker box. But in 1980, he was blown up in a television commercial that signaled a shift toward more adult fare. With his over-sized, ping-pong ball-shaped head, biting wit and unfailing dedication to offering the finest fast-food experience to his guests, Jack and his commercials were an instant hit. Soon, his likeness appeared on premiums ranging from antenna toppers to Pez dispensers. In addition to producing more than 28 million "Jack" antenna balls, more than 5 million premiums bearing Jack's likeness have been sold since 1995.
Over the years, Foodmaker divested itself of all restaurant concepts except Jack in the Box and closed its food-manufacturing facilities. Acknowledging the strength and growth of the Jack in the Box brand, the company changed its name to Jack in the Box Inc. in 1999.
Jack in the Box Inc. entered the fast-casual restaurant category in 2003 with the acquisition of Qdoba Restaurant Corporation, operator and franchiser of Qdoba Mexican Grill . With approximately 600 restaurants operating in 46 states, as well as in the District of Columbia and Canada, Qdoba is a leader in fast-casual dining. Each Qdoba restaurant showcases food that celebrates Qdoba's passion for ingredients, a menu full of innovative flavors, handcrafted preparation and inviting service.
National Tell an Old Joke Day
Every July 24 is Tell An Old Joke Day. There are several holidays each year dedicated to humor or laughter. The first Sunday in May is World Laughter Day. January 24 is Global Belly Laugh Day. November 20 is Absurdity Day. August 11th is Presidential Joke Day. All of April is designated a National Humor Month. While I have been able to locate all these holidays and celebrations in various locations, I have not been able to find a history behind them. I have to ask, who cares how they started? Creating opportunities to add celebration and humor to our lives is a good thing.
A woman with a duck on her head walks into a doctor's office. The duck says, "Doc, can you get this woman off my butt?"
Some people might dismiss Tell An Old Joke Day when it rolls around. After all, old jokes are more likely to elicit groans than laughter. Please keep in mind that a groan is really nothing more than a low frequency laugh. Remember also that what may be an old joke to you, may be a new joke to someone else.
How do you make an egg laugh? Tell it a yolk.
Laughter is contagious. Only yawns are more contagious. People who are around others sneezing, coughing, sniffling or running a fever may have immunity to the particular condition. Spend time around people who are engaged in a good belly laugh, and it is difficult not to laugh along. Even if you do not know what the other person is laughing at, it is likely you will begin to laugh yourself. That's a good thing. Shared laughter creates a sense of intimacy and joy. Shared laughter helps bind groups together. That is one of the reasons groups, over time, will develop their own private jokes.
Doctor these pills you gave me for BO...They keep slipping out from under my arms!
Laughing has positive physical effects. It releases endorphins that help to diminish pain and to provide protection for excessive stress. Laughter to help to boost immunity. Genuine laughter can increase calories used by up to 20%. Forced laughter is regulated by a different part of the brain and so may have different results in terms of calories usage.
Q: Why was the math book sad?
A: He had lots of problems.
Laughter adds zest to life. Genuine laughter helps us to let go of fears and anxieties. In the Harry Potter books there is a creature known as a boggart which will shape-shift to show someone their greatest fear. Is it any wonder that the way to defeat such a creature is by making it seem ridiculous and laughing at it. If we can find a way to laugh at a thing, we can often overcome our fear. Perhaps that is why minorities who have suffered persecution have contributed so much to the field of comedy. It allows them to overcome those who oppress them by laughing at them.
Why is lemon juice made with artificial flavor, while dishwashing liquid is made with real lemons?
What makes us laugh varies from person to person. I had an great aunt who loved dirty jokes. Being a teenager, I knew a fair number of them. She could not find the joke funny from me; I should not have known about those things. It was alright, however, for me to whisper the joke to my mother who would repeat it to my aunt. My mother was old enough to tell those jokes.
Q: What do you call a French man in sandals?
A: Philippe Philoppe
Likewise, jokes go in and out of style. When I was growing up, ethnic jokes were acceptable - Italian, Irish, Polish and Mexican. Racial jokes were not acceptable. Religious jokes were acceptable sometimes. Of course, by then and now, it is more acceptable to tell a joke on a group to which you belong. Thus, I have always been able to tell Jewish jokes, but had to ask an Italian friend of mine if it was okay to tell him an Italian joke. He told me it was okay if he could tell me a Jewish joke first. I told him he could. He told me the next joke.
Q: What's bland and blue and floats down river?
A: A Jew who tells Italian jokes.
Today, racial, ethnic and religious jokes are only funny when told by someone who belongs to the group. There are, of course, rare exceptions like Don Rickles who can tell jokes about everyone without offending.
Indecision is the key to flexibility.
One of the things we are losing in our society these days is shared laughter. One of the pleasures in attending a live stage show or a movie is having a crowd around with whom to laugh. Being around others who are laughing gives us the freedom to laugh. One of the reasons for laugh tracks on television is to cue you when to laugh. People are more likely to laugh out loud with the laugh track than without. They feel they are joining with others. In today's society we do not share laughter as often. Where once the network television shows were discussed and laughed about over the water cooler at work, today our entertainment is fragmented. We do not share our experiences as we once did.
Q: What did the boy sheep say to the girl sheep on Valentine's Day?
A: I Love Ewe!
Tell An Old Joke Day is July 24. I hope as you have read this, you have enjoyed the old jokes I have included. Perhaps they will help you to celebrate the day. If you did not find a joke you want to tell here, head to the public library. You will find tons of joke books there. Keep in mind that joke-telling is a skill. You will get better the more you practice. Don't save your jokes for one special day. Celebrate laughter all year round.
National Tequila Day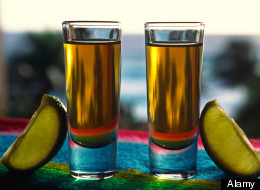 On the 24th day of July each year, revelers all across the United States have an excuse to break out the shot glasses and slice up some limes, for this day is known as National Tequila Day. On this holiday, those of adult legal age are encouraged to show their support for this south of the border spirit by indulging in a shot (or two), or mixing up a margarita, a tequila sunrise or any other tequila spiked concoction.
National Tequila Day is also a fitting occasion to learn a new drink recipe, and expand your bartending repertoire beyond the basics. Try experimenting with fruit flavors in your margaritas, such as mango. You can also try out a more unique tequila recipe such as a michelada or a Baja fog.
Like the majority of food holidays, the origins of National Tequila Day are shrouded in mystery. It is likely that the holiday was created by a company that makes tequila, or even by a bar that serves up a lot of the liquor or is known for margaritas. It is also possible that tequila aficionados began celebrating tequila on this day. Although any one of these is possible, there is no official information available on the Web that can confirm the history of National Tequila Day.
National Tequila Day is celebrated at bars, Mexican restaurants and cantinas around America. You may be able to find deals on shots of tequila, margaritas or other tequila cocktails, or even discounts on bottled tequila at liquor stores. National Tequila Day may be fun, but be careful not to overdo it. Many a drinker has learned the hard way that this particular beverage can be very unforgiving if you take a couple of shots too many!