National Duran Duran Appreciation Day
English rock band Duran Duran formed in 1978, just one year before the oldest founding member of The Year of Living Unofficially was born. The group quickly became one of the hottest bands of the 80′s, with multiple top hits in the UK and the U.S., and over 100 million records sold. With their interest in fashion and their signature innovative music videos, the band earned itself a cutting-edge image while being nicknamed "the prettiest boys in rock." Original members included Nick Rhodes, John Taylor and Stephen Duffy, and though the lineup had changed over the years, Duran Duran still tours today, with originals Rhodes and Taylor, and added members Simon Le Bon and Roger Taylor. One source claims that National Duran Duran Appreciation Day is celebrated on August 10th because, on that date in 1985, lead singer Simon Le Bon survived a near fatal accident when his yacht capsized during a 608 mile race. The band acknowledges National Duran Duran Appreciation Day on their official website and thanks Durran Durran fans for their continued support. Last year the group offered a "snippet" of one of the songs from the album they released the following Spring; this year the band is offering a free download of Other People's Lives from the single off their new album All You Need Is Now.
Everyone knows Duran Duran right? Until today I would have answered that question with a simple, "Yes!" But thanks to the wonderful Pandora I discovered that Duran Duran has way more! The past few days have been pretty busy around the apartment and today was no exception. I made the best of things though and took full advantage of the opportunity to listen to some Duran Duran tracks to help the day go by. These guys can really rock! While their sound is definitely identifiable as being from the 80′s they also have a sound that is in a sense timeless. It's no wonder that the best band of all time (in my opinion), Incubus, covered probably the most famous Duran Duran song Hungry Like the Wolf. After today I am seriously considering the addition of more Duran Duran to my daily playlist. Not only do they deserve their own day because of Simon Le Bon's close call but for their musical achievements as well.
National Lazy Day
Today, Friday, August 10, is National Lazy Day. No creator was found for this holiday. He or she was probably too lazy to document and claim it.
Since there is no official documentation of this day, we're taking the title of the day literally. Today is your chance to do anything you want except be productive! Forget work, chores, or anything you have in your 'to-do' list, it can all wait for one more day. Instead, kick back and be lazy. Lazy Day falls on a Friday this year; could it be more perfect? What better way to welcome the weekend but with total relaxation.
If the weather permits, sit outside on your swinging chair and take a nap or sit by the shade with your favorite summer beverage. You'll be back to your regular busy schedule tomorrow so make sure to catch up on some Zzz's and recharge your body today.
Coming up later this month, is Relaxation Day, similar to today's holiday. Don't you just love August now?
National S'mores Day
National S'mores Day is an unofficial food holiday celebrated on August 10 each year. S'mores are graham crackers with melted marshmallows and chocolate. The food holiday celebrates the creation which is often made when camping out, or for those who have no opportunity to camp made over barbecue grills, in ovens or in a microwave. S'mores are a common treat made on camping trips by groups like Girl Scouts or Youth Groups.
National S'mores Day doesn't have a documented history but the day is observed in the U.S. by has those who enjoy the treat. The actual origin of a s'mores is unknown but it is believed campers in the early part of the 20th century. The name of the treat comes from the two words "some more" indicating seconds are commonly desired. S'mores recipes were published in the 1927 Girl Scout handbook.
A celebration of National S'mores Day can include a gathering of friends to make a batch of the treat to enjoy. The treat can be enjoyed over a campfire or made under the stove broiler. In the Naperville, Illinois area, the Naperville Settlement Museum celebrates the day by inviting families to join in the park for making s'mores over a campfire.
National Spoil Your Dog Day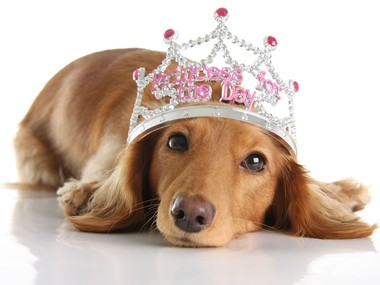 It's your dog's favorite holiday… August 10th is National Spoil Your Dog Day! Now if you're like most pet parents, you already enjoy spoiling your dog every day of the year. But who doesn't love a little extra pampering? Today is a great day to give our dogs a little extra love and attention to thank them for the happiness and unconditional love they give us every day of the year.
Every dog is different, so knowing what most appeals to your dog is the key to making him or her happy. Is your dog a treat-hound or does your dog live for a visit to the dog park? A day for dog owners to loosen up on the leash. In honor of the special day, PetFoodDirect.com has put together a list of the top 10 ways to spoil man's best friend.
Dish out the "treats" - This is the perfect opportunity to prepare a special meal for your pooch. Keep it healthy by combining their favorite foods with some flavorful fruits and vegetables or natural dog treats.
Create an adventure - Some dogs don't get out much, and that's just plain wrong. Try taking your furry pals out for a car ride. Put your windows down, fasten your pups securely in a seat restraint (it's true, they make car seats and seat belts for dogs), and watch the jubilation on their faces as the wind blows through their hair. Want to make it an extra special car ride? Take them to a friend's place, a party, or maybe even an outdoor mall, where you can shop while they meet some other friendly dogs.
Head to the dog park - There are few better places to find other dog owners spending time with their furry BFFs. Mix and mingle and have your dog play with other dogs. Simple social interaction can be important for the development of your dog, not to mention a great deal of fun.
Find a special "doggy" event - Summer is full of events where you can take your dog. In fact, around this time of year, some baseball parks have "Bark in the Park" events, when baseball fans can bring their pets to the game. It doesn't have to be a sporting event, of course, rather just something special and fun you can share with your buddy.
Give him/her new dog toys or fashion accessories - Who doesn't like swag? Change your tail-wagger's look, or give her a shiny new accessory to show off. Did a much loved stuffed toy stop squeaking recently? Buy a new one and watch your pet have a blast. And if your dog's more of a foodie, try gifting him some dog bones or dog treats.
Get wet - It can be as simple as taking a walk on the beach or along the edge of a lake. For the more active dogs, introduce them to your favorite water sports.
Throw a "paw-some" party - If you have friends with dogs, invite them and their pets over. Make it a special day of social interaction your dog can spend with his or her friends, and maybe even meet new ones, to boot.
Take your dog to work – Give them a break from waiting for you to come home by showing them what you do every day. Maybe they'll be more sympathetic when you come home at the end of a tough day and give you some extra licks.
Make it a spa day - Find a pet spa that offers grooming, massages, pedicures, etc., and treat your pooch to some high-class living. It's only fair they enjoy some pampering too, right?
Keep it special - No one knows your dog better than you. You probably know what he or she loves even more than they do. The most important thing is that you make the day extra special. After all, it is Spoil Your Dog Day.
Smithsonian Day
After a decade of debate about how best to spend a bequest left to America from an obscure English scientist, President James K. Polk signs the Smithsonian Institution Act into law.
In 1829, James Smithson died in Italy, leaving behind a will with a peculiar footnote. In the event that his only nephew died without any heirs, Smithson decreed that the whole of his estate would go to "the United States of America, to found at Washington, under the name of the Smithsonian Institution, an Establishment for the increase and diffusion of knowledge." Smithson's curious bequest to a country that he had never visited aroused significant attention on both sides of the Atlantic.
Smithson had been a fellow of the venerable Royal Society of London from the age of 22, publishing numerous scientific papers on mineral composition, geology, and chemistry. In 1802, he overturned popular scientific opinion by proving that zinc carbonates were true carbonate minerals, and one type of zinc carbonate was later named smithsonite in his honor.
Six years after his death, his nephew, Henry James Hungerford, indeed died without children, and on July 1, 1836, the U.S. Congress authorized acceptance of Smithson's gift. President Andrew Jackson sent diplomat Richard Rush to England to negotiate for transfer of the funds, and two years later Rush set sail for home with 11 boxes containing a total of 104,960 gold sovereigns, 8 shillings, and 7 pence, as well as Smithson's mineral collection, library, scientific notes, and personal effects. After the gold was melted down, it amounted to a fortune worth well over $500,000. After considering a series of recommendations, including the creation of a national university, a public library, or an astronomical observatory, Congress agreed that the bequest would support the creation of a museum, a library, and a program of research, publication, and collection in the sciences, arts, and history. On August 10, 1846, the act establishing the Smithsonian Institution was signed into law by President James K. Polk.
Today, the Smithsonian is composed of 19 museums and galleries including the recently announced National Museum of African American History and Culture,nine research facilities throughout the United States and the world, and the national zoo. Besides the original Smithsonian Institution Building, popularly known as the "Castle," visitors to Washington, D.C., tour the National Museum of Natural History, which houses the natural science collections, the National Zoological Park, and the National Portrait Gallery. The National Museum of American History houses the original Star-Spangled Banner and other artifacts of U.S. history. The National Air and Space Museum has the distinction of being the most visited museum in the world, exhibiting such marvels of aviation and space history as the Wright brothers' plane and Freedom 7, the space capsule that took the first American into space. John Smithson, the Smithsonian Institution's great benefactor, is interred in a tomb in the Smithsonian Building.
Skyscraper Appreciation Day
Skyscraper Appreciation Day is celebrated on August 10th, the birth date of William Van Alen, the primary architect behind the construction of the Chrysler Building, the most popular skyscraper in New York City.
William Van Alen was born in Brooklyn, New York in 1883. He attended Pratt Institute while working for the architect Clarence True. He also studied for three years at the Atelier Masqueray, the first independent architectural atelier in the United States, founded by Franco-American architect Emmanuel Louis Masqueray.
Thereafter, Van Alen worked for firms in New York, notably working on the Hotel Astor in 1902 for Clinton & Russell, before he was awarded the Paris Prize scholarship in 1908. The scholarship led to his studying in Paris, in the atelier of Victor Laloux at the École des Beaux-Arts.
By the time Van Alen returned to New York in 1910, he had become interested in new architectural styles, including the modernism for which he later became known. In 1911 he formed a partnership with H. Craig Severance, another architect with similar professional interests but a very different personal style. Severance was gregarious and charming while Van Alen was more introverted. The partnership prospered and became known for its distinctive multistory commercial structures. It completed a building in 1914 in Lower Manhattan that was notable for having storefront windows that were flush with the walls rather than set back, an innovation that later became a standard practice. In the 1920s Severance and Van Alen began to get bigger commissions, but their relationship grew more strained due to their personal differences, and the partnership dissolved in 1924.
Thereafter, both Severance and Van Alen continued to practice on their own in New York, but Van Alen found it difficult to obtain large commissions and therefore sustained his office with smaller commissions. In the mid-1920's he received two of these from Childs Restaurants, an early restaurant chain that was known for the quality of its architecture. His design for 604 Fifth Avenue, a slender six-story building in Midtown Manhattan completed in 1925, incorporated curved glass corner windows which lacked a supporting corner post, another innovation that later became common. This building, which housed a Childs restaurant on its lower floors, garnered notice from Le Corbusier and other prominent architecture critics. His design for another Childs location at 2 Massachusetts Ave. NW in Washington, DC, completed in 1926, was very different. A single-story stone structure on a small triangular plot near Union Station, it featured large arched windows. Though Childs vacated both structures in the 1950s, they were extant and in use in 2014, the Manhattan building as a restaurant and the Washington building as a bank.
In the late 1920s, Severance and Van Alen found themselves engaged in designing buildings that were heralded in the press to become the tallest buildings in the world: Severance, the Manhattan Trust Building 40 Wall Street and Van Alen, the Chrysler Building. At 1046 feet, Van Alen's building won. However, both buildings were surpassed in height by the Empire State Buildingin 1931.
The completion of the Chrysler Building was received by critics with mixed reactions. Van Alen was hailed as a "Doctor of Altitude" and as "the Ziegfeld of his profession." However, the building itself was described by some critics as just flash which "embodies no compelling, organic idea" and which was "distinctly a stunt design, evolved to make the man in the street look up" but having "no significance as serious design." Nevertheless, the Chrysler Building remains a beloved New York City landmark structure.
Van Alen had failed to enter into a contract with Walter Chrysler when he received the Chrysler Building commission. After the building was completed, Van Alen requested payment of 6 percent of the building's construction budget ($14 million), a figure that was the standard fee of the time. After Chrysler refused payment, Van Alen sued him and won, eventually receiving the fee. The lawsuit significantly depreciated his reputation as an employable architect. His career effectively ruined by this and further depressed by the Great Depression, Van Alen focused his attention on teaching sculpture.
Skyscraper Appreciation Day was started by Dr. Tom Stevens. It was created so people can appreciate the engineering and architectural marvels we know as skyscrapers, which represent the triumph of reason and of man's industrial nature.
Victory Day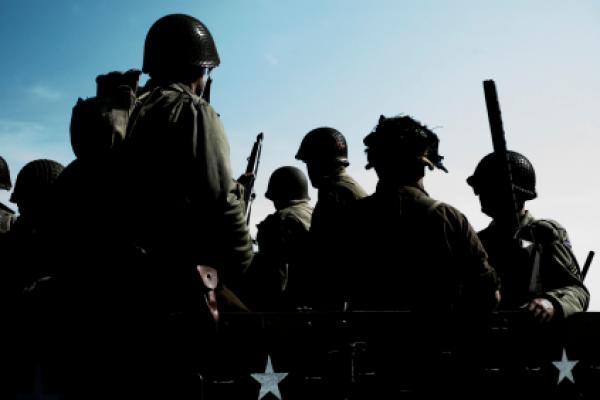 Victory Day, also known as VJ Day, marks the anniversary the Allies' victory over Japan during World War II. It followed the dropping of the devastating atomic bomb on the Japanese cities of Hiroshima on August 6 and Nagasaki on August 9, 1945. Victory Day is a state holiday in Rhode Island in the United States on the second Monday each year.
There have been many arguments and debates concerning the nature and name of this holiday. Veteran groups and their supporters observe Victory Day on the second Monday of August each year. Events may include a commemorative ceremony for veterans. Many people believe that there is a need for such a day to remember the sacrifices that veterans made during World War II, including those who were taken as prisoners of war, were tortured, injured or killed.
However critics claim that the day itself is discriminatory due to its reference to Japan in light of modern times. There have been many attempts to change the holiday's name but so far it remains to be known as Victory Day. Nonetheless there are people who hope to one day celebrate the holiday under a new name or educate young Americans more about the Japanese culture in modern society.
Rhode Island celebrates VJ day as a state holiday but many communities within the US hold special events to honor the day.
State and municipal offices are closed in Rhode Island on Victory Day. Most banks are closed (although not all) but federal offices are open as are many stores, including retail stores, liquor stores and supermarkets. Mail delivery is on a regular schedule. Some bus services may not operate to their usual schedules during state holidays so those planning to use public transit services may need to check with the appropriate transport authorities prior to travel.
Victory Day, or VJ Day, commemorates the anniversary of Japan's surrender to the Allies in 1945, ending World War II. The atomic bombs dropped on Hiroshima on August 6 and Nagasaki on August 9, and the Soviet Union's invasion of Manchuria in the previous week made the surrender inevitable. President Harry S Truman's announcement of the surrender set off street celebrations from coast to coast in the United States. The official end of the war did not occur until September 2, 1945, when General Douglas MacArthur accepted the Japanese surrender from General Yoshijiro Umezu aboard the USS Missouri in Tokyo Bay.
President Truman declared September 2 as the official VJ Day in 1945. In the newspapers across world that day, there were hundreds of photos of soldiers and civilians rejoicing together. VJ Day is a legal state holiday only in the state of Rhode Island. Rhode Island has celebrated this day since 1948.
One of the most famous photographs in the 20th century symbolizes the joyous atmosphere of street celebrations throughout the United States when President Truman announced Japan's surrender in 1945. The candid photo was taken by Alfred Eisenstaedt and published in LIFE magazine. It features a sailor presumably returning home from the war and kissing a woman at Times Square on August 14, 1945. Since then, about 11 men and three women have all claimed to be one of the two the people in that photo.
World Lion Day
August 10th is specified as World Lion Day , and also just like further allocated "Days ," the origin of this kind of a celebration is to enjoy something worldwide , and then consider just how the day , as well as how the person or entity becoming celebrated, affects our way of life. I could see a World Dhali Lama Day, or perhaps World Peace Day since it features real meaning to say to the method we are living our lives, together with our meditations with this affects the method we alter course. Therefore initially I wondered when lions really deserve a full day and whether or not we ought to really be considering the consequence that lions bring to our way of life.
Lion Day goals to increase consciousness of the majestic hunter, the final feline, the emperor of the jungle, the large crispy kitty of the Serengeti… Hmm, we must always leave it at 'king of the jungle'.
Essentially, it's only about lions, but yet you've possibly got that from the term.
This occasion of the animal kingdom's most breathtaking and fearsome animal was established by Big Cat Rescue, the world's most significant certified sanctuary committed to large cats. August 15th is one day for individuals to get together from around the world to pay tribute to the powerful lion in as numerous ways as they can. However an exciting and thrilling occasion for any, its own fundamentals are depending in an exceedingly serious issue: lion numbers have got considerably dropped to the aim where the varieties must be placed on the endangered listing, exactly like their superior cousin the tiger.
Guarding our temples, adorning our flags, decorating our coins and capturing our hearts, the lion is beyond doubt the world's most iconic species. On almost every continent, and in thousands of cultures, the lion can be found demonstrating man's fascination with this magnificent beast.
Despite the lions' symbolic importance throughout the ages, today they are suffering from a silent extinction across Africa and India. Knowledge of the King of Beasts' plight is little known.
World Lion Day is the first global campaign to celebrate the importance of the lion worldwide. Since the dawn of man the lion has played an integral role in our lives: symbolically, religiously, culturally, economically and biologically. To lose the lion from our world would be to lose part of our global heritage.
Wherever you may be, join us on August 10th to celebrate the lion, create much needed conservation awareness and help us save the King of Beasts and his kingdom.
In 1994 three cave explorers discovered some of the world's oldest prehistoric cave paintings in the Ardèche Valley of Southern France. Known as the Chauvet Cave this famed archeological site revealed how Paleolithic man lived some 32,000 years ago but also told of the animals he once encountered and lived alongside.
Within the cave speleologist Jean-Marie Chauvet found walls decorated with intricate paintings of bison, horses, mammoths and most predominantly, lions. The Panel of Lions depicts the large cats roaming the plains alongside rhinoceroses. Some appear to be hunting bison whilst others in large groups are shown interacting with one another. The level of detail within the panel suggests the cats were a frequent sight for prehistoric man and perhaps were often encountered within close proximity.
During this period, following their migration out of Africa in the Middle Pleistocene, lions spread into Asia, the Americas and Europe, becoming the most widespread large terrestrial animal on Earth. Two lineages are thought to have roamed Eurasia; P. l. fossilis which flourished some 500,000 years ago and its descendant the Holartic cave lion (P.l. spelea) appearing around 300,000 – 10,000 years ago.
It is the cave lion that adorns the walls of the Chauvet cave and evidence of its wide range has been found elsewhere in modern day Europe, most famously in central London. In 1957 the fossilized toe bone of a lion was unearthed close to Trafalgar Square, dating back to 125,000 years ago. Of the thousands of visitors milling amongst Landseer's bronze lions at Trafalgar Square every year, few would ever believe lion of flesh and blood once dominated this area.
From the cave lion emerged the modern day lion and it is thought a single population in Sub-Saharan Africa around 320,000 – 190,000 years ago gave rise to the present African lion population. Today there are two recognized sub species of the lion, the African lion (P. leo) and the Asiatic lion (P. leo persica) with very little genetic difference between the two (1.1%).
It is this prehistoric coexistence with the lion across the globe that saw the beginning of our fascination with the species. Their image dominates all forms of modern day symbology and their presence resonates throughout cultural history worldwide.