Annual Medical Checkup Day
Today is annual medical checkup day and as such it's a great day to reflect on your relationship with your doctor(s). How often do you go in for a wellness visit? Do you have a primary care doctor as well as specialists that you routinely see? How comfortable are you with each of your doctors?
If you don't have a family/primary care physician that you see once a year for a wellness visit, it's a good time to start looking for one. Even if you do have one, evaluate how good of a fit he or she is for you. Do you feel like you are truly being listened to during your office visits? How comfortable are you being open and honest with your doctor? If you aren't telling him or her the absolute truth about your lifestyle and any symptoms you may be having, even going to the best doctor in the world isn't going to help you very much. You can search for doctors online as well as ask for referrals from your friends and family members. Your local pharmacist may also be able to point you in the direction of a great doctor since they are often interacting with many local doctors on a daily basis.
If you haven't been seen by a doctor for over a year, make an appointment as soon as possible. However, if you have some wiggle room, you may want to be more strategic about the way you schedule your appointments. One way to easily remember it is time for your annual checkup is to always be seen at the same time of the year. For example, you could choose to be seen near the New Year, your birthday, or any other date that is significant to you.
Once you have your appointment scheduled, create a list of all the issues you want to address during your checkup. You may think that you don't really need to do this, but oftentimes people walk out of doctor's office realizing that they forgot to ask their doctor something. With your list in hand, you will be ready to have your best, most complete checkup to date.
While it is essential to see your family doctor for a wellness checkup once a year, don't forget about other important checkups. You should talk to your primary care physician about specialists you may benefit from seeing. For example, it is often beneficial to make an appointment with a dermatologist once a year to ensure you don't have any skin issues developing such as skin cancer.
Preventive screening - The American Cancer Society prescribes specific annual screening guidelines for men and women that include various cancer screenings. In addition, there are other annual tests which you and your doctor should consider for your health:
Blood pressure screening
Cholesterol checks
Pap smears for women
Prostate exams for men
Mammograms (based on age or family history)
Colo-rectal testing and colonoscopy based on health risk
Cardiac checkups
There are other tests prescribed and the Agency for Healthcare Research and Quality offers recommendations and information regarding prevention and evidence-based medicine.
Health care plans also provide recommended annual testing guidelines for members so be sure and visit their website for more information. Ask your doctor what tests are important for you.
Celebrate life and health by scheduling your annual checkup today. Annual Medical Checkup Day is the perfect day to make that important call for a preventive medical checkup that will help you stay healthy longer.
Ingersoll Day
Ingersoll Day is an annual celebration on or around August 11th, the birthday of Robert Green Ingersoll, to celebrate the life and works of one of the most popular freethinkers in US history. Heard by more Americans than any human being before the advent of motion pictures and radio, Robert Ingersoll was the most successful orator in nineteenth century America. A leading political figure, he campaigned against slavery and for the rights of women and minorities. Known as the "Great Agnostic," he attracted huge crowds to lectures that criticized religion and promoted free-thought.
Robert Green "Bob" Ingersoll (August 11, 1833 – July 21, 1899) was a lawyer, a Civil War veteran, political leader, and orator of United States during the Golden Age of Freethought, noted for his broad range of culture and his defense of agnosticism. He was nicknamed "The Great Agnostic".
"When I became convinced that the universe is natural, that all the ghosts and gods are myths, there entered into my brain, into my soul, into every drop of my blood the sense, the feeling, the joy of freedom. The walls of my prison crumbled and fell. The dungeon was flooded with light and all the bolts and bars and manacles became dust. I was no longer a servant, a serf, or a slave. There was for me no master in all the wide world, not even in infinite space. I was free -- free to think, to express my thoughts -- free to live my own ideal, free to live for myself and those I loved, free to use all my faculties, all my senses, free to spread imagination's wings, free to investigate, to guess and dream and hope, free to judge and determine for myself . . . I was free! I stood erect and fearlessly, joyously faced all worlds."
-- Robert Green Ingersoll, "Why I Am An Agnostic"
Robert Ingersoll was born in Dresden, New York. His father, John Ingersoll, was an abolitionist-leaning Congregationalist preacher, whose radical views forced his family to move frequently. For a time, Rev. John Ingersoll filled the pulpit for American revivalist Charles G. Finney while Finney was on a tour of Europe. Upon Finney's return, Rev. Ingersoll remained for a few months as co-pastor/associate pastor under Finney. The elder Ingersoll's later pastoral experiences influenced young Robert negatively, however, as The Elmira Telegram described in 1890:
Though for many years the most noted of American infidels, Colonel Ingersoll was born and reared in a devoutly Christian household. His father, John Ingersoll, was a Congregationalist minister and a man of mark in his time, a deep thinker, a logical and eloquent speaker, broad minded and generously tolerant of the views of others. The popular impression which credits Ingersoll's infidelity in the main to his father's severe orthodoxy and the austere and gloomy surroundings in which his boyhood was spent is wholly wrong. On the contrary the elder Ingersoll's liberal views were a source of constant trouble between him and his narrow-minded parishioners. They caused him to frequently change his charges, and several times made him the defendant in church trials. His ministerial career was, in fact, substantially brought to a close by a church trial which occurred while he was pastor of the Congregational Church at Madison, Ohio, and at which his third wife appeared as prosecutor. Upon this occasion he was charged with prevarication and unministerial conduct. The evidence adduced—the trial is one of the abiding traditions of the dull little town of Madison—was of the most trivial and ridiculous character, but the committee which heard it decided that though he had done "nothing inconsistent with his Christian character," he was "inconsistent with his ministerial character," and forbade him to preach in the future. Elder John went before the higher church authorities and was permitted to continue his clerical labors. However, he soon removed to Wisconsin, going from there to Illinois, where he died. The Madison trial occurred when young Robert was nine years old, and it was the unjust and bigoted treatment his father received which made him the enemy, first of Calvinism, and later of Christianity in its other forms.
In 1853, "Bob" Ingersoll taught a term of school in Metropolis, Illinois, where he let one of his students, the future Judge Angus M. L. McBane, do the "greater part of the teaching, while Latin and history occupied his own attention". At some point prior to his Metropolis position, Ingersoll had also taught school in Mount Vernon, Illinois.
Later that year, the family settled in Marion, Illinois, where Robert and his brother Ebon Clarke Ingersoll were admitted to the bar in 1854. A county historian writing 22 years later noted that local residents considered the Ingersolls as a "very intellectual family; but, being Abolitionists, and the boys being deists, rendered obnoxious to our people in that respect."
While in Marion, he studied law under Judge Willis Allen and served as deputy clerk for John M. Cunningham, Williamson County's County Clerk and Circuit Clerk. In 1855, after Cunningham was named registrar for the federal land office in southeastern Illinois at Shawneetown, Illinois, Ingersoll followed him to the riverfront city along the Ohio River. After a short time there he took the deputy clerk position with John E. Hall, the county clerk and circuit clerk of Gallatin County, and also a son-in-law of John Hart Crenshaw. On November 11, 1856, Ingersoll caught Hall in his arms when the son of a political opponent assassinated his employer in their office.
When he moved to Shawneetown, he continued to read law under Judge William G. Bowman who had a large library of both law and the classics. In addition to his job as a clerk, he and his brother opened their law practice under the name "E.C. and R.G. Ingersoll". During this time they also had an office in Raleigh, Illinois, then the county seat of neighboring Saline County. As attorneys following the court circuit he often practiced alongside Cunningham's soon-to-be son-in-law, John A. Logan, the state's attorney and political ally to Hall.
As the trial of Hall's assassin dominated the scene and with his earlier mentor Cunningham having moved back to Marion following the land office's closing in 1856, and Logan's move to Benton, Illinois, after his marriage that fall, Ingersoll and his brother moved to Peoria, Illinois, where they finally settled in 1857.
Ingersoll was married, February 13, 1862, to Eva Amelia Parker (1841-1923). They had two daughters. Ingersoll was a great believer in the importance of family life.
With the outbreak of the American Civil War, he raised the 11th Regiment Illinois Volunteer Cavalry and took command. The regiment fought in the Battle of Shiloh. Ingersoll was later captured, then released on his promise that he would not fight again, which was common practice early in the war.
After the war, he served as Illinois Attorney General. He was a prominent member of the Republican Party and, though he never held an elected position, he was nonetheless an active participant in politics. According to Robert Nisbet, Ingersoll was a "staunch conservative Republican." His speech nominating James G. Blaine for the 1876 presidential election was unsuccessful, as Rutherford B. Hayes received the Republican nomination, but the speech itself, known as the "Plumed Knight" speech, was considered a model of political oratory. (Franklin Roosevelt probably used it as a model for his "Happy Warrior" speech when nominating Alfred E. Smith for president in 1928). His radical views on religion, slavery, woman's suffrage, and other issues of the day effectively prevented him from ever pursuing or holding political offices higher than that of state attorney general. Illinois Republicans tried to pressure him into running for governor on the condition that Ingersoll conceal his agnosticism during the campaign, which he refused to do on the basis that concealing information from the public was immoral.
Ingersoll was involved in several prominent trials as an attorney, notably the Star Route trials, a major political scandal in which his clients were acquitted. He also defended a New Jersey man charged with blasphemy. Although he did not win acquittal, his vigorous defense is considered to have discredited blasphemy laws and few other prosecutions followed.
Ingersoll represented the noted con-artist, James Reavis, the 'Baron of Arizona' for a time, pronouncing his Peralta Land Grant claim airtight.
Ingersoll was most noted as an orator, the most popular of the age, when oratory was public entertainment. He spoke on every subject, from Shakespeare to Reconstruction, but his most popular subjects were agnosticism and the sanctity and refuge of the family. He committed his speeches to memory although they were sometimes more than three hours long. His audiences were said never to be restless.
Many of Ingersoll's speeches advocated freethought and humanism, and often poked fun at religious belief. For this the press often attacked him, but neither his views nor the negative press could stop his rising popularity. At the height of Ingersoll's fame, audiences would pay $1 or more to hear him speak, a giant sum for his day.
In a lecture entitled "The Great Infidels," he attacked the Christian doctrine of Hell: "All the meanness, all the revenge, all the selfishness, all the cruelty, all the hatred, all the infamy of which the heart of man is capable, grew blossomed, and bore fruit in this one word—Hell."
Ingersoll died from congestive heart failure at the age of 65. Soon after his death, his brother-in-law, Clinton P. Farrell, collected copies of Ingersoll's speeches for publication. The 12-volume Dresden Editions kept interest in Ingersoll's ideas alive and preserved his speeches for future generations. Ingersoll's ashes are interred in Arlington National Cemetery (Section 3, Lot 1620, Grid S-16.5).
In 2005, a popular edition of Ingersoll's work was published by Steerforth Press. Edited by the Pulitzer Prize-winning music critic Tim Page, "What's God Got to Do With It: Robert Ingersoll on Free Speech, Honest Talk and the Separation of Church and State" brought Ingersoll's thinking to a new audience.
National Raspberry Bombe Day
Today's food holiday is the bombe: August 11 is National Raspberry Bombe Day, so put on your sassiest waist apron and dig out the retro dishes!
Bombe or Bombe Glacée refers to a French frozen ice cream dessert that has been made in a round mold. The ice cream is usually added to the mold in layers and the center of the dessert may consist of different fillings.

The idea of molding desserts can be credited to the French. In the 16th century, it was discovered that below-freezing temperatures could freeze fruit juices or sweetened water into a kind of chilled sorbet. That was when the cooks started to experiment freezing different kinds of sweetened liquids. By the 18th century, they had discovered how to make ice cream. As there was a tradition of using molds to make ice cream, one bright cook froze his ice cream in a round mold resulting in the very first Bombe dish. One of the very first mentions of this dish is in the "The Harvest of the Cold Months," by Elizabeth David in the early 20th century. In the book, she describes the swirling layered round ice creams which were commonly served at the time, resembling onions and were layered with different flavors of ice cream. Fancy bombes formed the centerpieces of wedding banquets and were frosted or covered with layers of decorations.

Auguste Escoffier, the famous French chef, is also credited with purifying the original bombe recipe. He seemed to prefer simpler elegant bombes. Escoffier's cookbook, the famous Le Guide Culinaire had over 30 different recipes for making a bombe and the dish became quite popular by the late 20th century. The dessert also started appearing on restaurant menus by late 1882. Escoffier also purified the original recipe by creating an original first layer called the custard layer of the bombe. This layer had more water content and created larger ice crystals resulting in a harder crunchier texture on the first layer of the bombe. Although Escoffier used round molds, chefs also used bowls to create half round or inverted bowl layered ice cream desserts which were also referred to as bombe.

The traditional recipe used a special outer layer of the ice cream that was made by boiling sugar and water together. Egg yolks were whipped and added to the syrup and whipped again over indirect heat. This resulted in a thickened aerated ice cream layer that formed the first layer of the bombe. This layer was referred to as the custard layer and was derived from an Italian candy making process called candito d'uova or candied eggs. This layer was chilled and additional layers were built on top of it with contrasting colors and flavors. A few recipes also use cake in the first layer and cover it with the custard ice cream and then build the layers on top of this. The dish is frozen for a minimum of six hours before serving.

There are many variations of the basic bombe recipe. Traditionally, chefs made the ice cream by hand but nowadays, chefs use ready-made ice cream and layer the ice cream in round bowls to form the characteristic shape. A large range of flavor combinations are possible due to the large variety of commercial ice creams. For example, Tricolor Ice Bombe is prepared by layering ready-made strawberry ice cream, pistachio ice cream and vanilla ice cream, in a round bowl. The bowl is placed in the freezers and chilled for 20 minutes and served garnished with fresh raspberries. Raspberry bombe is prepared by using a special bombe mold. The custard ice cream forms the first layer followed by raspberry ice cream and lastly with fresh cream. Bombe Richelieu is an original Escoffier recipe and it uses rum ice cream with coffee ice cream and chocolate sprinkles.

The original custard layer of ice cream has higher water content. As it chills, it forms big crystals of water. This results in a crunchier texture to the first layer of the bombe. However, for some reason, this custard layer does not work well with chocolate and it does not gel properly when chocolate is used. The bombe is also thought to be built on the original Italian ice cream Spumone.
According to this newspaper clipping, a typical bombe combines sherbet, ice cream, heavy cream, chopped nuts, candied fruit and even a spot of rum. When you layer up this little beauty in a mold and freeze it overnight, you've got a centerpiece-worthy dessert that was made for summer.
National Raspberry Tart Day
August 11 is National Raspberry Tart Day in the United States. This food holiday honors a popular baked dessert that consists of a fruit filling over a pastry.
There are two schools of thought on the history of tarts. One posits that tarts have evolved out of the "putting things on top of other things" tradition of gastronomy. According to this line of thought, human beings have been putting foodstuffs on top of other foodstuffs — notably round, flat pieces of bread — for millennia now. Since bread is made of flour and tart crusts are made of flour (albeit highly enriched flour), any of these foods counts as a tart. Technically. (People argue the same thing about cake…and pizza).
The second school of thought maintains that tarts spring from the Medieval pie-making tradition, and are in fact a kind of flat, open-faced pie. These folks have the shape and technique argument on their side, and I'm inclined to side with them. Enriched doughs (i.e. "short" crusts) came into common use about two hundred years after pies (about 1550 versus about 1350 or before for basic pie crusts), and in the same geographic area — Europe.
Pies and tarts differ in that while pie was a commoner's sort of fare, a way of recycling offal and table scraps for later consumption (call it Medieval Tupperware), tarts were the stuff of high cuisine. Which is to say, they were extremely popular among the nobility. Court cooks employed tarts not so much for their taste but because of their looks. Often custard-based, a large, open tart presented a broad canvas upon which an artistic chef might compose a work of edible art. Thus brightly-colored fruits, vegetables and spices all found their way into (onto) them. They could be sweet, savory, or more often than not, a mixture of both.
Over time culinary trends took tarts primarily in the sweet direction (citrus tarts like orange and lemon are two all-time classics) though it's important not to forget their famous savory cousins, quiches. I can't say which of the two I prefer, though having already done quiche, I'll concentrate on the sweet stuff this week.
To celebrate National Raspberry Tart Day, indulge yourself with a slice of delightful tart or a tartlet with fresh raspberries from your local bakery. If you feel like cooking, you can make a raspberry tart yourself and treat your family and friends. Here is a quick and easy raspberry tart recipe for you.
In a bowl, blend together 1 cup all-purpose flour, 1/2 cup butter, and 2 tbs confectioners' sugar. Let the mixture chill for 1 hour. Pat chilled dough into a 9-inch tart pan. Bake at 375 °F for 10 minutes. Remove crust from the oven and cool.
Arrange 4 cups fresh raspberries in crust. Heat 8 ounce raspberry jam in microwave or bain-marie until it begins to boil. Pour jam over raspberries. Cover the tart and put in the fridge for about 1 hour before serving.
Play in the Sand Day
Play in the Sand Day is celebrated on August 11. Even adults may dig in the sand on this day! It does not matter where you play in the sand - whether on the beach, in the sand pit or on a construction site. The important thing is that "baked" cake consists of sand composed of finely divided rock and mineral particles. Have fun by building sandcastles and digging holes!
One of the main attractions of a sandy beach, especially for children, is playing with the sand, as it presents more possibilities than an ordinary sandbox. Sand art is the practice of modelling sand into an artistic form, such as a sand brushing, sand sculpture, sand-painting, or sand bottles. The two basic building ingredients, sand and water, are available in abundance on a sandy beach, so most sand play takes place there, or in a sandpit.
A sand castle is a type of sand sculpture resembling a miniature building, often a castle. Sand castles are typically made by children, simply for the fun of it, but there are also sand-sculpture contests for adults that involve large, complex constructions.
Presidential Joke Day
Presidential Joke Day is celebrated on August 11th of each year.
On this day in 1984, President Ronald Reagan makes a joking but controversial off-the-cuff remark about bombing Russia while testing a microphone before a scheduled radio address. While warming up for the speech, Reagan said "My fellow Americans, I am pleased to tell you today that I've signed legislation that will outlaw Russia forever. We begin bombing in five minutes."
Although the press throng and his aides in attendance laughed at the obvious joke, the comment unnerved Democratic opposition leaders and those already fearful of the hard-line posturing Reagan had displayed toward the USSR since assuming office in 1981. Others simply dismissed his remark, which came at a time of heightened tensions between the U.S. and Russia, as a moment of poor taste.
Reagan's tough, anti-communist rhetoric and his policy to increase American defense spending contrasted with the Soviet policies of former Presidents Nixon, Ford and Carter, who had tried to cultivate improved relations with Soviet Russia on friendly terms, offering cultural and technology exchanges. In retrospect, many analysts view Reagan's get-tough policies as responsible for scaring the Russians into spending more on their military just to keep pace with American military expenditures—a fact that likely led to the collapse of the Russian economy and, by extension, the country's communist political system.
Although Reagan, a former actor, was known for his clever way with words, the "bombing Russia" joke was considered by many to be an embarrassing political gaffe—not the first of his career. In 1969, while serving as governor of California, Reagan responded to student protesters at the University of California at Berkeley by saying "if there has to be a bloodbath then let's get it over with." Some of his more witty comments include a comparison between politics and prostitution and the 1980 campaign quip "a recession is when your neighbor loses his job. A depression is when you lose yours. And recovery is when Jimmy Carter loses his." Even after an attempted assassination in March 1981, Reagan never lost his sense of humor. The first thing he said to his wife Nancy when she arrived at the hospital was "honey, I forgot to duck." (This quote was originally attributed to boxer Jack Dempsey after losing a championship match to Gene Tunney in 1926.)
Although it is not known what Soviet leaders thought of Reagan's joke, the comment did color some Americans' opinion of Reagan, whose approval rating dropped in the aftermath of the incident, temporarily boosting the electoral hopes of Democratic presidential hopeful Walter Mondale. Reagan recovered and beat Mondale; he began his second term in 1984.
Son and Daughter Day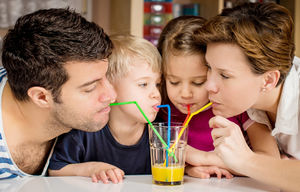 August 11 is Son and Daughter Day, a day for parents to show their love and appreciation for their children. Son and Daughter Day is the perfect opportunity to set aside some time to reflect on the joy that children bring to your life. Whether sons and daughters are young or old, teenagers or toddlers, the bond between parent and child is like no other on earth and this annual celebration ensures the miracle of bringing new life into the world is never forgotten. Though the origins of Son and Daughter Day are unknown, it is celebrated widely across the world simply by parents spending time with their children and letting them know how special they are to them. The best gift to give on Son and Daughter Day is the gift of time. If your children are still living at home, take some time out of your schedule to truly enjoy their company. If your children have moved away, make sure they return so you can spend quality family time together.
While the origins of this unofficial holiday are a mystery, it is clear that the anonymous creators Son and Daughter Day wanted parents to acknowledge the joy their children bring into their lives.
The bond between parents and their sons and daughters is a very special one. It endures age and distance. No matter how old a person gets, their parents still see him or her as a child - someone to protect and shower love on. So, take this day to tell your sons and daughters how much they mean to you and that you respect them and love them.
How to Celebrate?
If you have young kids, take them out for a fun outing to let them know that you care about them.
Give your kids a big hug in the morning and tell them how much you love them.
Make them a special meal and let them eat treats reserved for special days.
Don't have kids? Shower your affection on your nieces or nephews if you have any. If you don't, what about making it a special day for your pet? After all, they are like your kids, no?