I Love Cowboys and Cowgirls Day
Cowboys and cowgirls are the stars of the show, both on and off the stage (or stagecoach) on August 15th. It's I Love Cowboys and Cowgirls Day.
How about saddling up for a scenic trail ride with a cowboy or cowgirl? Why not plan to attend a traveling Wild West Show or a real-life rodeo on August 15th? On the other hand (or foot), you might simply step into a pair of stupendously stunning cowboy boots to kick up your heels for a night on the town on August 15th.
A cowboy is an animal herder who tends cattle on ranches in North America, traditionally on horseback, and often performs a multitude of other ranch-related tasks. The historic American cowboy of the late 19th century arose from the vaquero traditions of northern Mexico and became a figure of special significance and legend. A subtype, called a wrangler, specifically tends the horses used to work cattle. In addition to ranch work, some cowboys work for or participate in rodeos. Cowgirls, first defined as such in the late 19th century, had a less-well documented historical role, but in the modern world have established the ability to work at virtually identical tasks and obtained considerable respect for their achievements. There are also cattle handlers in many other parts of the world, particularly South America and Australia, who perform work similar to the cowboy in their respective nations.
The cowboy has deep historic roots tracing back to Spain and the earliest European settlers of the Americas. Over the centuries, differences in terrain, climate and the influence of cattle-handling traditions from multiple cultures created several distinct styles of equipment, clothing and animal handling. As the ever-practical cowboy adapted to the modern world, the cowboy's equipment and techniques also adapted to some degree, though many classic traditions are still preserved today.
The origins of the cowboy tradition come from Spain, beginning with the hacienda system of medieval Spain. This style of cattle ranching spread throughout much of the Iberian peninsula and later, was imported to the Americas. Both regions possessed a dry climate with sparse grass, and thus large herds of cattle required vast amounts of land in order to obtain sufficient forage. The need to cover distances greater than a person on foot could manage gave rise to the development of the horseback-mounted vaquero.
International Geocaching Day
For adventure-seekers out there, this is for you: International Geocaching Day. Geocaching Day is a designated day for hunting treasures placed in a cache using Global Positioning System or GPS.
International Geocaching Day is done every third Saturday of August every year. There were no authenticated records which support the origin of Geocaching Day. Worldwide, however, geocaching is done because of its several benefits like social, physical and educational advantages.
Firstly what is geocaching? Geo which is shortened for geography and caching which means to conceal or bury something. Geocaching is an organized activity that involves thoroughly looking for a treasure placed in a cache. These caches are waterproof and contain a logbook where the hunters will write the date and time they found the treasure. These are placed in different places around the world except for places that require ruining or rearranging to be found. To track such treasures, one must possess a gadget with GPS.
One of the purposes of geocaching is to train the hunters of their treasure-hunting, hiking, navigating and benchmarking skills primarily.
Geocaching encourages people in an outdoor adventure where they can exercise both their physical flexibility and mental prowess. In the process of hunting for treasures, they create a unique bonding with their friends and establish new friendships.
International Homeless Animals' Day


ISAR conceived and began International Homeless Animals' Day in 1992. Since that time, ISAR's International Homeless Animals' Day Candlelight Vigil Observances have consistently grown in number. They bring people all over the world together to shed light on pet overpopulation and the spay/neuter solution. By now, International Homeless Animals' Day events have been celebrated in all 50 states and the District of Columbia, in over 50 countries and on 6 continents, saving millions of animals' lives.
Animal protection organizations and concerned individuals from around the world come together on the third Saturday of August each year to raise awareness about the pet overpopulation epidemic. ISAR's International Homeless Animals' Day activities often include candlelight vigils, adopt-a-thons, spay/neuter clinics, microchip clinics, blessings of the animals, and heartfelt speeches given by council members, local veterinarians, humane officers and shelter personnel. Other activities include slideshows, rallies, dog walks, open houses, award ceremonies, live music, raffles, and games. Individuals and organizations wishing to take part in ISAR's International Homeless Animals' Day events can order a complimentary downloadable candlelight vigil packet by contacting ISAR by mail, phone, fax or email. Our vigil packet includes guidelines for organizing a successful vigil event with tips on site selection, suggestions for speakers and vigil events, reaching target audiences, poems, songs, sample press releases and more!
In addition to your downloadable copy of ISAR's International Homeless Animals' Day vigil packet you will receive our International Homeless Animals' Day posters to advertise your event, Proclamations to be signed by your governor and mayor declaring the day as International Homeless Animals' Day, coloring sheets and more through the U. S. Postal Service. Your participation in ISAR's International Homeless Animals' Day will guarantee advertisement of your organization's event to thousands of people on ISAR's International Homeless Animals' Day website, as well as promotion on ISAR's online communities such as Facebook and Twitter.


By coming together on International Homeless Animals' Day you can support ISAR in letting the world know we will not tolerate the senseless killing that continues to take the lives of innocent dogs, cats, puppies and kittens simply because there are not enough good homes for them.
Together, we will continue to be a voice for the animals, and continue to demand an end to the suffering these animals face each day.
National Check The Chip Day
Microchips greatly increase the chances that you'll get your pet back if he/she is lost or stolen…but a microchip only works if its registration information is accurate.
To remind pet owners to have their pets micro-chipped and to keep the registration information up-to-date, AVMA and the American Animal Hospital Association (AAHA) joined together to create "Check the Chip Day."
In 2013, the AVMA and the American Animal Hospital Association (AAHA) joined together to launch "Check the Chip Day" as a reminder to pet owners to check their pet's microchip registration to make sure it's up-to-date. Microchips are very effective for identifying lost pets and reuniting them with their families, but that potentially happy ending won't occur if the microchip registration isn't correct – or worse, if it's never been registered in the first place.
Check the Chip Day is meant to serve as a reminder to check and update microchip registration information. The few minutes it takes could make all the difference if a pet is lost or stolen. Thanks to microchips (and up-to-date information, of course!), thousands of lost or stolen pets have been reunited with their families, even years later and from thousands of miles apart.
Start planning now to help us celebrate the event and reach our ultimate goal of 100% microchip registration:
Include Check the Chip Day in your clinic mailings and newsletters, encouraging pet owners to check their pet's microchip registration and make sure it's correct.
Share reminders on your social media channels and clinic website.Tag microchip-related tweets and posts with #CheckTheChipDay
Join the Facebook event and encourage your clients to do the same. We'll be posting relevant stories and resources now through August 15, and on August 15 we'll be sharing additional resources and fun stuff. Feel free to post on our event page what your clinic is planning to celebrate the observance.
Share stories of successful reunions to emphasize the importance of microchips and updated registration.
Share our resources on microchipping, such as our FAQs, resource document, podcast, and video.
Offer free microchip scanning and registration checks on August 15.
Consider offering discounted microchipping services on August 15, and help the owner complete the registration process before they leave your clinic.
For every microchipped pet seen during appointments on August 15, scan the pet's microchip to make sure it's still active, and look up the pet's information and go over it with the pet's owner to make sure it's correct. If it's not, help them update their information on the spot.
Don't forget to check and update your own pet's registration, and remind your staff to do the same.
National Failures Day
August 15th is celebrated as the National Failures Day every year.
The National Failures Day is celebrated on the same day as the National Relaxation Day. The relationship is quite simple. Failures are a part of everybody's life. So this day has been set aside so we can acknowledge our failures and make efforts to learn from them and move ahead with a positive attitude.
On this day we can takes steps to teach our children the importance and significance of failure in life. Also to instill confidence in ourselves and our children and telling them to not stop trying for the fear of failure. It is to make them aware that failures are the stepping stones to success.
Another important fact of failure is that just because we have failed at something, does not mean that we deny ourselves the right to relax. Sometimes we might be trying so hard to get a particular job done that we forget to relax. This day also reminds us that we must relax.
On the flip side may be we are relaxing more and hence we might be failing more often. Behind every failure is a learning.
National Honey Bee Day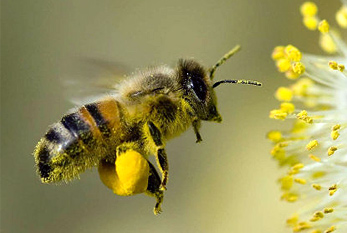 There has been two dates posted over time for National Honey Bee Day 2015. One date was given two years ago to calendar makers, who need long lead time. The official date, being proclaimed in Washington D.C., was listed as August 22nd. We are happy to list both dates (Aug 15 or 22) for your group. Either day, it is all good for the bees. Send in your groups activities regardless of the date and
we will list it here on the website. Future dates are posted at the bottom of this page for the next 5 years to limit future confusion.
The 2015 National Honey Bee Day theme, "Ban Ignorance, not Honey Bees" is closely connected with the core value of NHBD and one of the reasons for the existence NHBD programs. To educate the public about beekeeping, while helping the overall public understand the importance and contributions that honey bees provide. Ignorance is defined as: A lack of knowledge or lack of information. In regards to beekeeping and honey bees, it is our job to educate others.
There are many areas across the nation, with prohibitive or outright bans on beekeeping. Public outreach and education are crucial in expanding and even maintaining the ability to keep bees. And our hope is to use NHBD as a way to help in these efforts.
Almost all beekeeping groups can help make a difference. You do not need to look too far to see zoning laws, township ordinances, and other regulatory red tape, restrictive and even the outright banning of beekeeping in some areas. Education is key.
Honey bees are as important today as they ever were. A decline in native pollinators, due to a host of reasons, impacts local agriculture and many backyard gardens. Beekeepers are not just vital for large
scale food production. Backyard beekeepers are vital for neighborhood pollination. And your local ecosystem of food production for wild animals and birds is dependent on this same pollination. Beekeepers fill the void with their honey bees. It is that simple.
The National Honey Bee Day program will send a care packet of bumpers stickers and other material as available, to bee groups trying to make beekeeping accessible in local communities.
And for those blessed enough to have never gone through fighting to keep, or have beekeeping reinstated in your local area, please do not take it for granted. Help the next bee group...the next beekeeper.... the next generation. It might be the next town over dealing with restrictive zoning. But your town might be next. In the spirit of National Honey Bee Day programs everywhere, please help other bee groups when the call goes out.
Thank you to our beekeeping friends out there. And thank you for helping make beekeeping one of the most rewarding and giving acts you can do for others.
We realize that this years theme night help some groups more than others. But the importance of our collective efforts to helping those dealing with these issues can not be greater. And we hope that each
NHBD participating bee group incorporates this message into their NHBD program.
We hope you have a wonderful beekeeping season. And wish you the best National Honey Bee Day program for 2015. The national exposure of having so many bee programs all held in unity on one day, helps the "bee community" everywhere.
National Lemon Meringue Pie Day
Pucker up, sweet stuff - August 15 is National Lemon Meringue Pie Day!
Do you meringue? Whether or not fluffy, toasted egg whites are for you, meringue sure makes for a heavenly topping on this decadent pie.
Since Medieval times, we've had an affinity for lemon pies and custards, but meringue didn't start rearing its pillowy head until the 1600s. Alexander Frehse had the bright idea of combining this tangy-sweet duo into a pie in the nineteenth century.
If you've ever tangled with making a lemon meringue pie, you know that the lemon curd and cornstarch filling can be a fickle feat. The best advice I ever received was from my grandmother: "Keep it simple, honey." She swears by the recipe on the side of the cornstarch box, and if you're ever unsure about the consistency, cook it just a minute longer.
Don't worry, we won't tell if you sweep the meringue to the side and dig out all that rich lemon filling.
August 15 is the one day every year when it is acceptable to ignore phone calls, disregard e-mails and take it easy because it's National Relaxation Day!
Originating in Britain as National Slacker Day, the holiday has been unofficially adopted by the United States. Americans began celebrating this holiday years ago and with good reason — our health.
Sometimes we all need a reminder to take a deep breath, shift our eyes from the LED screen and reexamine the world around us. As a millennial—a member of the generation everyone says is always glued to his or her devices—I can attest to the sometimes exhausting energy it takes to be "on" all the time while being plugged in to social networking.
I compare being active in social media as going to a party. Remember those high school or college parties you went to with a group of friends, filled with people you didn't know, with loud music and people rushing by you every few seconds? Imagine going up to each and every single one of those people and starting a five-minute conversation. It would make anyone tired. Now imagine doing that every day.
Here are some ideas for relaxing:
Choose an electronic-free hobby and stick with it. Mine is yoga. Namaste.
Unless your job requires it, don't sync your work e-mail with your personal cell phone. It can wait, and you'll have a fresh perspective in the morning.
Wake up 30 minutes early so you can have a little extra "me" time. You'll feel much more prepared to take on the day.
Explore the world around you. Go for a daytime run in the local park, check out the farmer's market or plan a weekend trip.
Stop watching TV, checking your phone or browsing the Internet at least 30 minutes before bed. Your body needs time to relax.
Invite friends or family over for a game night or a food-and-wine night. Laughs are always needed in life.
When it comes down to it, what's the point of life if you can't enjoy it?
Now don't get me wrong. I'm very productive at my job, and I enjoy my work, but it's because I remember to take time for myself. If you never give yourself a break, you'll never get a chance to step back and appreciate all that is around you. National Relaxation Day is a great reminder for all of us to slow down, do something good for ourselves and learn better habits that enrich our lives. So today I challenge all of you to reevaluate your to-do lists. Move what can be moved to tomorrow and relax. Enjoy this quasi-holiday from the Brits, and if you find yourself stressed today, just say to yourself in an English accent, "I'm going to the pub. Cheerio!"


Nicolas Chauvin Day
This is a weird "holiday." It commemorates a bad belief, or maybe an unfortunate personality trait!
Have you ever wondered where the word "chauvinism" comes from? (Actually, have you ever heard the word "chauvinism" before?)
A chauvinist is someone who loudly and aggressively says blindly patriotic things—you know, the things that boil down to "my country is always right." A chauvinist may also be unreasonably enthusiastic about military glory.
The word "chauvinist" has now been generalized for anyone who is overly, absurdly enthusiastic about his or her own religion, ethnic group, sex, or any other group—if that person's devotion is biased and especially if it spills over into disparagement of other religions or groups, or patronization of the opposite sex.
So, where did the word come from?
In the late 1700s a man named Napoleon Bonaparte rose to fame as a successful military leader of the French armed forces. In the early 1800s he declared himself Emperor of the French. One of Napoleon's soldiers idolized him so greatly that this soldier eventually became ridiculous and the butt of others' jokes. This soldier often and loudly proclaimed blind devotion and loyalty to Napoleon and to anything French—and he was named Nicholas Chauvin.
Nicolas Chauvin is a legendary, possibly apocryphal French soldier and patriot who is supposed to have served in the First Army of the French Republic and subsequently in La Grande Armée of Napoleon. His name is the eponym of chauvinism, originally a term for excessive nationalistic fervor, but later used to refer to any form of bigotry or bias (e.g., male chauvinism).
According to the stories that developed about him, Chauvin was born in Rochefort, around 1780. He enlisted at age 18, and served honorably and well. He is said to have been wounded 17 times in his nation's service, resulting in his severe disfigurement and maiming. For his loyalty and dedication, Napoleon himself presented the soldier with a Sabre of Honor and a pension of 200 francs.
Chauvin's distinguished record of service and his love and devotion for Napoleon, which endured despite the price he willingly paid for them, is said to have earned him only ridicule and derision in Restoration France, when Bonapartism became increasingly unpopular.
Oh, and one more thing: some historians are skeptical that Chauvin ever really existed. He may be a fictional character that people who were sick of Bonapartism created!
A legendary character that never ever existed is called apocryphal. Of course, it's difficult to know if people like King Arthur and Robin Hood are based on someone who really lived (or, more likely, more than one person who really lived) or are wholly apocryphal, because their legends concern times from the Sixth and Fourteenth Centuries. I would think that it would be a bit easier to figure out if Chauvin really lived, because Napoleonic times were only a few centuries ago; the fact that some historians think he didn't exist makes me think that there is no evidence—no birth certificate, no written military records—that he did.