'Black Cow' Root Beer Float Day
The first root beer float - so the story goes - was served on August 19th, 1893, by Frank J. Wisner, owner of Cripple Creek Brewing, in Cripple Creek, Colorado. He called his creation the "Black Cow Mountain," and it soon became a hit with the kiddos, who began referring to the tasty treat as simply, the "Black Cow."
Nowadays, a root beer float means different things to different folks. For some, it's not a root beer float unless you use plain vanilla ice cream dolloped into your root beer. Others put a little spin on things: plopping some chocolate ice cream into their root beer and calling it a "chocolate cow" or a "brown cow." Still others insist it's only a "brown cow" or a "black cow" if you use regular cola and ice cream. Then there's folks in places such as northeastern Wisconsin, who only call it a "black cow" if the root beer and ice cream are all mixed together, instead of leaving the ice cream floating on top. And would you believe, there's also a such thing as a "purple cow?" Yup, a "purple cow," created when you put a scoop of vanilla ice cream in a mug of purple grape soda.
But what do you call a black-and-white cow in a hot pink bikini, floating in a giant mug of root beer and melting vanilla ice cream?
National Aviation Day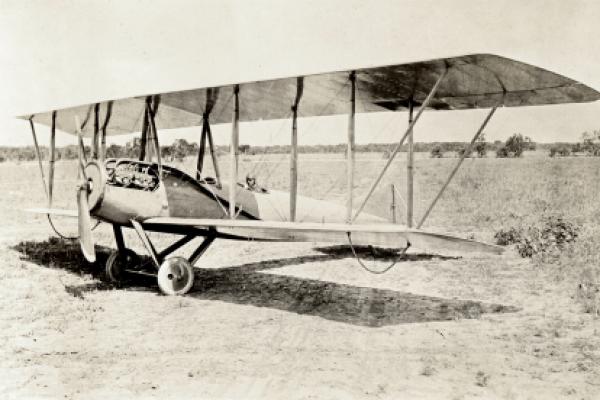 National Aviation Day is observed in the United States on August 19 each year to celebrate the history and development of the aviation. It coincides with the birthday of Orville Wright who, together with his brother Wilbur, made significant contributions to powered flight.
On this day, some schools organize for students to participate in classroom activities that focus on the topic of aviation. Activities include: discussing aviation history, including the efforts of the Wright brothers, Amelia Earhart and other aviation pioneers; and engaging in interactive tasks about airplanes and other means of flight transport, as well as careers associated with the aviation industry. Aviation enthusiasts and students may visit museums about aviation history and technology. Some people visit the Wright Brothers National Memorial in North Carolina at this time of the year.
In 1939 President Franklin Roosevelt proclaimed August 19 to be National Aviation Day. The day coincides with the birthday of Orville Wright, who piloted the Wright Flyer. He and his brother Wilbur are given credit for building the world's first successful airplane with aircraft controls that enabled them to steer the plane. Orville Wright made the first flight for 12 seconds and 120 feet around the site of Wright Brothers National Memorial on December 17, 1903. They were not the first to build and fly experimental aircraft but they are the first to invent aircraft controls that made fixed wing flight possible. The Wright brothers' status as inventors of the airplane has been an issue of debate, particularly as there were competing claims regarding other early aviators. Another national observation in the United States is Wright Brothers Day on December 17 each year.
Each year the president may issue a proclamation to: designate August 19 as National Aviation Day; call on government officials to display the flag of the United States on all government buildings on the day; and invite people living in the United States to observe the day with appropriate exercises to further stimulate interest in aviation in the United States.
Images of early flight pioneers (including the Wright brothers), airplanes and other flight vehicles, aviation industry workers (such as pilots) and any other images linked with the aviation industry have been seen on material used to promote National Aviation Day.
National Hot & Spicy Food Day
National Hot & Spicy Food Day is celebrated annually on January 16. It is an unofficial holiday dedicated to the eating of spicy foods, particularly of international origin. The holiday is celebrated in the United States. It is not listed as a day of celebration elsewhere in the world.
There are literally hundreds of types of herbs and spices throughout the world. Each can provide a unique flavor sensation on its own. In combination, herbs and spices can take on different qualities and characteristics that can make the sum much different that the individual spices alone. Each culture differs in how they combine spices to make the flavors in their foods. For example, India cuisine may feature any or all combinations of garlic, paprika, ginger, etc.
The exact origins of National Hot & Spicy Food Day is unknown. Hot and spicy food has been a part of the human diet for over 6000 years. Many cultures use a variety of spices as staples in the diet. For example, cayenne pepper is a common spice used in Cajun, Thai, Russian, Tex Mex and Asian cuisines, just to name a few.
Besides the flavors that hot spices add to foods, there is also literature stating that hot and spicy foods can be good for killing bacteria in food. Garlic, oregano, onions and allspice are examples of bacteria-killing spices. It is believed that ancient cultures, especially those in hotter climates, adapted when they learned that foods high in spices allowed them to remain healthier than bland foods. While they probably did not understand the science behind this practice, they knew they lived longer than their predecessors. The practice of spicing food would be passed on to their children. It is now a common practice to season foods with spices, but because technology has advanced so that food is better preserved, people add spices because they enjoy the flavor of hot and spicy food.
People who love hot foods can mark this day with their favorite spicy international foods. Many people make Cajun dishes flavored with Cajun seasonings such as hot pepper sauce or Creole seasoning Dishes such as jambalaya or gumbo are popular. Others may try a Tex-Mex menu with chili, nachos or tamales. Asian menus could include Thai Chicken Curry, Lamb Korma and Chicken Kapitan.
National Medical Dosimetrist Day
National Medical Dosimetrist Day is celebrated on the third Wednesday of August each year, is designated as the day for celebrating medical dosimetry professionals around the world. This is a day for us to recognize the importance of our profession. We contribute to cancer survivorship each and every day!
The Medical Dosimetrist is a member of the radiation oncology team who has knowledge of the overall characteristics and clinical relevance of radiation oncology treatment machines and equipment, is cognizant of procedures commonly used in brachytherapy and has the education and expertise necessary to generate radiation dose distributions and dose calculations in collaboration with the medical physicist and radiation oncologist.
The medical dosimetrist designs a treatment plan by means of computer and/or manual computation to determine a treatment field technique that will deliver the prescribed radiation dose while taking into consideration the dose-limiting structures. The medical dosimetrist maintains a delicate balance between delivering the prescription that the physician has written while ensuring the patient will not lose important healthy organ function.
Using imaging modalities such as CT scans, alone or in combination with MRI or PET scans, planning is completed with 3-D computers that enable us to give higher doses of radiation to a tumor while lowering the doses to the sensitive structures around it. In some environments we play a part in cutting edge clinical research for the development and implementation of new techniques in cancer treatment. It is an exciting and amazing profession to work in. We are members of a team that contributes toward cancer survivorship on a daily basis.
The medical dosimetrist performs calculations for the accurate delivery of the Radiation Oncologist's prescribed dose, documents pertinent information in the patient record, and verifies the mathematical accuracy of all calculations using a system established by the Medical Physicist. We perform, or assist in, the application of specific methods of radiation measurement as directed by the Medical Physicist. We may provide technical and physics support to the Medical Physicist; this support could be in radiation protection, qualitative machine calibrations, and quality assurance of the radiation oncology equipment. Also, we often take on the role of educator in facilities that have radiation oncology residents, radiation therapy students or medical dosimetry students.
National Potato Day
Do the mashed potato - August 19 is National Potato Day!
Show your spud love with pride today and embrace this king of delicious side dishes. As "Lord of the Rings" taught us, hobbits are particularly protective of their taters, and so are we.
The potato, from the perennial Solanum tuberosum, is the world's fourth largest food crop, following rice, wheat, and maize. The Inca Indians in Peru were the first to cultivate potatoes around 8,000 BC to 5,000 B.C.
In 1536 Spanish Conquistadors conquered Peru, discovered the flavors of the potato, and carried them to Europe. Before the end of the sixteenth century, families of Basque sailors began to cultivate potatoes along the Biscay coast of northern Spain. Sir Walter Raleigh introduced potatoes to Ireland in 1589 on the 40,000 acres of land near Cork. It took nearly four decades for the potato to spread to the rest of Europe.
Eventually, agriculturalists in Europe found potatoes easier to grow and cultivate than other staple crops, such as wheat and oats. Most importantly, it became known that potatoes contained most of the vitamins needed for sustenance, and they could be provided to nearly 10 people for each acre of land cultivated.
In the 1840s a major outbreak of potato blight, a plant disease, swept through Europe, wiping out the potato crop in many countries. The Irish working class lived largely on potatoes and when the blight reached Ireland, their main staple food disappeared. This famine left many poverty-stricken families with no choice but to struggle to survive or emigrate out of Ireland. Over the course of the famine, almost one million people died from starvation or disease. Another one million people left Ireland, mostly for Canada and the United States.
Potatoes in the United States
Potatoes arrived in the Colonies in 1621 when the Governor of Bermuda, Nathaniel Butler, sent two large cedar chests containing potatoes and other vegetables to Governor Francis Wyatt of Virginia at Jamestown. The first permanent potato patches in North America were established in 1719, most likely near Londonderry (Derry), NH, by Scotch-Irish immigrants. From there, the crop spread across the country.
Idaho, the present-day largest producer of potatoes, actually did not begin growing potatoes until 1836, when missionaries moved west in an effort to teach the native tribes to grow crops instead of relying upon hunting and gathering methods. However, it wasn't until 1872 when the Russet Burbank variety was developed, that the Idaho potato industry began to flourish.
A. Parmentier helped King Louis XIV popularize the potato in France in the 18th century. Parmentier created a feast with only potato dishes, a concept he realized was possible when he was imprisoned in Germany and fed only potatoes. Benjamin Franklin, ambassador to France, was in attendance of Parmentier's feast in 1767.
French Fries were introduced to the U.S. when Thomas Jefferson served them in the White House during his Presidency of 1801-1809. Collinet, chef for French King Louis Phillipe (reign 1830-1848) unintentionally created soufflés (or puffed) potatoes by plunging already fried potatoes into extremely hot oil to reheat them when the King arrived late for dinner one night. To the chef's surprise and the king's delight, the potatoes puffed up like little balloons. In 1853 railroad magnate Commodore Cornelius Vanderbilt complained that his potatoes were cut too thick and sent them back to the kitchen at a fashionable resort in Saratoga Springs, NY. To spite his haughty guest, Chef George Crum sliced some potatoes paper thin, fried them in hot oil, salted and served them. To everyone's surprise, Vanderbilt loved his "Saratoga Crunch Chips," and potato chips have been popular ever since.


World Humanitarian Day
World Humanitarian Day, which is dedicated to recognize humanitarian personnel and those who have lost their lives working for humanitarian causes, is celebrated on August 19th of each year. It was designated by the United Nations General Assembly as part of a Swedish-sponsored GA Resolution A/63/L.49 on the Strengthening of the Coordination of Emergency Assistance of the United Nations, and set as 19 August. It marks the day on which the then Special Representative of the Secretary-General to Iraq, Sérgio Vieira de Mello and 21 of his colleagues were killed in the bombing of the UN Headquarters in Baghdad.
The designation of 19 August as World Humanitarian Day is the outcome of the relentless efforts of the Sérgio Vieira de Mello Foundation and his family working closely with the Ambassadors of France, Switzerland, Japan and Brazil in both Geneva and New York to table and steer the draft Resolution through the General Assembly. The Foundation conveyed its deep gratitude to the United Nations General Assembly and all Member States for the worthy gesture of recognition that has ensured that the tragic loss of Vieira de Mello and his 21 colleagues and all humanitarian personnel who have made the ultimate sacrifices in relieving the suffering of victims of humanitarian crises have not been in vain.
A national of Brazil, Sérgio Vieira de Mello dedicated a lifetime spanning over thirty years in the United Nations, serving in some of the most challenging humanitarian situations in the world to reach the voiceless victims of armed conflict, alleviate their suffering and draw attention to their plight. His death together with 21 colleagues on 19 August 2003 in Baghdad, deprived the victims of armed conflict worldwide of a unique humanitarian leader of unmatched courage, drive and empathy who championed their cause fearlessly and etched their plight on the world map. The tragic event also robbed the humanitarian community of an outstanding humanitarian leader and intellectual whose thinking, philosophy, dynamism and courage inspired all and remains a timeless legacy for coming generations to emulate.
Mindful of this legacy, in 2006 the Vieira de Mello family and a group of close friends founded the Sergio Vieira de Mello Foundation dedicated to continue his unfinished mission of encouraging dialogue between communities and relieving the plight of victims of humanitarian crises. The Foundation is dedicated to supporting initiatives and efforts to promote dialogue for peaceful reconciliation and co-existence between peoples and communities divided by conflict through an annual Sergio Vieira Mello Award, an Annual Sergio Vieira Mello Memorial Lecture, a Sergio Vieira de Mello Fellowship and advocating for the security and independence of humanitarian actors, wherever they may be operating and whomever they may be operating for. The Foundation views the World Humanitarian Day as a befitting tribute to all humanitarian personnel who have made the ultimate sacrifices to make the world a better place for all victims of humanitarian crises and an encouragement to all their serving colleagues to aspire to even greater heights in accomplishing that laudable goal.
World Photography Day
The date behind World Photo Day originates from the invention of the Daguerreotype, a photographic processes developed by Joseph Nicèphore Nièpce and Louis Daguerre in 1837. On January 9, 1839, The French Academy of Sciences announced the daguerreotype process. A few months later, on August 19, 1839, the French government purchased the patent and announced the invention as a gift "Free to the World".
It should be noted that the Daguerreotype wasn't the first permanent photographic image. In 1826, Nicèphore Nièpce captured the earliest known permanent photograph known as 'View from the Window at Le Gras' using a process called Heliography.
August 19th, 1839 was chosen as the date behind World Photo Day based on the following historical merits:
The Daguerreotype was the first practical photographic process.
The purchase and release of the patent by the French government.
In 2009, Korske Ara, a passionate young photographer from Australia launched the World Photo Day Project with the dream to unite local and global communities in a worldwide celebration of photography.
On August 19th 2010, World Photo Day hosted it's first global online gallery. With 270 photographs shared and website visitors from over 100 countries, this marked the first official, globally reaching World Photo Day.
Since the launch of the project, we've heard from people that have been celebrating photography on August 19th in their local communities prior to 2010. There's also evidence of an attempt to start a June 1st photography celebration in 2005. We acknowledge this history of previous celebrations and believe that it demonstrates that this strong passion behind photography is the catalyst of World Photo Day.
Today, we can share memories across the globe in seconds. Photography is an invention that has revolutionised the way we see the world. We can visit places without leaving our home. We can share adventures with friends in another city and we can watch grandchildren grow up thousands of kilometers away.
There was a time when photography didn't exist