Founders Day (National Park Service Day)
Each year on August 25, the National Park Service celebrates its birthday and EVERYONE is invited to join the party! Americans can be proud that the United States was the first country in the world to set aside its most treasured places as national parks so that they could be enjoyed by all.
Join us as we approach the 100 year anniversary of the National Park Service in 2016! Let's celebrate these majestic natural, historical, and cultural places, and show our appreciation to the individuals who keep them safe today and who will continue to do so into the future.
Let the National Park Service know you're thinking of them by signing the birthday card, and show your support by giving a gift to the National Park Foundation in honor of the National Park Service's birthday!
What Is The National Park Service? Established in 1916, the National Park Service was created to care for all of the national parks throughout the country. Each park represents an important part of our collective identity. Some parks commemorate notable people and achievements, others conserve magnificent landscapes and natural wonders, and all provide a place to have fun and learn.
The extraordinary mission of the National Park Service extends even further than the parks, however. The work of NPS reaches into communities across the country where they work with partners to help preserve local history and create close-to-home recreational opportunities that revitalize neighborhoods and enhance the quality of life.
Kiss And Make Up Day
We all have fights with our nearest and dearest now and again. Whether a sibling dispute, a marital tiff, a spat with a best friend or a clash with the parents; whether it's about a lie, a misunderstanding, relationships or the state of the kitchen, today it's time to kiss and make up.
Sometimes a grudge gets held too long or we allow the little things that irritate us in a relationship to become bigger than they really are; Kiss and Make Up Day works to end those frosty silences, mood swings and critical comments. Instead, buy the person you love flowers, say sorry and tell them how much they mean to you, or if all else fails chocolate is usually a swift way to a person's heart.
Today celebrates the fact that kissing and making up is the best part of an argument (especially where lovers are concerned), and sometimes even makes the fight worthwhile. Annoying habits and irritability aside, it's good to have the people you love around you. So remember not to take loved ones for granted and appreciate the good stuff in your relationship. Top it all off with a big smooch and you've fully embraced the spirit of the day.
National Banana Split Day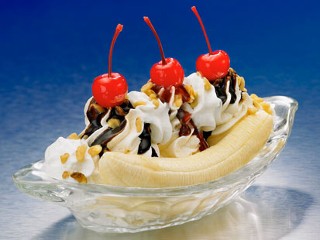 National Banana Split Day is an unofficial food holiday celebrated on August 25 each year. The food holiday is a fun day to enjoy a variety of banana splits either in an ice cream parlor or made at home. A banana split usually consists of a banana sliced length wise with several scoops of ice cream on top of it. Flavored toppings like crushed strawberries, pineapple, cherries, or hot fudge are added onto the scoops of ice cream. The original banana splits had a scoop of vanilla, chocolate, and strawberry ice cream. Today with the large variety of flavors of ice cream, many ice cream parlors allow a choice of the three flavors to be included.
There is nothing specific to explain how National Banana Split Day came into being but banana splits have been around for many years. In 1904, the first banana splits were believed to have been made. It's unclear who invented the ice cream treat first and possibly two individuals has the same thought about mixing the fruit and the dairy treat around the same time. In Latrobe, PA, Dr. David Strickler, a 23 year old pharmacy worker created his version of the banana split. Dr. Dave's banana splits were a enjoyed by Saint Vincent College students and he devised a special dish to hold the concoction. Around the same time, another pharmacist, Stinson Thomas, revealed his banana concoction at the National Association of Retail Druggists where he explained he cut off the ends of a banana, split it open, put ice cream on top and added crushed strawberries. His first banana split was made with the peel left on.
National Banana Split Day can be celebrated at the hometown ice cream shop or in a chain store like Baskin Robbins, or Dairy Queen. Another option is to buy banana split flavored ice cream from the freezer department of the local grocery store or buy standard flavors and toppings to make banana splits at home.


National Secondhand Wardrobe Day
When we talk about saving the environment, we say that we should all reduce, reuse, and recycle. One great way of reducing resources used—and saving money—is wearing second-hand clothes rather than always buying new clothes.
You can help others acquire great second-hand wardrobes by going through your closets today and donating items you have outgrown or that you never wear to a local thrift shop. Or give them to people you know will use them, or sell them in a yard sale, or...the possibilities are endless!
(If you donate, don't forget to get written proof of the donation so it will count as a tax deduction.)
Of course, another great way to celebrate the day is by going to thrift stores, yard sales, or consignment shops and looking for great items for your own wardrobe. Remember that you can alter the clothes you buy—cut them up, take them in, shorten a skirt, remove a collar, add decorative buttons, whatever!
By the way, donating clothing and buying previously-loved clothing both help the economy as well as helps the environment! At least 9 billion dollars annually changes hands in used-merchandise stores. Going to thrift stores is a great way to get brand-named items for less.
Get inspired with these upcycled clothing ideas.
By the way...
The EPA Office of Solid Waste says that, on average, each and every American throws away more than 68 pounds of clothing and cloth every single year!
That makes more than 10 MILLION TONS of clothing and cloth thrown away every year in this one country alone. Yikes!
National Whiskey Sour Day
August 25 is National Whiskey Sour Day. Celebrate this classic tart cocktail by making the standard bourbon Whiskey Sour cocktail recipe or one of our other Whiskey Sour variations. Cheers!
Don't get your mouth all twisted up at the idea of this sweet and sour quaff. Splash some bourbon, lemon juice and sugar together and shake or serve it straight.
The mixed drink supposedly traces its spirits back to an English steward on a sailing ship. As a closet bartender, he was constantly experimenting with shaking and stirring things up. Whiskey met a sour dose of lime and a balancing contrast of sugar and the "sour" was born.
The oldest historical mention of a whisky sour prepared in the world comes from a newspaper published in Wisconsin in 1870.
In 1962, the Universidad del Cuyo published a story which cited a Peruvian newspaper called El Comercio de Iquique as indicating that Elliott Stubb created the "whisky sour" in 1872. El Comercio de Iquique was published by Modesto Molina between 1874 and 1879.
So shake it up, baby. Add a lemon wedge or maraschino cherry to your whiskey sour and knock back some happiness. This is one drink that won't make you sour.