Make Your Own Luck Day
Make Your Own Luck Day is always on August 26th. Thomas Jefferson once said, "I'm a great believer in luck, and I find the harder I work, the more I have of it." On Make Your Own Luck Day do just that by being open to new experiences and opportunities. Don't be stuck in a routine. Set a goal and work hard for it. Don't accept defeat and take risks. Richard Wiseman, head of a psychology research department at the University of Hertfordshire in England, says he's cracked the code "Luck isn't due to kismet, karma, or coincidence, he says. Instead, lucky folks — without even knowing it — think and behave in ways that create good fortune in their lives".
The definition of luck (or chance) varies by philosophical, religious, mystical, or emotional context of the one interpreting it; according to the classic Noah Webster's dictionary, luck is "a purposeless, unpredictable and uncontrollable force that shapes events favorably or unfavorably for an individual, group or cause". Yet the author Max Gunther defines it as "events that influence one's life and are seemingly beyond one's control".
When thought of as a factor beyond one's control, without regard to one's will, intention, or desired result, there are at least two senses that people usually mean when they use the term, the prescriptive sense and the descriptive sense. In the prescriptive sense, luck is a supernatural and deterministic concept that there are forces (e.g. gods or spirits) that prescribe that certain events occur very much the way laws of physics will prescribe that certain events occur. It is the prescriptive sense that people mean when they say they "do not believe in luck". In the descriptive sense, people speak of luck after events that they find to be fortunate or unfortunate, and maybe improbable.
Therefore, cultural views of luck vary from perceiving luck as a matter of random chance to attributing to such explanations of faith or superstition. For example, the Romans believed in the embodiment of luck as the goddess Fortuna, whereas the philosopher Daniel Dennett believes that "luck is mere luck" rather than a property of a person or thing. Carl Jung viewed luck as synchronicity, which he described as "a meaningful coincidence".
Lucky symbols are popular worldwide and take many forms.
Musical Yoga Day
August 26 is almost over but, I learned this morning and only now had a chance to share that apparently today in 1967, the Beatles, Mick Jagger, and Marianne Faithful met Maharishi Mahesh Yogi who helped spread the practice of Transcendental Meditation and I assume related practices like yoga in the Western world, including the United States. That was just a few years before I discovered yoga. To celebrate that day, the email notification I received encouraged yogis to practice yoga with rock music.
I am curious - how many of you yogis out there practice with rock music? My tastes in music are eclectic and far ranging. I have to admit that I rarely practice with rock music even though I love all kinds of rock music. I find rock better suited to jumping on my mini-trampoline.
My favorite music for yoga ranges from light classical music (like upbeat Mozart) and classical guitar (think Andres Segovia) to flamenco jazz guitar ( think Jesse Cook, Jesse Cook, and Jesse Cook! as well as Lawson Rollins) to smooth jazz. No, I don't practice to the sounds of sitars or any type of Indian music of ethereal new age type of music, although I am not adverse to it. One of the readers of my books, Karyl, says that she really enjoys practicing to the album called Putumaya presents Yoga.
Everyone's tastes are different. Here is what I think is important for choosing music for your yoga practice:
You LOVE the music!
The music energizes and relaxes you.
The music syncs with and enhances your focus on the flow of your movements and breathing.
You feel blissful after your practice.
Rock on, jazz on, or otherwise do your yoga moves to the music,
National Cherry Popsicle Day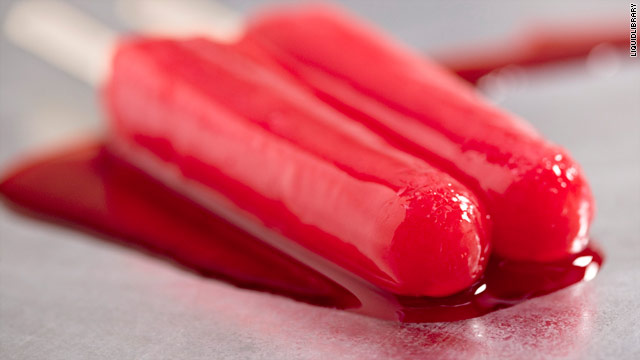 It's National Cherry Popsicle Day! According to legend, an eleven-year-old boy named Frank Epperson accidentally invented the popsicle in 1905. He was stirring up a soft drink when he got distracted and left the cup and the stirring stick out on his front porch overnight. The next morning he discovered a delicious frozen treat with a convenient stick handle!
Frozen treats have been around for centuries but the invention of the popsicle is somewhat more recent.
In the early 1900′s an eleven year old boy named Frank Epperson mixed up a concoction of soda and powder. He then forgot it outside leaving it all night on his porch.
Little Frank lived in California but I guess it was cold that night and when he discovered it in the morning it was frozen with the stir stick in it.
He fiddled around with it; pulled it up and started to eat it. Little Frank found the frozen discovery to be quite delicious and started making them for friends and family.
It wasn't until 20 years later that he patented the name Epsicle which is a combination of his last name and icicle. It later was renamed Popsicle.
Now the two stories for that name change are that his children started calling them Pop's sicles, Frank being their "Pop". Another story is that he wanted to emphasize that it was made out of "soda pop" thus added the "pop". I like the kid's story myself, don't you?
The Good Humour Company eventually bought the patent name. Poor Frank never really made any money on his discovery.
Nowadays, popsicles are quite a fashionable dessert. Today we celebrate the classic cherry-flavored variety, but that's just the tip of the iceberg. Gourmet popsicle shops turn out dozens of unique flavors—avocado, hibiscus, chai, cranberry cosmopolitan, cucumber-jalapeño, and many more.
To celebrate National Cherry Popsicle Day, make your own homemade popsicles! Team up with some friends to invent a totally unique flavor or put a twist on a classic.
National Dog Day
National Dog Day is celebrated on August 26th of each year. Founded in 2004 by pet lifestyle expert and author Colleen Paige, National Dog Day was created to honor dogs more than we currently do, to give them "a day", to show deep appreciation for our long connection to each other - for their endearing patience, unquestioning loyalty, for their work, their capacity for love and their ability to impact our lives everyday in the most miraculous ways. National Dog Day wishes to encourage dog ownership of all breeds, mixed and pure - and embraces the opportunity for all dogs to live a happy, safe and "abuse-free life".
The domestic dog (Canis lupus familiaris), is a subspecies of the gray wolf (Canis lupus), a member of the Canidae family of the mammilian order Carnivora. The term "domestic dog" is generally used for both domesticated and feral varieties. The dog may have been the first animal to be domesticated, and has been the most widely kept working, hunting, and companion animal in human history. The word "dog" may also mean the male of a canine species, as opposed to the word "bitch" for the female of the species.
The present lineage of dogs was domesticated from gray wolves about 15,000 years ago. Though remains of domesticated dogs have been found in Siberia and Belgium from about 33,000 years ago, none of those lineages seem to have survived the Last Glacial Maximum. Although mDNA testing suggests a split between dogs and wolves around 100,000 years ago, no specimens prior to 33,000 years ago are clearly morphologically domesticated dog.
Dogs' value to early human hunter-gatherers led to them quickly becoming ubiquitous across world cultures. Dogs perform many roles for people, such as hunting, herding, pulling loads, protection, assisting police and military, companionship, and, more recently, aiding handicapped individuals. This impact on human society has given them the nickname "Man's Best Friend" in the Western world. In some cultures, dogs are also source of meat. In 2001, there were estimated to be 400 million dogs in the world.
Most breeds of dogs are at most a few hundred years old, having been artificially selected for particular morphologies and behaviors by people for specific functional roles. Through this selective breeding, the dog has developed into hundreds of varied breeds, and shows more behavioral and morphological variation than any other land mammal. For example, height measured to the withers ranges from 6 inches (150 mm) in the Chihuahua to about 2.5 feet (0.76 m) in the Irish Wolfhound; color varies from white through grays (usually called "blue") to black, and browns from light (tan) to dark ("red" or "chocolate") in a wide variation of patterns; coats can be short or long, coarse-haired to wool-like, straight, curly, or smooth. It is common for most breeds to shed this coat.
National Toilet Paper Day
Did you know that August 26 is National Toilet Paper Day? The first time toilet paper was ever sold on a roll was on August 26, 1871. August 26 was later officially dubbed National Toilet Paper Day.
Since the dawn of time, people have found nifty ways to clean up after the bathroom act. The most common solution was simply to grab what was at hand: coconuts, shells, snow, moss, hay, leaves, grass, corncobs, sheep's wool—and, later, thanks to the printing press—newspapers, magazines, and pages of books. The ancient Greeks used clay and stone. The Romans, sponges and salt water. But the idea of a commercial product designed solely to wipe one's bum? That started about 150 years ago, right here in the U.S.A. In less than a century, Uncle Sam's marketing genius turned something disposable into something indispensable.
The first products designed specifically to wipe one's nethers were aloe-infused sheets of manila hemp dispensed from Kleenex-like boxes. They were invented in 1857 by a New York entrepreneur named Joseph Gayetty, who claimed his sheets prevented hemorrhoids. Gayetty was so proud of his therapeutic bathroom paper that he had his name printed on each sheet. But his success was limited. Americans soon grew accustomed to wiping with the Sears Roebuck catalog, and they saw no need to spend money on something that came in the mail for free.
Toilet paper took its next leap forward in 1890, when two brothers named Clarence and E. Irvin Scott popularized the concept of toilet paper on a roll. The Scotts' brand became more successful than Gayetty's medicated wipes, in part because they built a steady trade selling toilet paper to hotels and drugstores. But it was still an uphill battle to get the public to openly buy the product, largely because Americans remained embarrassed by bodily functions. In fact, the Scott brothers were so ashamed of the nature of their work that they didn't take proper credit for their innovation until 1902.
"No one wanted to ask for it by name," says Dave Praeger, author of Poop Culture: How America Is Shaped by Its Grossest National Product. "It was so taboo that you couldn't even talk about the product." By 1930, the German paper company Hakle began using the tag line, "Ask for a roll of Hakle and you won't have to say toilet paper!"
As time passed, toilet tissues slowly became an American staple. But widespread acceptance of the product didn't officially occur until a new technology demanded it.
At the end of the 19th century, more and more homes were being built with sit-down flush toilets tied to indoor plumbing systems. And because people required a product that could be flushed away with minimal damage to the pipes, corncobs and moss no longer cut it. In no time, toilet paper ads boasted that the product was recommended by both doctors and plumbers.
In the early 1900s, toilet paper was still being marketed as a medicinal item. But in 1928, the Hoberg Paper Company tried a different tack. On the advice of its ad men, the company introduced a brand called Charmin and fitted the product with a feminine logo that depicted a beautiful woman. The genius of the campaign was that by evincing softness and femininity, the company could avoid talking about toilet paper's actual purpose. Charmin was enormously successful, and the tactic helped the brand survive the Great Depression. (It also helped that, in 1932, Charmin began marketing economy-size packs of four rolls.) Decades later, the dainty ladies were replaced with babies and bear cubs—advertising vehicles that still stock the aisles today.
By the 1970s, America could no longer conceive of life without toilet paper. Case in point: In December 1973, Tonight Show host Johnny Carson joked about a toilet paper shortage during his opening monologue. But America didn't laugh. Instead, TV watchers across the country ran out to their local grocery stores and bought up as much of the stuff as they could. In 1978, a TV Guide poll named Mr. Whipple—the affable grocer who implored customers, "Please don't squeeze the Charmin"—the third best-known man in America, behind former President Richard Nixon and the Rev. Billy Graham.
Currently, the United States spends more than $6 billion a year on toilet tissue—more than any other nation in the world. Americans, on average, use 57 squares a day and 50 lbs. a year.
Even still, the toilet paper market in the United States has largely plateaued. The real growth in the industry is happening in developing countries. There, it's booming. Toilet paper revenues in Brazil alone have more than doubled since 2004. The radical upswing in sales is believed to be driven by a combination of changing demographics, social expectations, and disposable income.
"The spread of globalization can kind of be measured by the spread of Western bathroom practices," says Praeger. When average citizens in a country start buying toilet paper, wealth and consumerism have arrived. It signifies that people not only have extra cash to spend, but they've also come under the influence of Western marketing.
Even as the markets boom in developing nations, toilet paper manufacturers find themselves needing to charge more per roll to make a profit. That's because production costs are rising. During the past few years, pulp has become more expensive, energy costs are rising, and even water is becoming scarce. Toilet paper companies may need to keep hiking up their prices. The question is, if toilet paper becomes a luxury item, can Americans live without it?
The truth is that we did live without it, for a very long time. And even now, a lot of people do. In Japan, the Washlet—a toilet that comes equipped with a bidet and an air-blower—is growing increasingly popular. And all over the world, water remains one of the most common methods of self-cleaning. Many places in India, the Middle East, and Asia, for instance, still depend on a bucket and a spigot. But as our economy continues to circle the drain, will Americans part with their beloved toilet paper in order to adopt more money-saving measures? Or will we keep flushing our cash away? Praeger, for one, believes a toilet-paper apocalypse is hardly likely. After all, the American marketing machine is a powerful thing.
Women's Equality Day
August 26th is the anniversary of national woman suffrage. Across the seventy-two years between the first major women's rights conference at Seneca Falls, New York, in 1848, and the passage of the Nineteenth Amendment, thousands of people participated in marches through cities like New York and Washington DC, wrote editorials and pamphlets, gave speeches all over the nation, lobbied political organizations, and held demonstrations with the goal of achieving voting rights for women. Women also picketed the White House with questions like, "Mr. President, what are you going to do about woman's suffrage?" "Mr. President, how long must women wait for liberty?" This was the first time in history that a group of people picketed the White House.
The woman suffrage amendment was introduced for the first time to the United States Congress on January 10, 1878. It was re-submitted numerous times until finally in June 1919 the amendment received approval from both the House of Representatives and the Senate. Over the following year the suffragists spent their time lobbying states in order to have the amendment ratified by the required two-thirds of the states. On August 24th, Tennessee, the final state needed for ratification, narrowly signed the approval by one vote. The vote belonged to Harry Burn, who heeded the words of his mother when she urged him to vote yes on suffrage. The U.S. Secretary of State Bainbridge Colby signed the amendment into law on August 26, 1920.
Fifty years later on August 26th, 1970, Betty Friedan and the National Organization For Women (NOW) organized a nationwide Women's Strike for Equality. Women across the political spectrum joined together to demand equal opportunities in employment, education, and twenty-four hour child-care centers. This was the largest protest for gender equality in U.S. history. There were demonstrations and rallies in more than ninety major cities and small towns across the country and over 100,000 women participated, including 50,000 who marched down Fifth Avenue in New York City.
Several other acts occurred on that day to help the cause and prompt more press coverage on the women's movement. For example, women in New York City took over the Statue of Liberty. In preparation, several women climbed up to measure the wind velocity. Later they returned to the Statue with two forty-foot banners to hang from the crown. One read: "March on August 26 for Equality." The other: "Women of the World Unite." An organized group stopped the ticker tape at the American Stock Exchange, and they held signs with slogans like, "We won't bear any more bull." Another action taken during the day was a lawsuit filed against the New York City Board of Education to gain equality for women in educational administration. The case lasted about ten years and finally resulted in a larger increase in female principals.
While the strike did not halt the activities of the nation, it drew national attention to the women's rights movement. For example, The New York Times published their first major article on the feminist movement by covering the events of the day. It even included a map of the route the marchers took through New York City.
The following year in 1971, Representative Bella Abzug (D-NY) introduced a bill designating August 26th of each year as Women's Equality Day and the bill passed. Part of the bill reads that Women's Equality Day is a symbol of women's continued fight for equal rights and that the United States commends and supports them. It decreed that the President is authorized and requested to issue a proclamation annually in commemoration of woman suffrage and the 1970 Strike for Equality. Women today continue to draw on the history of these brave and determined women.