International Beer Day (first Friday in August) is a global celebration of beer, taking place in pubs, breweries, and back yards all over the world -- It's a day for beer lovers everywhere to raise a toast to our brewers and bartenders, and rejoice in the greatness of beer!
That's right, folks. Come this August 1, Makers, Lovers and Sellers of beer all around the globe now have another reason to raise their frosty mugs. Along with hundreds of bars, restaurants, pubs and breweries worldwide, we have declared the aforementioned International Beer Day!
The purpose of IBD is threefold:
To gather with friends and enjoy the deliciousness that is beer.
To celebrate the dedicated men and women who brew and serve our beer.
To bring the world together under the united banner of beer, by celebrating the beers of all nations and cultures together on this one remarkable day.
International Beer Day is our chance to let the breweries and bars of the world know how much we appreciate them, all while participating in one of the best activities ever -- drinking beer! Perhaps even more than the beverage itself, International Beer Day is about celebrating the establishments who produce it, sell it and give folks a place to enjoy it.
So raise your glass on August 1 to celebrate these heroes behind each tasty brew. Cheers, and Happy International Beer Day!
International Beer Day was conceived by Jesse Avshalomov, and was founded in 2007 by Avshalomov, Evan Hamilton, Aaron Araki, and Richard Hernandez as a celebration of beer and the people who provide it.
As Jesse tells it:
"A few years back a group of friends and I decided that there needed to be a day in celebration of all things beer, a day in thanks to the people who produce and provide our favorite beverage. So we invented International Beer Day, convinced our local bar to celebrate, made a little website for it, gave thanks to the beer industry, and had a good-ol' time.
Then we started receiving emails from people who had found the IBD website and held their own celebrations in England and South Africa. We knew then that we needed to take our celebration to the world.
Ever since we've been working each year to bring the celebration to more and more people, and this year we've hit over 350 celebrations! We're working super hard to make this year's celebration Epic, we've even had a classy logo and new website designed, so we hope you have yourself an awesome International Beer Day."
National Lighthouse Day
National Lighthouse Day is celebrated on August 7th of each year. We were unable to discover the origin of National Lighthouse Day.
A lighthouse is a tower, building, or other type of structure designed to emit light from a system of light and lenses and used as an aid to navigation for maritime pilots at sea or on inland waterways.
Lighthouses mark dangerous coastlines, hazardous shoals, reefs, safe entries to harbors, and can also assist in aerial navigation. Once widely used, the number of operational lighthouses has declined due to the expense of maintenance and replacement by modern electronic navigational systems.
While lighthouse buildings differ depending on the location and purpose, they tend to have common components.
A light station comprises the lighthouse tower and all outbuildings, such as the keeper's living quarters, fuel house, boathouse, and fog-signaling building. The Lighthouse itself consists of a tower structure supporting the lantern room where the light operates.
The lantern room is the glassed-in housing at the top of a lighthouse tower containing the lamp and lens. Its glass storm panes are supported by metal Astragal bars running vertically or diagonally. At the top of the lantern room is a storm proof ventilator designed to remove the smoke of the lamps and the heat that builds in the glass enclosure. A lightning rod and grounding system connected to the metal cupola roof provides a safe conduit for any lightning strikes.
Immediately beneath the lantern room is usually a Watch Room or Service Room where fuel and other supplies were kept and where the keeper prepared the lanterns for the night and often stood watch. The clockworks (for rotating the lenses) were also located there. On a lighthouse tower, an open platform called the gallery is often located outside the watch room (called the Main Gallery) or Lantern Room (Lantern Gallery). This was mainly used for cleaning the outside of the windows of the Lantern Room.
Lighthouses near to each other that are similar in shape are often painted in a unique pattern so they can easily be recognized during daylight, a marking known as a daymark. The black and white barber pole spiral pattern of Cape Hatteras Lighthouse is one example. Race Rocks Light in western Canada is painted in horizontal black and white bands to stand out against the horizon.
As lighthouses became less essential to navigation, many of their historic structures faced demolition or neglect. In the United States, the National Historic Lighthouse Preservation Act of 2000 provides for the transfer of lighthouse structures to local governments and private non-profit groups, while the USCG continues to maintain the lamps and lenses. In Canada, the Nova Scotia Lighthouse Preservation Society won heritage status for Sambro Island Lighthouse, and sponsored the Heritage Lighthouse Protection Act to change Canadian federal laws to protect lighthouses.
Many groups formed to restore and save lighthouses around the world. They include the World Lighthouse Society and the United States Lighthouse Society. A further international group is the Amateur Radio Lighthouse Society, which sends amateur radio operators to publicize the preservation of remote lighthouses throughout the world.
August 7 annually recognizes a famous sea serpent sighting. This sighting was made by the men and officers of HMS Daedalus in August 1848 during a voyage to Saint Helena in the South Atlantic. The 60 foot long creature that they saw held a peculiar maned head above the ocean water.
On National Sea Serpent Day, you can talk with your friends and discuss if this is a myth or if it is real. It will make a great afternoon conversation.
A sea serpent or sea dragon is a type of Greek sea monster either wholly or partly serpentine. Sightings of sea serpents have been reported for hundreds of years, and continue to be claimed today. Cryptozoologist Bruce Champagne identified more than 1,200 purported sea serpent sightings. It is currently believed that the sightings can be best explained as known animals such as oarfish, whales, or sharks (in particular, the frilled shark). Some cryptozoologists have suggested that the sea serpents are relict plesiosaurs, mosasaurs or other Mesozoic marine reptiles, an idea often associated with lake monsters such as the Loch Ness Monster.
In Norse mythology, Jörmungandr, or "Midgarðsormr" was a sea serpent so long that it encircled the entire world, Midgard. Some stories report of sailors mistaking its back for a chain of islands. Sea serpents also appear frequently in later Scandinavian folklore, particularly in that of Norway.
In 1028 AD, Saint Olaf is said to have killed a sea serpent in Valldal, Norway, throwing its body onto the mountain Syltefjellet. Marks on the mountain are associated with the legend. In Swedish ecclesiastic and writer Olaus Magnus's Carta marina, many marine monsters of varied form, including an immense sea serpent, appear. Moreover, in his 1555 work History of the Northern Peoples, Magnus gives the following description of a Norwegian sea serpent:
" Those who sail up along the coast of Norway to trade or to fish, all tell the remarkable story of how a serpent of fearsome size, 200 feet long and 20 feet wide, resides in rifts and caves outside Bergen. On bright summer nights this serpent leaves the caves to eat calves, lambs and pigs, or it fares out to the sea and feeds on sea nettles, crabs and similar marine animals. It has ell-long hair hanging from its neck, sharp black scales and flaming red eyes. It attacks vessels, grabs and swallows people, as it lifts itself up like a column from the water. "
Sea serpents were known to seafaring cultures in the Mediterranean and Near East, appearing in both mythology (the Babylonian Labbu) and in apparent eye-witness accounts (Aristotle's Historia Animalium). In the Aeneid, a pair of sea serpents killed Laocoön and his sons when Laocoön argued against bringing the Trojan Horse into Troy.
Skeptics and debunkers have questioned the interpretation of sea serpent sightings, suggesting that reports of serpents are misidentifications of animals such as cetaceans(whales and dolphins), sea snakes, eels, basking sharks, frilled sharks, baleen whales, oarfish, large pinnipeds, seaweed, driftwood, flocks of birds, and giant squid.

While most cryptozoologists recognize that at least some reports are simple misidentifications, they claim that many of the creatures described by those who have seen them look nothing like the known species put forward by skeptics and claim that certain reports stick out. For their part, the skeptics remain unconvinced, pointing out that even in the absence of outright hoaxes, imagination has a way of twisting and inflating the slightly out-of-the-ordinary until it becomes extraordinary.

A recent posting on the Centre of Fortean Zoology blog by Cryptozoologist Dale Drinnon notes his check of the categories in Heuvelmans' In The Wake of the Sea-Serpents, in which he extracted the mistaken observation categories as a control to check the Sea-serpent categories by using the reports he created identikits for the mistaken observations and enlarged them to possibly 126 of Heuvelmans' sightings, making the mistaken observations the largest section of Heuvelmans' reports. His identikits include oarfish, basking sharks, toothed whales, baleen whales, lines of large whales for the largest sea serpent "hump" sightings and trains of smaller cetaceans for the "Many-finned, elephant seals and manta rays. Each of these categories was given a percentage of the whole body of reports, ranging between 1% and 5% with the whales at an average 2.5%, figures which he considers comparable to the regular Sea-serpent categories of Super-eel and Marine Saurian, each of which he breaks into a larger and a smaller sized series following Heuvelmans' suggestion in In the Wake of the Sea-Serpents. Drinnon offered further analysis the 2010 CFZ yearbook. In this article he modified Coleman's categories (below), adding a possible Giant otter category to the Giant Beavers and modifying several others, bringing the total to 17 categories to broaden the coverage. The broadened coverage allows more instances of outsized versions of conventional fishes such as sturgeons and catfishes, left off Coleman's list. In a separate and earlier CFZ blog, Drinnon reviewed Bruce Champagne's sea-serpent categories and argued that several referred to known animals, the whales in particular. Drinnon basically recognises the Longneck, Marine Saurian and Super-eel categories in this blog as well, with the modification that the Marine Saurian as spoken of by Champagne is more likely a large crocodile akin to the saltwater crocodile and that there has been a suggestion that an eel-like animal is involved in certain "Many-finned" observations. The whale categories he identifies are: BC 2A-Possible Odobenocetops, BC2B, Atlantic gray whale or Scrag Whale, BC 4B, as being similar to an unidentified large-finned beaked whale otherwise reported in the Pacific, and BC 5, the large Father-of-All-the-Turtles, as a humpback whale turned turtle.
Particularly Preposterous Packaging Day
Particularly preposterous packaging day commemorates some of the more unusual or difficult to open packages we encounter. For example, I bought a DVD the other day, and the plastic shield covering it was so tough I decided I needed scissors to get through it. My wife was going shopping, so I asked if she could get me a new pair of scissors... only to get it home and realize it came in the same kind of packaging as the DVD. Why is this? I don't know. However, it's no more preposterous than realizing we drive on the parkway and park in the driveway... no more silly than to have Interstate Highways in Hawaii. In any case, our weather package has seemed preposterous to some. Some say it was vial: day after day with high heat and humidity.
Yesterday, cooling aloft caused cumulus towers to climb higher... and that plus added moisture brought a package that included scattered showers and thunderstorms in the Northeast. Some of the more intense thunderstorms even looked like they had corrugated clouds underneath. And, when severe thunderstorms threaten, the storm prediction center puts out a watch box to outline areas that could be hit with the worst storms. Now it appears slightly drier air will put a lid on it. Later Thursday or Friday, there could be a thunderstorm, but that possibility may be peanuts.
Many people like the kind of weather we are about to receive, especially considering that summer started with so much rain. I was talking to a friend about this. She said she was bored with the frequent envelope of clouds back in June. Her plans had been bottled up. But when I mentioned that it looked sunny for most of the next 5 days, she could hardly container self. She was tired of the weather being in the same old bag. With that, I decided it was time for me to put a lid on it. Time to pack it in. That's a wrap.
Purple Heart Day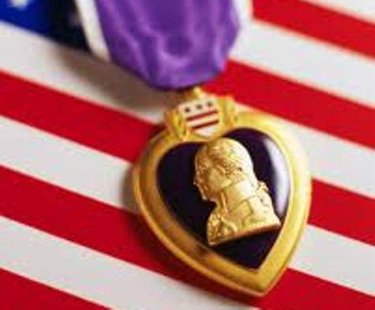 On this day in 1782, in Newburgh, New York, General George Washington, the commander in chief of the Continental Army, creates the "Badge for Military Merit," a decoration consisting of a purple, heart-shaped piece of silk, edged with a narrow binding of silver, with the word Merit stitched across the face in silver. The badge was to be presented to soldiers for "any singularly meritorious action" and permitted its wearer to pass guards and sentinels without challenge. The honoree's name and regiment were also to be inscribed in a "Book of Merit."
Washington's "Purple Heart" was awarded to only three known soldiers during the Revolutionary War: Elijah Churchill, William Brown and Daniel Bissell, Jr. The "Book of Merit" was lost, and the decoration was largely forgotten until 1927, when General Charles P. Summerall, the U.S. Army chief of staff, sent an unsuccessful draft bill to Congress to "revive the Badge of Military Merit." In 1931, Summerall's successor, General Douglas MacArthur, took up the cause, hoping to reinstate the medal in time for the bicentennial of George Washington's birth. On February 22, 1932, Washington's 200th birthday, the U.S. War Department announced the creation of the "Order of the Purple Heart."
In addition to aspects of Washington's original design, the new Purple Heart also displays a bust of Washington and his coat of arms. The Order of the Purple Heart, the oldest American military decoration for military merit, is awarded to members of the U.S. armed forces who have been killed or wounded in action against an enemy. It is also awarded to soldiers who have suffered maltreatment as prisoners of war.
Raspberries 'n Cream Day
If you're looking for something to do today then save room for dessert because it's Raspberries 'n Cream Day! Oh yes, you can't go wrong with a little creamy zing! Let's get right into celebrating Raspberries 'n Cream Day!
Well, if you've ever had peaches and cream, or any other fruit with cream, then you know that the sweetness of the fruit goes really well with creamy things. And, depending on the type of raspberry and where you are, it's a good time of year to get some fresh raspberries. People love creamy things. People love raspberries. People really love raspberries in creamy things! So guess what? That kind of love and popularity calls for yet another food holiday and that holiday is Raspberries 'n Cream Day! But let's take a look at the facts about raspberries first. Russia, Serbia and the United States are the biggest producers of raspberries in the world. These thorny bushes, or sometimes thornless bushes, grow really well on your own. In fact, I see plenty of them growing in the wild where I live. They've also got a good amount of vitamin C and fiber in them. But raspberries come in many different varieties; they're not all red. Some are black, some are gold and they even crossed red raspberries with black raspberries to make a purple raspberry. So, as you can see, you have a few different types of raspberries to choose from, but what about the cream, right? The two types of cream that come to mind right off the top of my head are heavy whipping cream and cream cheese. You could also opt for some of that whipped cream topping. The heavy whipping cream will make for a lighter cream that you can mix other ingredients in or just top it with some raspberries. And of course the cream cheese is going to be thicker, a lot richer and can even be spread on things as an icing. Do you have some recipe ideas popping up in your mind yet? Good! You better get to them!
So, how can you celebrate today? Well, the easiest way to celebrate is always to try to find some place that serves raspberries 'n cream on a daily basis. This might take a little research and possibly a few phone calls, but I am sure that some place near you has a raspberry dish that involves some kind of cream. It could be something as simple as raspberry ice cream or even some raspberry flavored coffee with some cream in it. See, finding your celebratory prize is a lot easier than you think! Or you can always opt to make them yourself, which means you get even more of a sugary feast! But before you start shopping for supplies, you're going to want to decide on how you want to make your raspberries 'n cream and what type of raspberries you're going to include. I already mentioned two ideas but you can also make puddings, cake, pie, muffins, brownies, candy, milkshakes and anything else you can think of that combines raspberries and cream. In fact, why don't you tell a few friends about today's holiday and then tell them to come up with their own type of raspberries 'n cream on their own. Don't mention what you plan on doing, just see how your friends imagine how raspberries 'n cream should be. Then you can invite them all over for a barbeque, after they've made their version, and you can feast on the raspberry treats after your real meal, since I'm sure most of them will be desserts. Some versions will be good, some will be bad but I'm sure that you'll be impressed with your friends' creativity when they come up with a raspberries 'n cream recipe that you never thought of before. Have a great day and keep it creamy!