Happiness Happens Day
Happiness Happens Day is celebrated on August 8th of each year. It was founded in 1999 under the name of "Admit You're Happy Day" by the Secret Society of Happy People, Happiness Happens Day aims to spread the joy of being happy, and to persuade people to look on the brighter side of life.
Happiness is a mental or emotional state of well-being characterized by positive or pleasant emotions ranging from contentment to intense joy. A variety of biological, psychological, religious, and philosophical approaches have striven to define happiness and identify its sources. Various research groups, including Positive psychology, endeavor to apply the scientific method to answer questions about what "happiness" is, and how we might attain it.
Philosophers and religious thinkers often define happiness in terms of living a good life, or flourishing, rather than simply as an emotion. Happiness in this sense was used to translate the Greek Eudaimonia, and is still used in virtue ethics. Happiness economics suggests that measures of public happiness should be used to supplement more traditional economic measures when evaluating the success of public policy.
National Dollar Day
August 8 celebrates one of the most sought-after items in the world – money. It's National Dollar Day, an annual event that celebrates the American dollar. Ever since the Continental Congress established the monetary system on this day back in 1786, folks have tried every trick in the book to make and keep a buck. While a dollar doesn't go as far as it used to, it's still a valuable commodity and prized possession.
By the end of 1778, Continental Currency retained between only 1/5 to 1/7 of their original face value. By 1780, Continental bills - or Continentals - were worth just 1/40th of their face value. Despite efforts by Congress to reform the currency by removing the old bills from circulation and issuing new ones, the attempt met with little or no success. By May 1781, Continentals had become so worthless they ceased to circulate as money. Benjamin Franklin noted that the depreciation of the currency had, in effect, acted as a tax to pay for the war. In the 1790's, after the ratification of the United States Constitution, Continentals could be exchanged for treasury bonds at 1% of face value.
Congress appointed Robert Morris to be Superintendent of Finance of the United States following the collapse of Continental currency. In 1782, Morris advocated the creation of the first financial institution chartered by the United States. The Bank of North America was funded in part by specie loaned to the United States by France. Morris helped finance the final stages of the war by issuing notes in his name, backed by his own money. The Bank of North America also issued notes convertible into specie. On August 8, 1785, the Continental Congress of the United States authorized the issuance of a new currency, the US dollar.
However runaway inflation and the collapse of the Continental currency prompted delegates at the Constitutional Convention in Philadelphia in 1787 to include the gold and silver clause into the United States Constitution preventing individual States from issuing their own bills of credit. Article One states they were prohibited to "make any Thing but gold and silver Coin a Tender in Payment of Debts." This restriction of bills of credit was extended to the Federal Government, as the power to "emit bills" from the Articles of Confederation was abolished, leaving only Congress with the power "to borrow money on credit."
The United States Mint was created by Congress following the passing of the Coinage Act of 1792. It was primarily tasked with producing and circulating coinage. The first Mint building was in Philadelphia, the then-capital of the United States. The Mint was originally placed within the Department of State. Until the Coinage Act of 1873 when it became part of the Department of the Treasury (in 1981 it was placed under the auspices of the Treasurer of the United States). The Mint had the authority to convert any precious metals into standard coinage for anyone's account with no seignior age charge beyond refining costs.
National Frozen Custard Day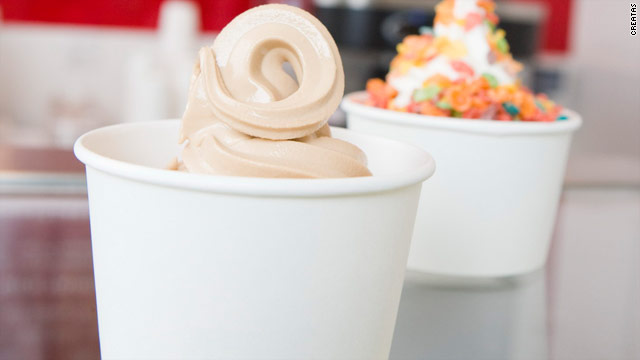 A delicious and refreshing cold dessert is celebrated each year on August 8, it is National Frozen Custard Day. Similar to ice cream, frozen custard is made with eggs in addition to cream and sugar.
Frozen custard was invented in Coney Island, New York in 1919, when ice cream vendors Archie and Elton Kohr found that adding egg yolks to ice cream created a smoother texture and helped the ice cream stay cold longer. In their first weekend on the boardwalk, they sold 18,460 cones.
A frozen custard stand at the 1933 World's Fair in Chicago introduced the dessert to a wider audience. Following the fair, the dessert's popularity spread throughout the Midwest; Milwaukee, Wisconsin, in particular, became known as the "unofficial frozen custard capital of the world".
Per capita, Milwaukee has the highest concentration of frozen custard shops in the world and the city supports a long-standing three-way competition between Kopp's Frozen Custard, Gilles Frozen Custard and Leon's Frozen Custard.
Other frozen custard restaurants include Freddy's Frozen Custard & Steakburgers, a fast-casual, or quick-service, restaurant based in Wichita, Kan., with more than a hundred locations nationwide, and Culver's, a fast casual restaurant long-noted for its frozen custard, based in Prairie du Sac, Wisconsin and has outlets in Milwaukee and throughout the Midwest.
Ohio, especially Cleveland and Cincinnati are also frozen custard stalwarts with Whit's Frozen Custard.
National Garage Sale Day
You've almost finished sifting through those long-abandoned knickknacks — er, treasures — in the basement, right? Are the signs all ready to go? How about the price tags?
Surely, you haven't forgotten that National Garage Sale Day is less than two weeks away.
National Garage Sale Day is always the second Saturday in August — we celebrate the coming together of those with belongings they no longer want and those with a want for belongings they don't have.
Make no mistake: Garage sales are big business — even if the average selling price of goods at such events is a mere 85 cents.
Take 85 cents here and 85 cents there, and, pretty soon, you have $4,222,375. That's the total revenue that U.S. garage sales generate each week, according to the website StatisticBrain.com.
"Running a yard sale is not rocket science," J.D. Roth notes on his tip-filled website GetRichSlowly.org. "But if you put a little effort into creating an environment where it is pleasant to browse and easy to find treasures, you'll make a lot more money."
Preparation is critical, Roth maintains. And being prepared, he adds, means a whole lot more than simply making sure the merchandise is neatly arranged and the cash box is filled with coins and small-denomination bills. (No one, after all, wants to lose a sale just because of an inability to break a $5 bill.)
Roth suggests that proper preparation starts with figuring out why the sale is being held in the first place.
"Are you selling things to make money or to get rid of them? This question affects everything you do, from how you price things to how willing you are to negotiate. Surprisingly, you can often make more money (and get rid of more junk) by pricing things low."
No. 2 on Roth's recommended to-do list: advertise. Ads should be placed in local newspapers and on websites five or six days before the sale. Neighborhood signs should be eye-catching, simple and, above all, readable.
"It's best to use big, bold text like 'HUGE SALE' with an arrow pointing the right direction."
Consumer Reports offers these tips:
Schedule your garage sale to coincide with a local event that's likely to generate extra traffic near your home.
Place the items with the broadest appeal close to the street to grab attention and lure potential buyers up the driveway.
Sort clothing into categories — by gender, season and age group, for example — and display those items, if possible, on hangers.
Keep a mirror handy if you're selling accessories.
Place fresh batteries in items that require them and keep a power source handy so shoppers can try out electronics and other plug-in appliances.
Finally, don't forget what follows National Garage Sale Day by just six days: National Thrift Shop Day.
National Zucchini Day
Go green - August 8 is National Zucchini Day!
Though technically a fruit, zucchini are prepared like vegetables. The emerald green squash, if left to its own devices, can grow up to 3 feet long. In fact, the longest zucchini ever grown was 6 feet 4 inches long!
Courgettes, as zucchini is known in some parts of the world, are a good source of dietary fiber nutrients. They can be prepared in a variety of ways. If you're tired of the simple squash sauté, try making zucchini boats. Split the zucchini in half length ways, and scoop out some of the flesh. Fill the hollowed out shell with whatever you'd like: Sausage, goat cheese and peppers are a popular combination. You can even incorporate the scooped out zucchini into your mixture. Top the boats off with breadcrumbs and bake in the oven until golden brown.
Zucchini, like all squash, has its ancestry in the Americas. However, the varieties of squash typically called "zucchini" were developed in Italy, many generations after their introduction from the Americas. In all probability, this occurred in the very late 19th century, probably near Milan; early varieties usually included the names of nearby cities in their names. The alternative name courgette is from the French word for the vegetable, with the same spelling, and is commonly used in France, The Netherlands, Ireland, and the United Kingdom. It is a diminutive of courge, French for squash. "Zucca" is the Italian word for pumpkin/ squash and "zucchina" (zucca + ina = little) is its diminutive, becoming "zucchine" in the plural. "zucchino", the masculine form, ("zucchini" in the plural), is commonly used in the dialect of Tuscany as the name of the fruit and sometimes is improperly used in Italian as the name of the plant. An Italian dictionary called "lo Zingarelli 1995, Zanichelli editor", gives both forms, but some others, like "Devoto-Oli, Le Monnier editor", but "Treccani, Treccani editor", the highest linguistic authority, gives 'zucchina' as the correct Italian word, and the masuline form as regional or vernacular. "Zucchini" is used in Tuscany, Australia, Canada and the United States. 'Zucchini', the plural in the dialect of Tuscany, is one of the plural forms in English (along with 'zucchinis') as well as the singular form. The first records of zucchini in the United States date to the early 1920's. It was almost certainly brought over by Italian immigrants and probably was first cultivated in the United States in California. In South Africa, they are called baby marrow.
Some other fun preparations for zucchini: Bake zucchini bread, or cut it into thin ribbons and make zucchini pasta. You can also pickle zucchini slices then dredge and fry them.
Zucchini really is a versatile ingredient. Zucchini is low in calories (approximately 15 food calories per 100 g fresh zucchini) and contains useful amounts of folate (24 μg/100 g), potassium (280 mg/100 g) and vitamin A (384 IU [115 μg]/100 g). The same holds true for the zucchini flower, or blossom. They can be stuffed and fried and add a crunchy element to any dish. And yes, they're completely edible.
Sneak Some Zucchini Onto Your Neighbor's Porch Day
National Sneak Some Zucchini Into Your Neighbor's Porch Day is celebrated on August 8.
Now that's nasty! But hey, what are you going to do with an endless supply of zucchini fruit?
Experienced gardener's know that Zucchini is one of the most prolific plants in all of the gardening world. A single plant produces a seemingly endless supply of Zucchini. A small row of zucchini has the potential to end world hunger.
By the time August arrives, gardeners are reaping far more zucchini than they can possibly use. They use it daily in an untold number of recipes, from soups and stews, to breads and dips. Still, the fruit matures on the vine faster than anyone can even pick it. Zucchini growers become desperate, as they try to give zucchini away to family, friends and everyone they encounter. By August, even non-gardeners have had enough. Everyone avoids you, with your arms laden with giveaway fruit.
Desperate times calls for desperate measure. It's time to sneak over, under the cover of darkness, to your neighbors porch, and unload some zucchini. Today is that day. This may solve your problem for today. But, what will you do with the harvest tomorrow!?!
This particular holiday, honoring one of the most beloved and, at the same time, most dreaded vegetables (because you can't just throw them away, right?) was first established by Tom and Ruth Roy from Pennsylvania. I myself lived in Pennsylvania for several years and, as a veggie grower there, know just how prolific zucchini plants can be in that climate.
Sneak Some Zucchini Onto Your Neighbor's Porch Day encourages sharing of one's plentiful bounty with those less fortunate … or those who didn't plant their own zucchini (because they probably know you, their friendly neighbor, will always have too much).
Seriously now, this holiday was inspired by the "Submit an Entry" form for Chase's Calendar of Events. The Roys have actually launched several holidays, which can be found on their website at Wellcat.com in the Wellcat Holidays section. The Roys' wacky holidays have been featured in USA Today, The Los Angeles Times, and many other publications and TV shows.
The Date To Create
If you've been waiting for a specific date to create something, your wait is over. On August 8th, we celebrate "The Date to Create," an effort to put an end to procrastination and get your ball rolling on creating that one thing you've been meaning to take on. It could be just about anything you could dream up. All it takes is some imagination, a little know-how, and the resolve to do it. Can't think of anything you can do just in a single day? No worries — August 8th can be the date you got started on that massive project you've been meaning to take on.
Some Stuff You Can Create
Stumped for ideas? That thing you can create doesn't have to be a massive project. Just something you know you can do. Just think of the feeling of satisfaction you'll get knowing you created something.
A new recipe. A lot of my favorite recipes started out as improvised ideas for using up holiday leftovers. With a little experimentation, you can get it exactly right and then share it with friends.
A quilt. If you're into crafting, you probably have a lot of waste fabric laying around. You can turn that fabric into a quilt just by cutting it into evenly sized squares and making up your own pattern. Don't need a new quilt? No problem. I've seen the quilts that the ladies in my church made out of leftover fabric for charity. Ask around to see who might be needing one.
A backyard science experiment. Got some kids who are curious about how something in the science world works? A homemade science experiment can be a good way to demonstrate basic scientific principles. Be sure to read up on how to do it safely and have some fun with it.
A garden. Okay, August 8th might be a little late to start an outdoor garden, but you can create an indoor vegetable garden with a few potted plants and a little cleverness. Grow root vegetables and herbs you can enjoy any time of the year. And you can start planning your outdoor garden for next year.
An Android app. If you're good with code, you can create your own Android app. Sound daring? The genius behind "Angry Birds" created the original game just using his computer and the books he found in his college's library. Who knows, you might create the next big app.
World Cat Day
World Cat Day, also known as International Cat Day, is celebrated throughout the world on August 8. It was founded in 2002 by the International Fund for Animal Welfare (IFAW) and other animal rights groups. The cat is a small, furry, domesticated, carnivorous mammal that is valued by humans for its companionship and for its ability to hunt vermin and household pests. Although cat ownership has commonly been associated with women, a US poll reported that men and women were equally likely to own a cat.
Cats have been associated with humans for at least 9,500 years, and are currently the most popular pet in the world. Owing to their close association with humans, cats are now found almost everywhere in the world. Cats are a common companion animal in Europe and North America, and their worldwide population exceeds 500 million. In 1998 there were around 43 million cats in Western Europe, 33 million in Eastern Europe, seven million in Japan and three million in Australia. A 2007 report stated that about 37 million US households owned cats, with an average of 2.2 cats per household giving a total population of around 82 million. In contrast, there are about 72 million pet dogs in that country.
Despite being solitary hunters, cats are a social species and use a variety of vocalizations, pheromones and types of body language for communication. These include meowing, purring, trilling, hissing, growling, and grunting. Interactions with cats may improve health and reduce physical responses to stress: for example the presence of cats may moderate increased blood pressure. Cat ownership may also improve psychological health by providing emotional support and dispelling feelings of depression, anxiety and loneliness. Their ability to provide companionship and friendship are common reasons given for owning a cat.