Bring Your Manners To Work Day
Many of us spend more time at work than at home, so it's really important to have fulfilling relationships both with colleagues and customers. Bring Your Manners To Work Day was created by The Protocol School of Washington to remind people of the importance of treating people with courtesy and respect in the workplace. Everyone should practice good manners, whether at work or at home, and common bad manners at work include things like loud ringtones, not cleaning up after yourself and polite conversation.
Although Bring Your Manners To Work Day is just one day of the year, it doesn't mean you should only be polite at work for one day. Use the day as a reminder of the importance of good manners every day of the year, and you may well find good manners help to open the doors to new opportunities in the workplace.
It's been said that good manners will open doors that the best education cannot. Not surprisingly, there's a good bit of research to support the point, too.
A recent survey by Office Team found that 80 percent of executives say clothing affects an employee's chances of earning a promotion. In a separate survey, the company also found that nearly 40 percent of managers do not respond favorably to social media "friend" requests from employees while 46 percent aren't keen on connecting with their boss on social media.
But leading the way in terms of contributing to poor form in the work place — and not all that surprisingly — is the inappropriate use of technology. In fact, a recent study by Robert Half Technology found that 64 percent of surveyed CIOs said the increase use of mobile devices, including cell phones and tablets, has led to a significant increase in breaches of workplace etiquette.
That's up from the 51 percent who reported failures in etiquette just three years ago.
It's for reasons like these that The Protocol School of Washington® established Bring Your Manners to Work Day.
Commemorated annually on the first Friday of September, the day is intended to remind employees and employers that manners matter. From talking loudly on one's cell phone and texting during meetings to dressing inappropriately and showing up late, bad manners aren't just bad form, their bad for business.
Because it's statistically important to Bring Your Manners to Work every day, The Protocol School of Washington offers the following dos and don'ts:
Don't cell yell. People tend to speak three times louder on a cell phone than in person. Mind your volume.
Do respect people's personal space while on the phone. A 'safe cell distance' is considered to be 10 feet.
Don't check your phone during meals and meetings. Instead keep phones off or on vibrate and pay attention to and engage those around you.
Do dress appropriately for the work place. In other words, save the see-through dresses, sandals with socks, Lycra bike shorts, muscle shirts, and plunging necklines for other occasions.
Don't "borrow" from other people's desks or (dare I even say it) lunches without permission.
Do clean up your messes, be it in the kitchen or at the copier, don't expect others to clean up after you.
Don't gossip. Over-sharing about your own personal life should also be avoided.
Do be on time to meetings, conference calls, and appointments.
Don't sink to someone else's standards. Just because coworkers behave badly is not a reason for you to follow suit. Always keep your poise and do the right thing, even if you're doing it alone. It matters and will be noticed.
If a coworker's behavior is infringing upon your ability to perform your job well, address it directly with the individual.
Clearly state how their behavior is impacting you, and, perhaps, others. Kindly request a change of behavior emphasizing how everyone could benefit from it. If the problem persists and is truly more than a mere annoyance, then bring it to the attention of your supervisor.
On the other hand, if a change happens, by all means be sure to say "thank you."
Eat an Extra Dessert Day
When it comes to holidays, Sept. 4 is one of the best food holidays of the year! If you're sweet tooth is aching for a sweet treat to eat, grab your fork! It's Eat an Extra Dessert Day! In case you're wondering, Eat an Extra Dessert Day was declared to celebrate the opening of the first self-service cafeteria in the U.S., the
Exchange Buffet in New York City, in 1885. The "inventor" of this delicious holiday deserves a great big medal!
Whether you have a hankerin' for a piece of decadent chocolate, a scoop of cool and refreshing ice cream, a slice of rich and creamy cheesecake or a great big piece of homemade pie, today is the perfect opportunity to satisfy that craving! Not only can you enjoy one portion of your favorite dessert, today you can enjoy an extra piece without any of the guilt! But you better hurry! When word gets out, chances are pretty good there won't be any leftovers!
So go ahead and have that extra piece of cake or scoop of ice cream. We won't judge…but we do suggest that you make your extra dessert a healthy one. Chocoholics can satisfy their chocolate cravings with this rich, raw chocolate shake that's packed with antioxidants, potassium, protein, and a delicious, chocolate-y taste. Swap chocolate chip cookies for Almond Butter Chocolate Chip Cookies made with dark chocolate – just as yummy but also health-friendly.
National Hug Your Boss Day
Some people like this day, some love it, some are afraid of it and some simply loathe it. September 3rd annually celebrates National Hug Your Boss Day.

National Hug Your Boss Day was created by TipTopJob.com back in 2008. The idea behind launching the day was to promote healthy workplace relationships (the serious side to it!). We believe that if you are happy to hug your boss then you are more than likely to be enjoying your job and this in turn may lead to better morale/motivation at work and therefore productivity. We are not saying this is always going to be the case but it is the logic behind the fun!!

We figure that because you spend most of your waking day with those at work, so why not make it a more enjoyable experience by getting along with everyone.

The day has been created to take a few minutes out of the stress of everyday work and just let your hair down.

To promote healthy working relationships worldwide and provide assistance to those to better their relationships with colleagues and managers.
National Hug Your Boss Day is a fun day to highlight workplace relationships and the importance of them.
Do you get on with your boss? Would you give him/her a hug? Does getting on with your boss boost your morale and motivation in the workplace? Or do you feel unmotivated and hate your job because you don't get on with your boss? Do you think a good working relationship is important with your boss?
So many questions! But we think that if you are happy to give your boss a hug, then you will most probably be happier at work and be more productive. The aim of "National Hug Your Boss Day" is to highlight these issues in the workplace and help those who may be unhappy and unmotivated in the workplace.
National Lazy Mom's Day
Yes, that's right—today, September 4, is National Lazy Mom's Day—the day when all moms everywhere should make an effort to relax… and feel good about it!

Whether you are a lazy mom, or just aspire to have a day off and become a lazy mom, Lazy Mom's Day could be right up your street. Even on Mother's Day, moms across the world cook, clean, and generally work hard to keep their households functioning. On Lazy Mom's Day, moms are encouraged to relax, take a back seat, and simply be lazy.

How can moms be lazy? Get the kids to bring you breakfast in bed, rather than making their toast and porridge in the morning. Get your husband to drive you to work, or make the kids take the bus to school rather than drop them off at the gates. Best of all – order in a pizza and have a night off from cooking!

Kids, if you are reading this, encourage your mom to take a day off. No need to buy her a present – some peace and quiet will be enough.
Not that you need a silly national holiday to take some time for yourself, but we all know—it's never easy. So today, in celebration of America's greatest holiday (grossly under-recognized, in our opinion!) we've pulled together 25 easy relaxation ideas for moms.
Take a nice long soak in a hot bath. Classic, we know. But it works every time!
Light an aromatic candle, and breathe… You know what they say— focusing on the breath is the key to relaxation.
Enjoy a cup of hot tea.
Get cozy in a warm blanket.
Read a book. Believe it or not, British researchers found that reading a good book works even better and faster than other methods to calm your nerves, such as listening to music, going for a walk or settling down with a cup of tea.
Take a power nap.
Put on some tunes.
Meditate.
Give yourself a massage.
Write in your journal.
Take a walk by yourself to think and breathe.
Act like a kid. Don't worry about what others might think; just allow yourself to be silly for a little bit. Do what you enjoyed doing as a child—spin a hoola hoop, build a sand castle, play a game or just dance.
Close your eyes in the middle of the day—do nothing for two minutes.
Watch a funny movie or your favorite show.
Take the dog for her morning walk. Studies show that just 10 minutes of physical activity three times a day can noticeably improve your mood.
Call a friend who makes you laugh.
Daydream a little. The Well Mom recommends to "picture yourself in an elevator, happily sandwiched between two hot actors of your choice."
Sip on a glass of your favorite wine…
Or whip up a yummy fall-themed cocktail to help you unwind.
Snuggle with your pet.
Do some fantasy online shopping.
Catch up with friends on Facebook, or better yet, in person over lunch.
Get a pedicure!
Indulge in a few quiet minutes of scrapbooking.
Have sex with your spouse. Like Elises put it, "It's the best way to stay fit, be healthy, and live happily."
National Macadamia Nut Day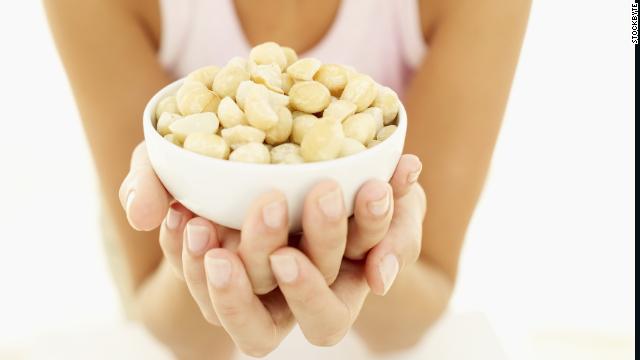 Did you know that a single macadamia tree produces nuts for over 100 years? The first macadamia nut trees were found in the rainforests of eastern Australia thousands of years ago by the Aborigines.
Macadamia integrifolia is native to southeastern Queensland where it grows in the rain forests and close to streams. M. tetraphylla is native to southeastern Queensland and northeastern New South Wales, growing in rain forests, in moist places and along stream banks. At the point where the two species meet, there are types that appear to be natural hybrids. The macadamia was introduced into Hawaii about 1881 where it was used as an ornamental and for reforestation. The Hawaii Agricultural Experiment Station named and introduced several promising selections in 1948, which led to the modern macadamia industry in Hawaii. In California two seedling macadamias were planted in the early 1880's and are still standing on the Berkeley campus of the University of California. The importation of improved and named varieties into California from Hawaii began about 1950. Macadamias are also commercially important in Australia, South Africa and Central America.
Macadamias are ideally suited to a mild, frost-free climate with abundant rainfall distributed throughout the year, roughly the same climate suitable for growing coffee. Both species, however, grow well in the coastal areas of California, although varieties often respond differently to a given location. Mature macadamia trees are fairly frost hardy, tolerating temperatures as low as 24° F, but the flower clusters are usually killed at 28° F. Young trees can be killed by light frosts. M. tetraphylla appears to be slightly more cold-tolerant. Consistently high summer temperatures will reduce yields, although again M. tetraphylla shows more tolerance. When grown in a large tub, macadamias make suitable container plants.
Today, they are a widely popular nut enjoyed by people across the globe. Though macadamia nuts may be toxic to dogs, they are very nutritious for humans to eat. High in protein and carbohydrates, these nuts also contain calcium, iron, potassium, and dietary fiber. Macadamia nut oil is also found in cosmetics and other skincare products because of its oxidative stability.
Celebrate National Macadamia Nut Day by simply snacking on them or baking a batch of macadamia nut cookies!
National Newspaper Carrier Day
National Newspaper Carrier Day is celebrated in the United States and honors Barney Flaherty, the first newspaper carrier (or paperboy) hired in 1833, as well as all current newspaper carriers. It is celebrated on September 4, the anniversary of Flaherty's hiring by Benjamin Day, publisher of the New York Sun. It is also observed by The Armidale Express, NSW, Australia.
Newspaper delivery is the last stage of newspaper circulation consisting of distributing newspapers to those who are interested in owning a paper. One method of distributing newspapers is selling newspapers on the street, or in favorable locations, either by a "newsboy" or at a news stand, or in vending machines, but newspaper delivery generally refers to delivery to subscribers on a regular route, usually by bicycle or automobile.
The position of paperboy occupies a prominent place in many countries, including the United Kingdom, United States, Canada,Australia, New Zealand, Ireland, and Japan. This is because it has long been the first paying job available to young teenagers, often male.
Despite that, the number of paperboys has declined greatly. This is due partly to the disappearance of afternoon newspapers, whose delivery times worked better for school-aged children than did those of morning papers which were typically delivered before 6 a.m. The numbers have also been affected by changing demographics, the availability of news and newspapers on the internet, employment laws and concern about the safety of un-escorted children, all of which have led many newspapers to switch to delivery by adults. Today, they are mainly used by weekly community newspapers and free shopper papers, which still tend to be delivered in the afternoons. Alternatively, sometimes paperboys are only employed once a week to deliver the paper on Sunday.
Newspaper industry lore suggests that the first paperboy, hired in 1833, was 10-year-old Barney Flaherty who answered an advertisement in the New York Sun, which read "To the Unemployed a number of steady men can find employment by vending this paper."
National Wildlife Day
It's National Wildlife Day! Today is a celebration of all the amazing creatures in nature. It is also an opportunity to raise awareness about the many endangered species in this country and around the world.
Colleen Paige created National Wildlife Day in 2006, in memory of wildlife conservationist and rescuer, Steve Irwin, for his eternal love of all animal species and all he taught about the amazing animals we share this planet with.
Colleen Paige is a Pet Lifestyle Expert, animal advocate, conservationist, animal behaviorist, author and founder of the Animal Miracle Network, home to National Wildlife Day, among a myriad of other animal related holidays such a National Dog Day and National Cat Day, to bring public awareness to the plight of homeless animals and wildlife across the planet.
Do you have a zoo or animal sanctuary in your area? It's quite possible that people in your community are already working hard to preserve animal life and educate the public about conservation. You can learn more about these important issues on the Land Conservation and Advocacy Trust website.
National Wildlife Day is a great day to visit your local zoo, adopt a pet, donate to your favorite animal shelter, or volunteer to help in any way you can. Help make a difference!
Wear Teal Day
September is Ovarian Cancer Awareness Month and Wear Teal Day falls on the first Friday in September. Numerous events are planned across the nation including community awareness walks, fundraising events, bake sales, silent auctions, car shows, music concerts, and carnivals.
The American Cancer Society estimates nearly 22,000 women have been diagnosed with ovarian cancer and approximately 14,000 deaths have occurred from this gynecologic disease this year alone. The Ovarian Cancer National Alliance reports ovarian cancer is "the ninth most common cancer among women and the fifth leading cause of cancer-related death among women."
One of the biggest challenges women face is ovarian cancer often goes undetected until it is in advanced stages. The symptoms can be easy to miss because they are similar to daily aches and pains women sometimes develop as they age. Approximately 25-percent of women diagnosed with ovarian cancer are between 55 and 64 years of age.
Publications provided by OvarianCancerAwareness.org state the four primary symptoms of ovarian cancer include: pelvic or abdominal pain, bloating, difficulty eating or feeling full quickly, and urinary urgency or frequency. Other symptoms can include fatigue, backaches, indigestion, constipation, pain during sexual intercourse, and menstrual disorders.
Many women rely on annual pap tests to detect gynecologic changes. However, a pap test is insufficient in detecting ovarian cancer during its early stage. Women who experience any of the aforementioned symptoms for more than two weeks should seek medical attention.
The Ovarian Cancer National Alliance and the Gynecologic Cancer Foundation developed a symptom diary tool to help women track their symptoms and provide a written report to their physician. This tool can be invaluable for early detection and help physicians determine which tests should be administered. The PDF document can be downloaded at OvarianCancer.org.
Ways to Spread Ovarian Cancer Awareness. Many opportunities exist to spread awareness about ovarian cancer throughout the month of September. From becoming a volunteer to handing out literature, and hosting a fundraising event to participating in community awareness walks, there is something available for every one of all ages.
The National Ovarian Cancer Coalition provides a variety of opportunities to make a difference. Individuals can join the Take Early Action and Live™ (TEAL) Initiative to obtain awareness information that can easily be shared with others. Additional NOCC opportunities include becoming a sponsor, awareness partner, or volunteer, as well the option to make cash donations or shop in the marketplace.
The Ovarian Cancer National Alliance has created the United States of Teal campaign which gives U.S. citizens the opportunity to contact their state's' elected officials and inform them of the importance of bringing ovarian cancer awareness to the forefront.
Individuals can copy the United States of Teal allegiance pledge letter and locate state representatives at UnitedStatesOfTeal.org. The website allows individuals to make cash donations or shop in their store to purchase teal colored apparel, awareness bracelets, lapel pins, jewelry, pottery, artwork, and a variety of unique gifts.
A nationwide list of upcoming ovarian cancer awareness events is published at Ovarian.org. Events include: 5K Run/Walk, bowling and golf tournaments, afternoon tea parties, and proclamation ceremonies.
An extensive list of awareness opportunities is presented at OvarianCancer.org. Options include: workplace giving, charitable gifting through estate planning, donating cars, wedding gift and gift registry donations, and numerous ideas for hosting private fundraising events.
Ovarian cancer has been deemed the 'silent killer' amongst women. By taking time to help spread awareness, we can each make a difference and perhaps save a life. Please participate in at least one event in September and continue spreading awareness throughout the year by wearing the color of teal the first Friday of each month.