Eat a Hoagie Day
It's Eat a Hoagie Day! The hoagie, also known as a sub or grinder, is a sandwich whose name originated in the city of Philadelphia. One story claims that the Italian immigrants who worked at a shipyard called Hog Island during World War I would bring giant sandwiches for lunch. The workers were nicknamed "hoggies" so eventually the name was associated with the large sandwiches but the spelling evolved over time. There are several other stories, but they all give credit to Philly for the hoagie name.
Hoagies are built-to-order sandwiches filled with meat and cheese, as well as lettuce, tomatoes, and onions, topped off with a dash of oregano-vinegar dressing on an Italian roll. A true Italian Hoagie is made with Italian ham, prosciutto, salami, and provolone cheese, along with all the works. It was declared the "Official Sandwich of Philadelphia" in 1992.
The Hoagie was originally created in Philadelphia. There are a number of different versions to how the Hoagie got its name, but no matter what version is right (historians cannot seem to agree on the correct version), all agree that it started in Philadelphia or the towns' suburbs.
The most widely accepted story centers on an area of Philadelphia known as Hog Island, which was home to a shipyard during World War I (1914-1918). The Italian immigrants working there would bring giant sandwiches made with cold cuts, spices, oil, lettuce, tomatoes, onions, and peppers for their lunches. These workers were nicknamed "hoggies." Over the years, the name was attached to the sandwiches, but under a different spelling.
Another version on this story says that workers at Hog Island did bring this type of sandwich for lunch, but it was never called a hoagie. The story goes, that one day an Irish worker, who everyday carried an American cheese sandwich, looked enviously at his co-workers' lunches and said; "If you wife will make me one of those things, I'll buy it from you." The man went home and said to his wife "Tomorrow, make two sandwiches, one for me and one for Hogan," his co-worker's name. So everyone started calling the sandwich "hogans," which eventually go shorten to hoagie.
In 1925, Augustine DiCostanza and his wife, Catherine, opened their grocery store called A. DiCostanza's grocery store in Chester, Pennsylvania. According the family lore, the grocery store stayed open well past midnight to accomodiate the gamblers who held card games at the Palermo's Bar on the same street. According to Augie DiCostanze, granddaughter of Augustine and Catherine:
"One summer afternoon back in 1925, one of the men who cut the game decided to take a break and he walked into the store to get a pack of cigarettes. Mom was cooking the the back kitchen and the aroma penetrated throughout the store. The aroma apparently whet the man's appetite and he asked Mom if she would make him a sandwich. "OK, pick out what kind of lunchmeat you want," she said. He looked into the case and with an Italian hand waving gesture said: "Put everything you have in the case on it." Mom took a long loaf of Vienna bread, sliced it lengthwise and proceeded to put on all of the lunchmeat. . . . "What are you cooking that smells so good?" the hungry gambler asked. "I'm frying sweet and hot peppers," she replied and without asking she put a few pieces of the pepper on the sandwich. He left and an hour later the place was filled with hungry gamblers asking for a sandwich. Mom sold out of everything that day. It was the beginning of a new creation, soon to become know as the Hoagie."
The last story says that during the Depression (1929-1939), out-of-work Philadelphian Al DePalma went to Hog Island near the naval shipyards to find work. When he saw the workers on lunch bread eating their giant sandwiches, his first thought was, "Those fellas look like a bunch of hogs." Instead of applying for a job at the shipyard, he opened a luncheonette that served these big sandwiches. He listed them on the menu as "hoggies" named for the hogs he saw during that lunch hour.
During the late 1930s, DePalma joined forces with Buccelli's Bakery and developed the perfect hoagie roll (an eight-inch roll that became the standard for the modern-day hoagie). By World War II during the 1940s, he turned the back room of his restaurant into a hoagie factory to supply sandwiches to workers at the shipyard. DePalma became know as "The King of Hoggies." At some point after World War II, the "hoggie" became the "hoagie." It is said that because his customers kept calling them hoagies, he changed the name.
National Eat a Hoagie Day, for gluten-free eaters, not always an easy day to celebrate. Sandwiches can be sometimes difficult for the gluten free diner, especially if vegetarian, and though cheese is portable, its high saturated fat content make alternative sandwich spreads like these good to have in your repertoire. Instructions follow on how to make these from scratch, but this can be a super-quick lunch solution if canned beans and a store-bought tapenade are used.
I'm on Top of It Day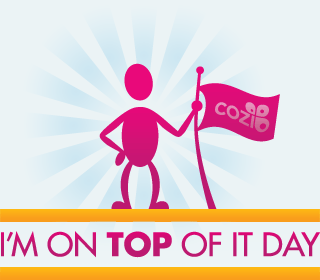 "I'm On Top of It Day" is an annual holiday created by Cozi to celebrate and reward busy families for being on top of at least one organizational chore that has been giving them headaches. "I'm On Top of It Day" happens every year on the second Monday in September.
Cozi knows that people are constantly juggling a number of responsibilities for home, school, kids, meals, work, community and more. People's calendars, shopping lists and to do lists are filled every day. With life this hectic, it's impossible to stay on top of everything all the time, but it is possible to get the tasks under control.
"I'm On Top Of It Day" is all about celebrating one thing that you feel good about getting on top of. You might become overwhelmed if you try too many things to get on top of. If you can get on top of one thing, then you should feel good about yourself.
Cozi's "I'm on Top of It Day" started in 2010 to be a day set aside to get in control of hectic lives and to bring harmony in the house that is usually chaotic. Perhaps something in your life has gotten out of control. Get on top of it and you will feel so good about accomplishing that one thing that you will want to accomplish more and have other "I'm On Top Of It Days."
National Anthem Day
The famous words were written 200 years ago this week, but it didn't become the national anthem until 1931 — and not everyone was happy about it when it did.
Exactly 200 years ago this weekend, on Sept. 14, 1814, Francis Scott Key, a lawyer from Georgetown, found himself on a ship in Baltimore's harbor as the War of 1812 raged around him.
On Aug. 24, 1814, the British army had invaded Washington, D.C. The Capitol building and the White House were burned, and the Brits turned to nearby Baltimore, firing on the harbor's Fort McHenry on Sept. 13. It was in the midst of that battle that Key, who had been negotiating for the release of a prisoner of war, was at sea. At dawn on Sept. 14, the American flag still flew over the fort; the British were in retreat. Key's poem about what he saw, which he set to an earlier tune by John Stafford Smith, came to be known as "The Star-Spangled Banner."
But Key hadn't written the American national anthem. In fact, for more than a century after that day, America had no national anthem at all.
The "Star-Spangled Banner" did quickly gain popularity, however, and military bands during the Civil War and World War I used it as a de facto anthem — even though officially it was just another patriotic ditty like the rest. The effort to acquire a national anthem gained speed following World War I, as can be traced through early mentions of the song in TIME. In 1925, the magazine reprinted an anti-"Banner" letter from a man who found it "hurtful to every ideal which Americans cherish" in its violence (particularly toward Britain, an ally) and who said that he would refuse to remove his hat while the song was played. The other camp was represented by people like John C. Wright, whose 1929 letter to the magazine is shown above:
As Wright's letter makes clear, one of the main concerns with naming "The Star-Spangled Banner" the anthem was that, with its octave-and-a-half range, it was just too hard to sing. That was why, in Feb. 1930, the pro-"Banner" crowd invited the U.S. Navy Band to perform the song for the House Judiciary Committee. "Two sopranos sang all its four verses to prove that its words were not difficult, that its pitch was not too high," TIME reported. And, whether or not that was the deciding factor, it worked.
On Mar. 3, 1931, President Hoover signed the bill into law, and the U.S. had an anthem for the first time. But two sopranos do not a nation make — and history has shown that, despite its other virtues, the song isn't exactly easy to sing. These
ten terrible national anthem renditions
are proof enough of that.
National Boss/Employee Exchange Day
Today is National Boss /Employee Exchange Day! So, what exactly does that mean? Today's holiday gives employees and their managers a chance to freely share ideas with one another by swapping places for a day.
The idea behind trading places is to help employees and managers better understand and appreciate the challenges of the other individual. Although it would undoubtedly be a fun exercise to actually step into someone else's shoes for a day, in most businesses, that isn't realistic. Here are a few ways you can work to open the lines of communication – without actually swapping roles.
Schedule Time for Employee Questions
When an employee has a question, his or her first reaction is likely to seek advice from the boss. Unfortunately, it doesn't always make sense for a manager to drop everything to accommodate the employee's question. So instead of constantly fielding questions on-the-fly, make a schedule. Lay out the best times for employees to come and ask you questions throughout the day. If you have remote employees, or those that prefer asking questions by email, establish a "service expectation" so employees will know when they can expect an answer. Then set aside some time each day to field email questions. By scheduling out your Q&A time, you'll enjoy better focus during the rest of your day, and you'll be able to devote 100% of your attention to your employees during the allotted time.
Follow-up and Follow-through
Accountability is a key factor when it comes to communication. Be sure to close each meeting or communication with an agreement on deadlines and responsibilities for completing any follow-up actions. It's important for your employees to complete any follow-up actions according to plan, but it's even more important for you to hold up your end of the bargain, so employees know they can count on you.
Be Clear
When stating your expectations of an employee, make sure the employee has a clear understanding of what you expect from them. Employees often waste energy griping about unclear instructions to other co-workers, which wastes time and creates a negative atmosphere. If this is the case in your office, let the employee know that it is OK to ask questions and clear up any confusion regarding particular projects or duties.
National Boss/Employee Day is a great reminder to keep all lines of communication open between you and your employees.
National Coloring Day
If you're sick and tired of feeling sick-and-tired and just plain stressed out, go grab a crayon. September 14 is National Coloring Day in the U.S.A., an annual holiday created by the Queen of Holidays. Not to be confused with National Coloring Book Day which is observed in August, National Coloring Day is a special day for young and old alike. It can be done just about anywhere and is affordable, too. It's about adding a splash of color to your life, with or without coloring books. And if you are feeling adventurous, you can even color outside the lines, too!
Coloring not only adds color to your life and inspires creativity; it's a great stress-buster, too. According to best selling author, psychologist and Associate Professor at Harvard Medical School, Alice D. Domar, Ph. D., coloring actually engages both sides of the brain. Coloring stimulates areas of the brain related to motor skills, senses and creativity. While some hobbies do help with relaxation, Domar says it's impossible to worry when the mind is completely engaged. When we totally focus on an activity, we don't focus on our worries.
Be honest. When is the last time you sat down and colored? Was it when the kids or grand-kids were young? Or maybe it was years ago when you were a youngster? If you think coloring is just for kids – you'd be wrong. Coloring for adults has become a world-wide craze which has some publishers jumping on the adult coloring book bandwagon. Intricate, beautiful and downright fun coloring books for adults are flying off the shelves and are even topping bestseller lists!
It's time to take a stroll down memory lane. Today is you time. Turn off those intrusive electronic devices and put a Do Not Disturb sign on the door. Pick up a set of colored pencils, pens, markers, paint and/or a box of Crayola crayons and get your color on! When you are done, encourage the rest of your family or a few of your favorite BFFs to join in on the coloring fun!
Just in case you need a little help to get started, the following websites provide free coloring pages for adults. Color on!
National Cream-Filled Donut Day
September 14th is National Cream Filled Donut Day, a day to temporarily abandon your diet and seek out an oozing bakery confection that will make your taste buds tingle. The history of donuts is a disputed topic but the sweet snacks most likely made their way to North America via the Dutch settlers who also helped popularize cookies, pies, and cobbler. American Hansen Gregory claimed to have created the first ring-shaped donut in 1847 and taught the technique to his mother. These early donuts were very much like the traditional donuts that we eat today. While glazed donuts dominate the market, cream-filled donuts are a close second, with the most popular fillings listed as vanilla cream and chocolate cream.
I can't say I've ever met anybody that doesn't like a donut every now and then. We were certainly more than happy to celebrate National Donut Day back in June. I'm always game for devouring a glazed donut, but I'm particularly partial to delicious twisted crullers and cream filled donuts. Damion, on the other hand, prefers a simple chocolate glazed donut. The only type of donut he really dislikes is a filled "boston cream pie" donut, which incidentally happens to be one of my all-time favorites. That's okay though: I hate jelly filled donuts and Damion thinks their yummy. Maybe opposites really do attract.
To celebrate Cream Filled Donut Day we took a trip to Krispy Kreme (after I put in a hard workout at the gym, picturing my upcoming donut the entire time I was on the elliptical). Damion ran in and picked up two cream filled donuts for us to share – one with vanilla cream filling and one with chocolate cream filling. Even though we'd both been looking forward to our desserts all day, once we got home we got busy and the donuts had to wait. By the time I had showered and we'd eaten dinner it was almost ten o'clock! Finally, before we got too tired, Damion and I settled down to savor our donuts before the day drew to a close. If only I could end every night on such a sweet note…and still fit into my pants.