Banned Websites Awareness Day
To raise awareness of the overly restrictive blocking of legitimate, educational websites and academically useful social networking tools in schools and school libraries, AASL has designated one day during Banned Books Week as Banned Websites Awareness Day. On Wednesday, September 30, AASL is asking school librarians and other educators to promote an awareness of how overly restrictive filtering affects student learning.
Usually the public thinks of censorship in relation to books, however there is a growing censorship issue in schools and school libraries – overly restrictive filtering of educational websites reaching far beyond the requirements of the Children's Internet Protection Act (CIPA). Students, teachers, and school librarians in many schools are frustrated daily when they discover legitimate educational websites blocked by filtering software installed by their school.
Filtering websites does the next generation of digital citizens a disservice. Students must develop skills to evaluate information from all types of sources in multiple formats, including the Internet. Relying solely on filters does not teach young citizens how to be savvy searchers or how to evaluate the accuracy of information.
Over extensive filtering also extends to the use of online social networking sites such as Facebook, Twitter, YouTube, Blogger, etc. In order to make school more relevant to students and enhance their learning experiences, educators need to be able to incorporate those same social interactions that are successful outside of school into authentic assignments in the school setting. Unfortunately, filters implemented by school districts also block many of the social networking sites.
Blasphemy Day
Blasphemy Rights Day International encourages individuals and groups to openly express their criticism of, or even disdain for, religion. It was founded in 2009 by the Center for Inquiry. A student contacted the Center for Inquiry in Amherst, New York to present the idea, which CFI then supported. Ronald Lindsay, president and CEO of the Center for Inquiry said regarding Blasphemy Day, "We think religious beliefs should be subject to examination and criticism just as political beliefs are, but we have a taboo on religion," in an interview with CNN.
Events worldwide on the first annual Blasphemy Day in 2009 included an art exhibit in Washington, DC and a free speech festival in Los Angeles.
According to USA Today's interview with Justin Trottier, a Toronto coordinator of Blasphemy Day, "We're not seeking to offend, but if in the course of dialogue and debate, people become offended, that's not an issue for us. There is no human right not to be offended."

Anti-blasphemy laws exist throughout the world. In many parts of Europe and North America they have been overturned, although there are anti-blasphemy laws in Austria, Denmark, Finland, Greece, Italy, Liechtenstein, Iceland, San Marino, Spain and the UK. (The UK common law offences of blasphemy andblasphemous libel were abolished by the Criminal Justice and Immigration Act 2008, section 79. The remaining law, Racial and Religious Hatred Act 2006, concerns inciting hatred against a person on the grounds of their religion.) There are also "religious insult" laws in 21 European nations.

The Republic of Ireland passed the "Defamation Act 2009" in that year, which states in part, "A person who publishes or utters blasphemous matter shall be guilty of an offence and shall be liable upon conviction on indictment to a fine not exceeding €25,000."

Finland has been the setting for a number of noteworthy blasphemy trials in the 2000s. The Finnish linguist, political blogger Helsinki City Councillor and subsequent member of parliament Jussi Halla-aho was charged with "disturbing religious worship" because of internet posts in which he called Muhammad apedophile, Halla-aho was fined €330.

The article 525 of the penal law in Spain considers "vilification" of religious "feelings", "dogmas", "beliefs" or "rituals". This extension to "dogmas" and "beliefs" makes it very close to a blasphemy law in practice, depending on the interpretation of the judge.

In some countries, blasphemy is punishable by death, such as in Afghanistan, Pakistan, and Saudi Arabia. Six US states (Massachusetts, Michigan,South Carolina, Oklahoma, Pennsylvania and Wyoming) still have anti-blasphemy laws on their books, although they are seldom enforced.
Blasphemy Day is celebrated on September 30 to coincide with the anniversary of the publication of satirical drawings of Muhammad in one of Denmark's newspapers, resulting in the Jyllands-Posten Muhammad cartoons controversy. Although the caricatures of Muhammad caused some controversy within Denmark, especially among Muslims, it became a widespread furor after Muslim imams in several countries stirred up violent protests in which Danish embassies were burned and over 100 people killed.
Chewing Gum Day
Gum chewers across the nation celebrate Chewing Gum Day each year on September 30.
Chewing gum is a soft, cohesive substance intended for chewing but not swallowing. Humans have used chewing gum for at least 3,000 years. Modern chewing gum was originally made of chicle, a natural latex. By the 1960s, chicle was replaced by butadiene-based synthetic rubber which is cheaper to manufacture. Most chewing gums are considered polymers.
Chewing gum in various forms has existed since the Neolithic period. 5,000-year-old chewing gum made from birch bark tar, with tooth imprints, has been found in Kierikki, Yli-Ii, Finland. The tar from which the gums were made is believed to have antiseptic properties and other medicinal advantages. The ancient Aztecs used chicle as a base for making a gum-like substance and to stick objects together in everyday use. Women in particular used this type of gum as a mouth freshener.
Forms of chewing gums were also chewed in Ancient Greece. The Ancient Greeks chewed mastic gum, made from the resin of the mastic tree. Many othercultures have chewed gum-like substances made from plants, grasses, and resins. The American Indians chewed resin made from the sap of spruce trees.The New England settlers picked up this practice, and in 1848, John B. Curtis developed and sold the first commercial chewing gum called The State of Maine Pure Spruce Gum. Around 1850 a gum made from paraffin wax was developed and soon exceeded the spruce gum in popularity. William Semple filed an earlypatent on chewing gum, patent number 98,304, on December 28, 1869.
Modern chewing gum was first developed in the 1860s when chicle was brought from Mexico by the former President, General Antonio Lopez de Santa Anna, to New York, where he gave it to Thomas Adams for use as a rubber substitute. Chicle did not succeed as a replacement for rubber, but as a gum, which was cut into strips and marketed as Adams New York Chewing Gum in 1871. Black Jack (1884) and "Chiclets" (1899), it soon dominated the market. Synthetic gums were first introduced to the U.S. after chicle no longer satisfied the needs of making good chewing gum. The hydrocarbon polymers approved to be in chewing gum are styrene-butadiene rubber, isobutylene, isoprene copolymer, paraffin wax, and petroleum wax.
International Translation Day
Launched in 1953, International Translation Day is a relatively recent entry into the calendar of world events. Established by the International Federation of Translators, the annual celebration is an opportunity to pay tribute to the work of translators who endeavor to make the world a slightly smaller place by breaking down language barriers and allowing great literature to be enjoyed far more widely. The work of translators is seen as being of growing importance due to growing opportunities for international travel and globalization of trade markets.
The event is marked with a series of dedicated events, seminars and symposiums across the world. International Translation Day itself coincides with the feast day of St. Jerome, a Christian scholar and priest who was the first person to translate the Bible into Latin from the original Hebrew, making it accessible for the first time to a far wider audience. St. Jerome is the patron saint of translators.
In 1991 FIT launched the idea of an officially recognized International Translation Day to show solidarity of the worldwide translation community in an effort to promote the translation profession in different countries. This is an opportunity to display pride in a profession that is becoming increasingly essential in the era of progressing globalization.
Translation is the communication of the meaning of a source-language text by means of an equivalent target-language text. A competent translator is not only bilingual but bicultural. A language is not merely a collection of words and of rules of grammar and syntax for generating sentences, but also a vast interconnecting system of connotations and cultural references whose mastery comes close to being a lifetime job.
National Mud Pack Day
National Mud Pack Day is celebrated on September 30th of each year. A mud pack, or mud mask, is a facial option. The nutrient rich mud will clean and remineralize your skin. This mask is recommended for normal to oily skin types and will absorb facial oils, dirt, and make-up while extracting impurities from pores.
There are different kinds of masks (e.g. cactus, cucumber, etc.) for different purposes: deep-cleansing, by penetrating the pores; healing acne scars or hyper-pigmentation; brightening, for a gradual illumination of the skin tone. Some masks are designed to dry or solidify on the face, almost like plaster; others just remain wet. The perceived effects of a facial mask treatment include revitalizing, healing, or refreshing; and, may yield temporary or long-term benefits (depending on environmental, dietary, and other skincare factors).
Masks are removed by either rinsing the face with water, wiping off with a damp cloth, or peeling off of the face by hand. Duration for wearing a mask varies with the type of mask, and manufacturer's usage instructions. The time can range from a few minutes to overnight. Those with sensitive skin are advised to first test out the mask on a small portion of the skin, in order to check for any irritations. Some facial masks are not suited to frequent use. A glycolic mask can only be used once a month without the risk of burning the skin.

Masks can be found anywhere from drugstores to department stores, and can vary in consistency and form. Setting masks include: clay, which is a thicker consistency, and will draw out impurities (and sometimes, natural oils, too) from the pores; a cream, which stays damp to hydrate the skin; sheet-style, in which a paper mask is dampened with liquid to tone and moisturize the skin; and lastly, a hybrid/clay and cream form that includes small beads for removing dead surface skin cells. Non-setting facial masks include warm oil and paraffin wax masks. These different forms are made to suit different skin types (e.g., oily or dry), and different skincare goals or needs (e.g., moisturizing, cleansing, exfoliating). Clay and mud masks suit oily and some "combination" skin types, while cream-based masks tend to suit dry and sensitive skin types.
National Hot Mulled Cider Day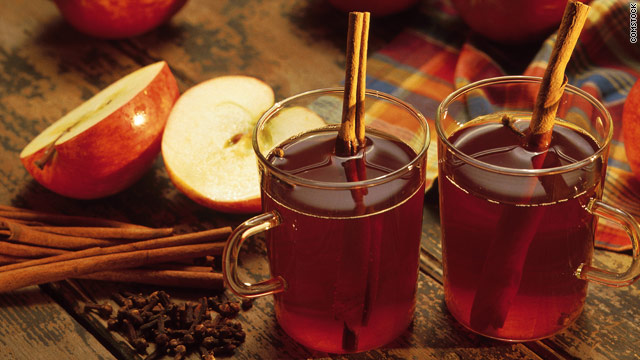 Today is National Hot Mulled Cider Day! Hot mulled cider is a delicious drink perfectly suited for crisp September afternoons. Apple cider is produced using a cider press and is a time-honored favorite of the autumn season.
Mulled cider is a hot or warm drink, typically made from apple juice or cider, and is most popular during autumn and winter. It is sometimes called wassail, or wassail punch. However, typically wassail would be made with ale or beer. Modern, child-friendly versions are more likely to be made with either apple or cranberry juice, or a combination of juices.
Mulled cider gets its name from the definition of mull, which means to flavor a beverage by heating it and adding spices. Frequently, this drink also includes either slices or the zest of citrus fruits like oranges. It's usually served hot, though one can buy spiced cider. In fact, if one has little time, warming spiced cider is an excellent shortcut for making mulled cider.
Confusion exists about whether a difference in taste occurs when one uses products labeled apple juice, or apple cider. Apple cider tends to be associated with a darker, unfiltered apple juice that may not be pasteurized. Apple juice is usually clear and has been filtered several times to be golden in appearance.
Cider, in this definition tends to have a tangier flavor, and is more likely to ferment quickly. In fact hard cider, which is fermented, is now a popular drink. Alcoholic cider is more typically used in Europe for mulled cider recipes.
Within this narrow definition, not universally recognized, mulled cider is generally better when using apple cider, even if not fermented. It should be a bit tangy, and a little stronger in taste than a filtered apple juice. In fact, many recipes for this beverage call for using a small amount of apple cider vinegar to deepen the flavor if one is using filtered apple juice.
However, to combat overly sour cider, some recipes include a bit of sugar as well. Common spices include allspice, nutmeg, cloves, and cinnamon. Some people use a premade pumpkin pie spice. Frequently, the spices are kept in a cheesecloth bag during the heating process, so they simply flavor, but don't mix with the cider.
This drink can be served in mugs. Many like to garnish the drink with a stick of cinnamon or a thin orange slice. It can also be served in punch cups if it is not overly hot.
One should observe some care in choosing the appropriate heating vessel. Aluminum and cast iron pots should be avoided. The acidity in the cider tends to leach metals from such pots and may give the cider a bitter, metallic taste. Stainless steel, ceramic pots, or crock-pots are preferred.
Enjoy National Hot Mulled Cider Day as you sip on your homemade brew!
National Women's Health and Fitness Day
Women's Health & Fitness Day is the nation's largest annual health promotion event for women of all ages. This year's event is set for Wednesday, September 30, and in future years, is always be held on the last Wednesday in September. This unique national program — with participation by local organizations throughout the U.S. — focuses attention on the importance of regular physical activity and health awareness for women. The event is similar in concept to its "sister" event — National Senior Health & Fitness Day — the nation's largest older adult health promotion program held every May. Women's Health & Fitness Day will also be part of a new National Women's Health & Fitness Week, to be held annually the last week in September.
On Wednesday, September 30, more than 1,000 groups across the country will host women's health and fitness events at senior centers, hospitals, health clubs, park and recreation districts, local health and service organizations, schools, retirement communities, houses of worship, and other community locations. An estimated 80,000 to 100,000 women of all ages are expected to participate in these local activities.
Local health and fitness activities will vary widely based on the organizations hosting the events and the interests of local women in these communities. Activities will be noncompetitive and may include walking events, exercise demonstrations, health screenings, and health information workshops.
The goal of this event is to encourage women to take control of their health: to learn the facts they need to make smart health choices, and to make time for regular physical activity.
Because of its grassroots nature, the event provides an excellent opportunity for local organizations to showcase the health-related programs and services they offer to women in their communities.
National Women's Health & Fitness Day is a public/private good health partnership organized by the Health Information Resource Center (HIRC)sm, a national clearinghouse for consumer health information professionals. The HIRC's "sister" organization, the Mature Market Resource Center, is the official organizer of National Senior Health & Fitness Day - the nation's largest older adult health promotion event - which is always held the last Wednesday in May.
The HIRC staff will coordinate all Women's Health & Fitness Day host site registrations along with the sales and distribution of event incentive items and samples/information from our national and state/local event sponsors.
World School Milk Day
World School Milk Day - The Food and Agriculture Organisation (FAO) of the United Nations (UN) is celebrating the 16th annual World School Milk Day on 30 September 2015 for school milk information, giving advice and help to countries who want to establish school milk programmes. A lack of information about different school milk systems among United Nations members prompted the FAO to rectify this.
E-mail networks and a linked website were created in 1997 as the place to exchange the relevant information. This is accompanied by conferences to exchange information among those operating school milk programmes.
World School Milk Day is a focal point of activities and draws attention to the different programmes used by members of the School Milk List e-mail network.
By having so many people worldwide participating in the event, school milk programmes are better promoted. I remember receiving my free school milk at morning break and it is an important part of my childhood memories.
By encouraging young children to drink milk now, and make it a part of their milk diet, then the behavior is likely to continue into adulthood. Calcium foods are an important part of a healthy diet so establishing the behavior now is vital to a healthy lifestyle.