Captain Kangaroo day
Captain Kangaroo day is on October 3rd. This special day is just too much fun to pass up. Many of us not-so youngsters will remember lazy mornings when we sat in front of the television in our pajamas to be entertained by the Captain Kangaroo Show.
As a kid, I can remember being mesmerized by the Magic Drawing Board. While music was playing on the Captain Kangaroo Show the board would draw a picture. It might be anything. Wondering what the picture would be kept me spellbound.
The next best part of the show was Mr.Green Jeans. I loved it when he would bring animals onto the Captain Kangaroo show. Now that I'm older I appreciate the way he gently taught about environmentalism.
The show originally aired on October 3, 1955. I now know that some of the many episodes that I enjoyed as a kid were probably re-runs of earlier shows. I didn't catch that then like kids today would. To me, it was just a fun show to watch.
They don't make shows like Captain Kangaroo anymore. It's really a shame. There are more options on television than ever before but fewer shows seem to be of good quality. Often they are merchandising machines in disguise. There are television programs that are designed to get our kids hooked so we parents can buy cheap merchandise at ridiculously overpriced prices.
Of course, Captain Kangaroo had its share of products that were marketed. Who didn't want to run out and buy a book after it was read by Captain Kangaroo? He always made the stories come to life!
Bob Keeshan who played Captain Kangroo passed away in 2004. According to CBS the show ran for an astounding 30 years on mainstream television. Then the Captain Kangroo Show went to Public Television where it ran for another 6 years. Almost 2 full generations of kids grew up watching the show. Tell me that's going to happen again?
What some people don't know about Bob Keeshan is that he had a role before he became Captain Kangaroo. Do you remember Clarabell the Clown from the Howdy Doody show? That was him.
After Captain Kangaroo ended he went on to become a children's advocate. He promoted parenting skills and worked to make life better for children.
Inter-American Water Day
Inter-American Water Day (IAWD) takes place annually on the first Saturday of October to raise awareness about the importance of water for health and sustainable development. Created in 1992, IAWD was jointly conceived by the Pan American Health Organization (PAHO), the Inter-American Association of Sanitary and Environmental Engineering (AIDIS) and the Caribbean Water and Wastewater Association (CWWA).
Some health authorities have suggested that people drink at least eight glasses, eight fl oz each (240 mL), of water per day (64 fl oz, or 1.89 litres), and the British Dietetic Association recommends 1.8 litres. This common misconception is not supported by scientific research. Various reviews of all the scientific literature on the topic performed in 2002 and 2008 could not find any solid scientific evidence that recommended drinking eight glasses of water per day. In the US, the reference daily intake (RDI) for total water intake is 3.7 litres per day (L/day) for human males older than 18, and 2.7 L/day for human females older than 18 which includes drinking water, water in beverages, and water contained in food. The amount of water varies with the individual, as it depends on the condition of the subject, the amount of physical exercise, and on the environmental temperature and humidity. An individual's thirst provides a better guide for how much water they require rather than a specific, fixed quantity.
In terms of mineral nutrients intake, it is unclear what the drinking water contribution is. Inorganic minerals generally enter surface water and ground water via storm water runoff or through the Earth's crust. Treatment processes also lead to the presence of some minerals. Examples include calcium, zinc, manganese, phosphate, fluoride and sodium compounds.Water generated from the biochemical metabolism of nutrients provides a significant proportion of the daily water requirements for some arthropods and desert animals, but provides only a small fraction of a human's necessary intake. There are a variety of trace elements present in virtually all potable water, some of which play a role in metabolism. For example sodium, potassium and chloride are common chemicals found in small quantities in most waters, and these elements play a role in body metabolism. Other elements such as fluoride, while beneficial in low concentrations, can cause dental problems and other issues when present at high levels.
Profuse sweating can increase the need for electrolyte (salt) replacement. Water intoxication (which results in hypothermia), the process of consuming too much water too quickly, can be fatal.
International Frugal Fun Day
International Frugal Fun Day is celebrated every year on the first Saturday in October. On that day, do one really fun thing that costs $5 or less--free is even better!
Fly a kite...enjoy a picnic on the beach...attend a free concert...take a stroll through a botanical garden or a hike up a mountain...watch breakdancers perform on the street corner...organize a tug-of-war or New Games tournament...explore an interesting new neighborhood...throw a buck into a street musician's instrument case and listen for an hour...watch a court trial (on a nearby weekday)...attend a Minor League ball game...savor a gourmet dessert in the fanciest restaurant in town...
This special day was created by Shel Horowitz, author of The Penny-Pinching Hedonist: How to Live Like Royalty with a Peasant's Pocketbook. We strongly suspect Frugal Fun Day was created, in part, to promote the book. Regardless of the reason for creating this day, we see nothing wrong with having a little inexpensive fun. The first International Frugal Fun Day was celebrated on October 2, 1999, and the holiday has been observed on the first Saturday in October every year since. Horowitz suggests that Frugal Fun plays an important role in the voluntary simplicity movement, stating that "once people realize they can still have a fabulous time without spending very much money, it opens up enormous possibilities for living more lightly while enjoying a better quality of life." Communities across the world have started to embrace these same ideas, with may offering free public events in honor of International Frugal Fun Day.
Look at the Leaves Day
Today is Look at the Leaves Day! This fits right in to season of Fall. I love all the leaves colors red,yellows and browns. The trees here are changing it's colors but I know in due time they will all turn those pretty colors.
What I really love about Fall is being able to drink hot apple cider,make pumpkin butter,cuddle up on my couch with a blanket and watching a good movie.
As the Earth makes its 365-day journey around the sun, some parts of the planet will get fewer hours of sunlight at certain times of the year. In those regions, the days become shorter and the nights get longer. The temperature slowly drops. Autumn comes, and then winter.
Trees respond to the decreasing amount of sunlight by producing less and less chlorophyll. Eventually, a tree stops producing chlorophyll. When that happens, the carotenoid already in the leaves can finally show through. The leaves become a bright rainbow of glowing yellows, sparkling oranges and warm browns.
Mean Girls Appreciation Day
Every day is the perfect day to quote Mean Girls, but October 3rd is a particularly noteworthy date for fans of the 2004 hit movie. (A brief refresher: it was the day when things really started to heat up between Aaron Samuels and Cady. He asked her what day it was, and she replied, "It's October 3rd.")
Most fans celebrate this occasion — unofficially known as National Mean Girls Day — on social media. But we're here to help you take your celebration off the screen and into the real world. Here, 19 ways to celebrate all day long.
Start planning your sexy Halloween costume. You can be a mouse, duh!
Eat lunch in the bathroom stall by yourself, just to remind you of the hard times.
Go to Taco Bell, even if you're on an all-carb diet. (Make sure to stop by Barnes and Noble on your way back to work).
Make your face smell like peppermint.
Polish your fertility vase of the Ndebele tribe.
Eat as many cheese fries as you want. There is no limit to how many cheese fries you can have. THE LIMIT DOES NOT EXIST.
Make sure you're in the right school auditorium.
Wear a wig made out of your mom's chest hair.
Push someone's hair out of their face and tell them their hair looks sexy pushed back.
Wear pink, even though it's not Wednesday.
Bake a cake filled with rainbows and smiles and everyone will eat and be happy.
Start a toaster strudel Twitter nostalgia campaign.
Treat yourself to another pair of white gold hoops. Live every day like it's Hanukkah.
Spike your mocktail because you're not a regular mom, you're a cool mom.
Purge yourself of your secrets and get a Brazilian blowout.
Wear sweatpants AND a vest.
Ask someone why they're white.
Use the word "grool" at least three times throughout the day.
Watch a Danny DeVito movie. You love his work.
National Butterfly and Hummingbird Day
Who hasn't seen the majestic beauty of a butterfly bouncing through the air or hummingbirds hovering near a feeder? If you haven't you are surely missing out. Whether you have or haven't seen them, take the opportunity to learn more about them today on National Butterfly and Hummingbird Day. Spread awareness and observe them in nature or at a zoo.
While I can't be certain if the holiday existed back in the 1800s, even then people knew butterflies and hummingbirds were special. This enthusiasm resulted in books with beautiful illustrations. One of the more popular ones is John Gould's A Monograph of the Trochilidæ, or Family of Humming Birds, which you can read more about here.
Did you know there are about 24,000 species of butterflies and representations of butterflies have been found in Egyptian frescoes at Thebes, which are 3,500 years old? Butterflies are fascinating creatures. If you want to learn more about them check out The butterfly book; a popular guide to a knowledge of the butterflies of North America by William Jacob Holland. While he was still Chancellor of the University of Pittsburgh and Director of the Carnegie Museums of Pittsburgh, Holland's book was published in 1898. This accomplished zoologist and paleontologist was a forward thinker that helped popularize butterflies and moths in the early 20th century.
Featuring 48 plates of color photography, this book presents many of the butterfly species in the United States. Written with a youthful and amateur collector in mind, the book presents these delicate creatures in a positive light. A goal of Holland's was to change the perception of butterflies. He quotes Henry Walter Bates' The Naturalist on the River Amazons in the introduction which summarizes his goal, "The study of butterflies, -- creatures selected as the types of airiness and frivolity, -- instead of being despised, will someday be valued as one of the most important branches of biological science."
Many of the reproduced photographs of butterflies are from Holland's own collection. Exceeding 250,000 specimens, he donated his private collection to the Carnegie Museum where the collection has grown and been used at unprecedented levels since access was granted to it in 1985. Holland's collection continues to serve science, conservation, and education to this day.
National Caramel Custard Day


October 3 is National Caramel Custard Day.
Caramel custard, or crème caramel, is a caramel-coated baked egg custard. It takes a little bit of practice to perfect, but the result is a creamy, flavorful dessert that's well worth the dress rehearsals.
Caramelized sugar is poured into buttered ramekins and swirled around to coat the sides. After that's cooled, an egg custard is poured into the molds and then baked in a water bath. The ramekins are tipped over onto a plate for serving, and the extra caramel forms a rich sauce around the custard. It'll end up looking a lot like a crème brulee but without the hard top.
Because of its Spanish origin, this dessert is particularly popular in Latin America and, more surprisingly, in India, though both regions put their own twist to it. In Argentina, for example, caramel custard is served with dulce de leche (in case you hadn't quite gotten your sugar fix for the day).
The history of Caramel Custard begins with the ancient Romans. Eggs figured prominently in many Roman recipes. The flan prepared by the ancient Romans was quite different from the food we eat today. It was often served as a savory dish, as in "eel flan," although sweet flans, made with honey and pepper, were also enjoyed. When the Romans conquered Europe, they brought their culinary traditions, including the flan, with them.
In the Middle Ages, both sweet and savory flans (almonds, cinnamon & sugar; cheese, curd, spinach, fish) were very popular in Europe, especially during Lent, when meat was forbidden. According to Platina's De Honesta Voluptate [On Right Pleasure and Good Health], an Italian cookery text published in approximately 1475, custard-type dishes were considered health food. In addition to being nourishing, they were thought to soothe the chest, aid the kidneys and liver, increase fertility, and eliminate certain urinary tract problems. Caramel evolved in France.
National Family TV Show Day
Does your family sit down together and watch a family television show once a week? It is a good practice to choose a TV show your family enjoys and watch it together at least once a week. This can open communication with your family and allow family discussions about what values your family holds paramount. When issues such as violence, bullying, sexual orientation, sex, and other issues arise in the TV show, you have the opportunity to listen and give wisdom on these issues with your children and family. Watching a TV show together is a great opportunity to experience what your children feel and say.
Families are now so busy that the only time they spend together is in front of the television, a new survey has claimed.
One in ten said the pressures of work and home life meant that time watching the TV was their only chance to bond.
According to the research over half (55 per cent) regard sitting down together in front of the box as the best way of catching up.
A third said they valued the time spent watching television together and 12 per cent claimed it was the only time they were ever together in one room.
The survey of over 1,000 families found 32 per cent watched television together as a family two to three times a week.
More than a third (38 per cent) of families said they watched television for up to an hour every night, including weekends.
Only five per cent of families said they never watch television together.
Family psychologist Pat Spungin, who conducted the survey, said: 'Watching TV for an hour or two a few times a week can be the ultimate opportunity for families to bond.
'The survey revealed that comedies are the family favorite, which in the current economic climate, denotes the need for a feel-good factor and the opportunity to laugh together.
'It is also promising that with our busy lifestyles, families regard watching TV together as the opportunity to communicate with each other and discuss current issues.'
National Techies Day
October 3 is Techies Day. Launched in 1999 by Techies.com and co-founded by CNET Networks, the annual event not only encourages students to learn more about a career in technology, but the nationwide initiative was also created to address America's increasing demand for qualified technology workers and to recognize the contributions to education made by tech professionals. In an effort to bring government, businesses and educators together, the first Workforce Development Summit was held in 2000.
The field of technology is rapidly changing and the demand for skilled technology professionals continues to grow. Children are inundated with technology from an early age. It doesn't take long for many children to become more tech-savvy than their parents.
In honor of Techies Day, be sure to give a great big shout-out to your IT person in the office. Or better yet, take him or her out to lunch. And if you know a student who is interested in the field of technology, make sure to encourage him or her to pursue the dream.
National Virus Appreciation Day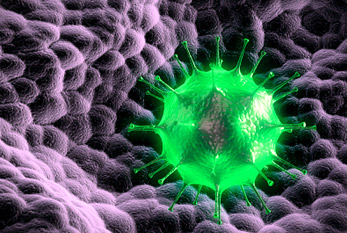 National Virus Appreciation Day is observed on October 3rd. It gives you the chance to show respect for viruses. A virus is a small infectious agent that replicates only inside the living cells of other organisms. Viruses can infect all types of life forms, from animals and plants to bacteria and archaea.
Viruses are important to the study of molecular and cell biology as they provide simple systems that can be used to manipulate and investigate the functions of cells. The study and use of viruses have provided valuable information about aspects of cell biology. For example, viruses have been useful in the study of genetics and helped our understanding of the basic mechanisms of molecular genetics, such as DNA replication, transcription, RNA processing, translation, protein transport, and immunology.
Viruses spread in many ways; viruses in plants are often transmitted from plant to plant by insects that feed on plant sap, such as aphids; viruses in animals can be carried by blood-sucking insects. Influenza viruses are spread by coughing and sneezing. Norovirus and rotavirus, common causes of viral gastroenteritis, are transmitted by the faecal-oral route and are passed from person to person by contact, entering the body in food or water.
World Card Making Day
World Card Making Day is a holiday especially for card makers around the world. Celebrate the creativity of handmade cards and the personal connection that they create between friends and family.
The first Saturday of each October, kicking off the holiday card-making season, the most popular time for creating and sharing handmade greetings.


World Card Making Day is a holiday especially for card makers around the world to:
Celebrate the creativity of handmade cards and the personal connection that they create between friends and family
Kick off (and get a head start on) the holiday card-making season
The first Saturday of each October, kicking off the holiday card-making season, the most popular time for creating and sharing handmade greetings.
The card-making community worldwide, including hobbyists, beginning card makers, manufacturers of card-making products, retail sellers of products, educators, and press are invited to come together to celebrate this holiday and creative passion.
It is a day to connect with fellow card makers both near and far, to applaud the creativity that powers the craft, and to provide an opportunity for card makers to connect and find resources that will empower, inspire, and encourage them in their card making.
World Card Making Day began in 2006 as National Card Making Day. Founded by Paper Crafts magazine to bring card makers together at the beginning of the busiest card-making season of the year, it was first held on October 7, 2006. The initial celebration involved the Paper Crafts magazine audience only; however, due to the positive response it received and the worldwide popularity of card making, the holiday became known as World Card Making Day from then on.
Celebrating its tenth year in 2015, World Card Making Day is celebrated annually on the first Saturday in October. It's a day for the card-making community—hobbyists, retailers, and manufacturers—to unite and celebrate the connection and creativity that is the heart of card making.