Change a Light Day
Annually, the EPA, DOE, and Department of Housing and Urban Development promote ENERGY STAR qualified light bulbs and fixtures during its national Change a Light, Change the World campaign. The campaign gains momentum throughout the summer and early fall, with a central rallying point for media and PR activities on the first Wednesday in October, ENERGY STAR Change a Light Day. Organizations play an integral role in the campaign by setting their own pledge goal and inviting their surrounding community to join the larger ENERGY STAR Change a Light community in preserving our nations energy resources and environment. The ALA/ENERGY STAR partnership provides you with the opportunity to participate in this campaign by receiving free ENERGY STAR marketing materials, training materials, and information on utility rebates and incentives that can provide savings to your customers.
The ENERGY STAR Change a Light, Change the World Campaign is a national call-to-action to encourage individuals to help change the world, one light — one energy-saving step — at a time. The Environmental Protection Agency, Department of Energy, and Department of Housing and Urban Development are pleased to partner to sponsor the Campaign this year.
The ENERGY STAR Change a Light, Change the World Campaign is designed to bring individuals and organizations together in a nationwide effort to save energy and help fight global warming, starting by encouraging a switch to lighting that has earned the government's ENERGY STAR label for energy efficiency.
Going into its 8th year, the campaign provides a central rallying point on ENERGY STAR Change a Light Day. Organizations and leaders from across the nation are encouraged to help mark the day. Individuals are invited to take the online ENERGY STAR Change a Light Pledge, where they can join others nationwide committing to change out at least one light at home. While the majority of campaign participation occurs during the promotional time frame of October and November.
Country Inn Bed and Breakfast Day
First Sunday in October to be Known as "National Country Inn, Bed & Breakfast Day"
Beginning in 2005, the first Sunday in October will recognize all B&B's, inns and their keepers in the U.S. and Canada and will be known as "National Country Inn, Bed & Breakfast Day," according to Tina Czarnota who has sponsored this calendar designation. Czarnota is an "inn-thusiast" and author who has recently completed the screenplay adaptation of her book, Country Inn, Dead & Breakfast.
A bed and breakfast (Typically shortened to B&B but also spelled BnB in Internet usage) is a small lodging establishment that offers overnight accommodation and inclusive breakfast, but usually does not offer other meals. Typically, bed and breakfasts are private homes or family homes offering accommodations-the typical B&B has between 4 and 11 rooms, with 6 being the average.
"Bed and breakfast" is also used as a term to describe the level of catering included in a hotel's room prices (as opposed to room only, half-board, full-board etc.).
Generally, guests are accommodated in private bedrooms with private bathrooms, or in a suite of rooms including an en suite bathroom. Some homes have private bedrooms with a bathroom which is shared with other guests. Breakfast is served in the bedroom, a dining room, or the host's kitchen.
B&Bs and guest houses may be operated as either a secondary source of income or a primary occupation.. Often the owners themselves prepare the breakfast and clean the rooms, but some bed and breakfasts hire staff for cleaning or cooking. Properties with hired professional management are uncommon (unlike inns or hotels) but may exist if the same owner operates multiple B&B's.
Some B&Bs operate in a niche market. Floating bed and breakfasts are boats or houseboats which offer B&B accommodation; the CCGS Alexander Henry museum ship was one example. In some communities, former lighthouse keeper quarters have been turned into B&B rooms after the light has been automated or decommissioned.
eDay
eDay is an annual New Zealand initiative, started by Computer Access New Zealand (CANZ), aimed to raise awareness of the potential dangers associated with electronic waste and to offer the opportunity for such waste to be disposed of in an environmentally friendly fashion.
eDay was first held in Wellington in 2006, as a pilot sponsored by Dell, the event bought in 54 tonnes (119,000 lb) of old computers, mobile phones and other non-biodegradable electronic material. In 2007 the initiative was extended to cover 12 locations, which resulted in it becoming a national initiative, 946 tonnes (2,086,000 lb) were collected.
eDay 2008 was held on October 4 and extended to 32 centers. In 2009 an estimated 966 tonnes (2,130,000 lb) was collected at 38 locations around the country.
The initiative was started to minimize the amount of electronic waste being disposed on in landfills, based on evidence from reports that there was an estimated 16 million electronic devices in use in New Zealand and that 1 million new devices were being introduced every year, the report found that the majority of these devices were being disposed in landfills rather than being recycled. A separate report found that half of New Zealand schools did not recycle outdated and replaced equipment, opting instead to deposit it in landfills. When disposed in landfills there is a possibility of the harmful chemicals in the electronic equipment, such as mercury, lead and cadmium, contaminating groundwater and coming into contact with humans or animals, the toxins in the chemicals are capable of causing serious health issues, such as nervous system and brain damage. When recycled, the chemicals are disposed of safely and potentially valuable parts can be reused.
On the day, drive-thru collection points are established and volunteers operate each centre. Businesses, schools and the public are encouraged to dispose of old computer hardware, mobile phones and printer cartridges. As well as collecting material, the initiative is also designed to increase awareness about the harmful effects of electronic waste.
Improve Your Office Day
October 4, has been designated as "Improve Your Office Day." Office workers around the world are encouraged to take this opportunity to find ways to make their work area and surrounding environment more pleasant and enjoyable, as well as cleaner and healthier.
A Staples.com survey conducted in anticipation of the Oct. 4 observation of "Improve Your Office Day" finds that new technology and furniture rank high on employees' wish lists of office improvements. More than half the workers surveyed gave both their office furniture (52 percent) and office décor (51 percent) a "C" grade or lower, while 41 percent gave their office technology a "C" or lower.
Topping people's wish lists for office improvements were:
Eliminating office politics (44 percent);
Allowing or encouraging telecommuting (41 percent);
Upgrading computers and other office technology (37 percent);
Getting nicer or more comfortable office furniture (35 percent); and
Providing more private work areas and more flexible work hours (tied at 34 percent each).
One thing respondents said did not need improvement was the boss, despite some common stereotypes. Nearly half (47 percent) of respondents gave their boss a solid "A" grade, with a combined 78 percent rating their boss an "A" or "B."
Well-stocked Breakrooms = Increased Productivity
Another interesting finding of the study is that 57 percent of office workers have to buy their own snacks and beverages at work. Consequently, one in two respondents reported leaving the office on coffee or snack runs at least once a day, with some making as many as five trips per day.
"As businesses consider ways to keep their employees motivated and productive, they can keep in mind various affordable options to improve their offices," said Anabela Perozek,vice president of marketing for Staples.com. "Staples brings easy to offices with a full range of products, from breakroom supplies to technology to office furnishings."
Addressing Top Wishes For Office Improvements
Staples.com offers these quick tips for improving the office in ways that both employees and employers will appreciate:
Stock the kitchen or breakroom with coffee and snacks that will energize the staff and keep them running all day. Providing nutritious snacks keeps employees healthy and productive.
Take inventory of your technology, and replace outdated equipment that may be impeding productivity. In the last few years, technologies such as wireless networks and all-in-one printers have advanced dramatically, while prices have actually fallen.
Consider office décor and furniture upgrades that don't require a complete overhaul. Simply replacing old, worn desk chairs and/or redecorating conference rooms can be easy, low-cost ways to make the office more attractive and comfortable.
Arm employees with technology that makes it easy for them to telecommute. Tablet and notebook computers give employees the ability to take their work with them wherever they go, whether it's on the road, at a client site, in a conference room or working from home.
When expanding or redesigning the office, take employee privacy concerns into consideration. Many newer office furniture systems, such as Staples' environmentally preferable e3 panel system, offer creative ways to preserve privacy while maintaining an open, collaborative environment.
Intergeneration Day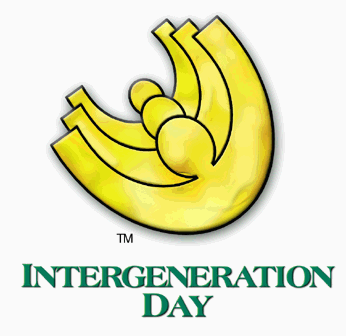 In 1987, Fountain Institute, a 501(c)(3) non-profit organization, with a Board of Trustees, was formed by Sandy Kraemer, a Colorado Springs attorney, to research intergenerational issues. The resulting research identified the need to set aside a time each year to focus on intentionally connecting generations to better communicate age-related gratitude and needs.
To fulfill this need, in the year 2000, Fountain Institute changed its name to "Intergeneration Foundation" and launched "Intergeneration Day" worldwide, the first Sunday in October (later designated September). The research proved overwhelmingly correct, as 42 state governors proclaimed Intergeneration Day, plus scores of organizations joined in including American Library Association, American Association of Museums, American Council of Life Insurers, National Easter Seals, Centura Health, Microsoft Corporation, Stanford University Center on Longevity, plus uncountable community organizations and families.
While support for Intergeneration Day has verified the need to annually set aside time to intentionally connect all ages, further research showed organizations and families were not planning or staging "IG Events". Two primary reasons were identified: (1) a single Day was too short to stage events; and (2) the Day competed with other established times, such as Grandparents' Day – the first Sunday after Labor Day.
The need to annually set aside a time to intentionally connect generations is clear. In 2012, Intergeneration Foundation experimented with expanding Intergeneration Day to Intergeneration Month to increase the time for planning and staging "IG Events." The response has been compellingly positive. After considering other months, research shows September to be the preferred month.
Intergeneration Day, started in the year 2000, is merging into Intergeneration Month: September. Intergeneration Month will be promoted in the United States, and worldwide as a time to intentionally connect generations and stage intergenerational events. Grandparents' Day will be a kick-off "IG Event" for Intergeneration Month in the United States and Canada. Please participate to make the strengths of each generation meet the needs of all generations.
International African Diaspora Day
The International Day of the African Diaspora (IDAD) will bring to the fore the visibility of the African Diaspora, especially youth: our process of networks strengthening and enhancing youth inclusion, engagement and participation. By creating a platform for visibility and exchange of knowledge and perspectives, we are setting up a sustainable system for the improvement of the quality of life of this social group. We would like IDAD to encourage policy makers, the media, government representatives amongst others to acknowledge and work with the African Diaspora by considering our recommendations, raising awareness of our success stories and our talents as European citizens. A day where young people can raise their voice and take actions:
Build bridges between African, European, Diaspora youth organisations, young people of African Descent, media and institutions and youth leaders/youth workers
Access the political, cultural and social issues faced by European citizens of African background
Reinforce the capacity of youth organisations to fight extremism, racism and discrimination
Empower youth to become human rights leaders by promoting peace, intercultural dialogue and diversity.
The African diaspora refers to the communities throughout the world that are descended from the historic movement of peoples from Africa, predominantly to the Americas, Europe, Asia, and the Middle East, among other areas around the globe. The term has been historically applied in particular to the descendants of the West and Central Africans who were enslaved and shipped to the Americas in the Atlantic slave trade, with the largest population in Brazil (see Afro-Brazilian), followed by the USA and others. Some scholars identify "four circulatory phases" of migration out of Africa.
The term has also less commonly been used to refer to recent emigration from Africa. The African Union defines the African diaspora as:
"[consisting] of people of African origin living outside the continent, irrespective of their citizenship and nationality and who are willing to contribute to the development of the continent and the building of the African Union." Its constitutive act declares that it shall "invite and encourage the full participation of the African diaspora as an important part of our continent, in the building of the African Union."
The phrase "African diaspora" was coined during the 1990s, and gradually entered common usage during the 2000s. Use of the term "diaspora" is modelled after the concept of Jewish diaspora.
Much of the African diaspora was dispersed throughout Asia, Europe, and the Americas during the Arab and the Atlantic slave trades. Beginning in the 8th century, Arabs took African slaves from the central and eastern portions of the continent (where they were known as the Zanj) and sold them into markets in the Middle East and eastern Asia. Beginning in the 15th century, Europeans captured or bought African slaves from West Africa and brought them to Europe and primarily, in much greater number, to the Americas. The Atlantic Slave Trade ended in the 19th century, and the Arab Slave Trade ended in the middle of the 20th century. The dispersal through slave trading represents the largest forced migrations in human history. The economic effect on the African continent was devastating, as generations of young people were taken from their communities and societies were disrupted. Some communities created by descendants of African slaves in Europe and Asia have survived to the modern day. In other cases, blacks intermarried with non-blacks, and their descendants blended into the local population.
In the Americas, the confluence of multiple ethnic groups from around the world created multi-ethnic societies. In Central and South America, most people are descended from European, indigenous American, and African ancestry. In Brazil, where in 1888 nearly half the population was descended from African slaves, the variation of physical characteristics extends across a broad range. In the United States, there was historically a greater European colonial population in relation to African slaves, especially in the Northern Tier. There was considerable racial intermarriage in colonial Virginia, and other racial mixing during the slavery and post-Civil War years. Racist Jim Crow and anti-miscegenation laws passed after the Reconstruction era in the South in the late nineteenth century, plus waves of vastly increased immigration from Europe in the 19th and 20th centuries, maintained some distinction between racial groups. In the early 20th century, to institutionalize racial segregation, most southern states adopted the "one drop rule", which defined and recorded anyone with any discernible African ancestry as black, even of obvious majority white or Native American ancestry. One of the results of this implementation was the loss of records of Indian-identified groups, who were classified only as black because of being mixed race.
International Toot Your Flute Day
October 4th, International Toot Your Flute Day, was intended as a day for shameless self-promotion. There is no need to be modest or shy about your strengths, skills, looks, capabilities or anything else that makes you great. Today is the day for telling everyone how great you really are. Self-promotion doesn't have to be "bragging." So go ahead, celebrate yourself, your strong points and all the wonderful things you do!
In our hustle-and-bustle society, there just isn't enough time in the day to get everything done. Between the kids, chores, work, family and a slew of never-ending activities, who has time for primping and pampering? International Toot Your Flute Day reminds us all to slow down a little and to enjoy life.
Take the day off and do something nice for yourself. You've earned it! Get all dolled up and flaunt your fabulousness! Today is the day to acknowledge everything you've done in your life. Be proud and say it out loud! Go ahead – blow your own horn and toot that flute! No musical instrument required!
Kanelbullens Dag (Cinnamon Roll Day)
As if you didn't already have enough reasons to love Sweden, today is a minor holiday celebrating… wait for it… cinnamon rolls.
The fun just never stops around here, I'm telling you.
And because I take this blogging job very seriously and I consider it a very serious obligation to give you the inside scoop on all important Swedish happenings, I have tasted a lot of cinnamon rolls this week. It's all in the name of duty.
I have eaten A LOT of cinnamon rolls this week. Let this be a testament to my commitment to the art of blogging. Here's the thing, though: no one seems to know why Sweden has a Cinnamon Roll Day (Kanelbullens Dag). I talked to professional and amateur bakers alike and asked them what it is that makes the cinnamon Roll special among all the other fantastic baked goods in Sweden. Why is the cinnamon Roll so important within Swedish food culture?
Blank stares, giggles, uncomfortable squirming. As it turns out, Cinnamon Roll Day is a relatively new phenomenon—it was started in 1999 to celebrate the 40th anniversary of Hembakningsrådet, which translates roughly to "Home Baking Council." The Council was established in 1959 with the goal of providing information and inspiration for home bakers. Hilariously enough, the primary funders at that time were Jästbolaget (produces yeast), Kungsörnen (flour), Margarinbolaget (margarine), Saltsjökvarn (flour and grains), and Sockerbolaget (sugar). At present, Nordic Sugar is the primary sponsor of Hembakningsrådet. I feel like the Sugar Plum Fairy should be their Honorary CEO.
The Council's own explanation for celebrating the cinnamon Roll rather than any other Roll isn't much more concrete than anything I heard in person. They cite the feelings of enjoyment, comfort, and happiness that a cinnamon Roll brings, plus its nearly universal popularity among Swedes. Kristina Eriksson, author of an entire cookbook of Cinnamon Rolls and other freshly-baked rolls, wrote that "cinnamon rolls symbolize so many positive things; the fresh-baked smell, warmth, generosity, childhood, and home… a feeling of total contentment."
As vague as people are in explaining why cinnamon rolls are so important, there are no lukewarm opinions as to what separates a so-so cinnamon Roll from the real deal.
A few of the advertisements around town... every bakery I asked said that there's a big increase in demand for cinnamon rolls on their special day.
Another factor people brought up when talking about the greatness of Swedish cinnamon rolls is their versatility. Yes, there are a few aesthetic prototypes (the neatly wrapped roll, the intricately twirled Roll, etc.), but what you put in your cinnamon Roll is up to you. Cardamom, almond paste, pistachios, vanilla sugar, hazelnut paste, chocolate, pecans, even fruit jams… the sky's the limit.
In the meantime, Happy Cinnamon Roll Day! I raise my coffee cup in honor of everyone's favorite buttery, sweet, cinnamony treat. And thank goodness it only comes once a year, because I feel like my stomach is going to explode.
National Golf Day
National Golf Day is celebrated on October 4th. It is a charitable event, sponsored annually since 1952 by the Professional Golfer's Association (PGA). Golf is a precision club and ball sport in which competing players use many types of clubs to hit balls into a series of holes on a course using the fewest number of strokes.
It is one of the few ball games that does not require a standardized playing area. Instead, the game is played on a golf course, generally consisting of an arranged progression of either 9 or 18 "holes." Each hole on the course must contain a "tee box" to start from, and a "putting green" containing the actual hole.
The origins of golf are unclear and much debated. However, it is generally accepted that modern golf developed in Scotland during the Middle Ages. The game did not find international popularity until the late 19th century, when it spread into the rest of the United Kingdom and then to the British Empire and the United States.

A golf-like game is, apocryphally, recorded as taking place on 26 February 1297, in Loenen aan de Vecht, where the Dutch played a game with a stick and leather ball. The winner was whoever hit the ball with the least number of strokes into a target several hundred yards away. Some scholars argue that this game of putting a small ball in a hole in the ground using golf clubs was also played in 17th-century Netherlands and that this predates the game in Scotland. There are also other reports of earlier accounts of a golf-like game from continental Europe.

In the 1261 Middle-Dutch manuscript of the Flemish poet Jacob van Maerlant's Boeck Merlijn mention is made of a ball game "mit ener coluen" (with a colf/kolf [club]). This is the earliest known mention in the Dutch language of the game of colf/kolf as played in the Low Countries.

In 1360, the council of Brussels banned the game of colf: "... wie met colven tsolt es om twintich scell' oft op hare overste cleet ..." (he who plays at colf pays a fine of 20 shillings or his overcoat will be confiscated).

In 1387, the regent of the county of Holland, Zeeland and Hainaut, Albrecht of Bavaria, sealed a charter for the city of Brielle, in which it was forbidden to play any game for money. One of the exceptions to this ordinance was "den bal mitter colven te slaen buten der veste" (to play the ball with a club outside the town walls). Two years later, in 1389, the regent Albrecht offered the citizens of Haarlem a field called 'De Baen' (the course) to be used exclusively for playing games – especially colf – because these were too dangerous within the city walls.

The modern game of golf is generally considered to be a Scottish invention. A spokesman for the Royal and Ancient Golf Club of St. Andrews, one of the oldest Scottish golf organisations, said "Stick and ball games have been around for many centuries, but golf as we know it today, played over 18 holes, clearly originated in Scotland." The word golf, or in Scots gowf, is usually thought to be a Scots alteration of Dutch "colf" or "colve" meaning "stick, "club", "bat", itself related to the Proto-Germanic language *kulth- as found in Old Norse kolfr meaning "bell clapper", and the German Kolben meaning "mace or club". The Dutch term Kolven refers to a related sport.

The first documented mention of golf in Scotland appears in a 1457 Act of the Scottish Parliament, an edict issued by King James II of Scotland prohibiting the playing of the games of gowf and football as these were a distraction from archery practice for military purposes. Bans were again imposed in Acts of 1471 and 1491, with golf being described as "an unprofitable sport". Mary, Queen of Scots was accused by her political enemies of playing golf after her second husband, Henry Stuart, Lord Darnley, was murdered in 1567. George Buchanan subsequently wrote that she had been playing "sports that were clearly unsuitable to women". Golf was banned again by parliament under King James IV of Scotland, but golf clubs and balls were bought for him in 1502 when he was visiting Perth, and on subsequent occasions when he was in St Andrews and Edinburgh.

An entry in the Town Council Minutes of Edinburgh for 19 April 1592 includes golf in a list of pursuits to be avoided on the Sabbath.

The account book of lawyer Sir John Foulis of Ravelston records that he played golf at Musselburgh Links on 2 March 1672, and this has been accepted as proving that The Old Links, Musselburgh, is the oldest playing golf course in the world. There is also a story that Mary, Queen of Scots, played there in 1567.
National Ships-in-Bottles Day
Shipwrights everywhere around the globe celebrate and are recognized annually on October 4th National Ships In Bottles Day, a day commemorating the rare art of building ships and other objects into bottles.
The technique of putting ships into bottles developed during the early years of the 19th century in the forecastles of the old sailing ships. In an era when sea voyages lasted months and years, and entertainment was self-evolved, off-watch sailormen occupied themselves creating bits of nautical folk art from whatever raw material came to hand. On whaling vessels the most abundant scrap materials were the teeth and bones of whales and walruses, which the whalermen fabricated into many familiar items collectively known as scrimshaw. But other materials such as wood and rope and yarn were also used, and many interesting and decorative objects were made from these. It is not surprising then that an empty bottle might have piqued the imagination of some long-gone salt and led him to devise the technique for displaying miniature ships in bottles.
Sailors were not unique in their use of bottles to house objects. Many other isolated souls have turned their efforts to this end, and significantly there are many old bottles which contain religious objects. Many also derive from the lumbering business where workers were often forced to live in the wilderness for extended periods.
Whatever the origin, the technique for putting ships into bottles was well known to sailormen of all the major seafaring nations. Evidence of their work can be found in nautical museums throughout Europe, North America, and Japan. Unfortunately, despite widespread knowledge of the technique, good early examples of the ship-in-bottle art have become scarce. Even well-known dealers in maritime art rarely have them available, and when they do, the price quoted is well outside what most individuals would be willing to pay. This is a shame for there are few decorations as evocatively nautical as a bottled ship.
National Taco Day
It's National Taco Day! A taco is a traditional Mexican dish made with chicken, beef, vegetables, or seafood. The filling is folded inside a soft or hard tortilla and garnished with toppings such as cheese, salsa, or guacamole.
For a dish so widely available, the history of the taco is really unknown. But according to taco expert Jeffrey M. Pilcher, the word originates from the silver mines in Mexico in the 18th century, when taco referred to the little explosives workers used to extract the ore. These were pieces of paper wrapped around gunpowder and placed into holes carved in the rock. "When you think about it, a chicken taquito with a good hot sauce is really a lot like a stick of dynamite," says Pilcher in an online article at Smithsonian.com. "The first references [to the taco] in any sort of archive or dictionary come from the end of the 19th century. And one of the first types of tacos described is called tacos de minero—miner's tacos. So the taco is not necessarily this age-old cultural expression; it's not a food that goes back to time immemorial."
Still others claim tacos predate the arrival of the Spanish in Mexico in the 16th century. Anthropologists say there is evidence suggesting inhabitants of the lake region of the Valley of Mexico ate tacos filled with small fish. The fish were replaced by small live insects and ants in the states of Morelos and Guerrero, while locusts and snails were favorite fillings in Puebla and Oaxaca.
Taco Bell is believed to have pushed the widespread popularity of Mexican food in the U.S. Founded in California in 1962, the chain of fast-food restaurants serves up a variety of Tex-Mex foods to more than two billion customers in 5,800 restaurants in the U.S. alone.
The hard-shell taco was invented long before Taco Bell, a discovery that would aid their expansion across North America. The U-shaped version is first noted in 1949 in a cookbook by Fabiola Cabeza de Vaca Gilbert. A device that would hold the taco in its U-shape as it deep fried helped in the mass production of this product. Kits are now available everywhere and
Today, tacos are enjoyed all over the world. Invite your friends over for make-your-own tacos and celebrate National Taco Day!
National Vodka Day
National Vodka Day, celebrated annually on October 4th.
"The Water of Life" The versatile, once virtually tasteless and odorless tipple accounts for almost 20 to 25 per cent of spirits sold today in North America, making it our most popular libation, a feat that occurred in the 1970s when it outpaced bourbon as America's favorite spirit. We raise our glass on October 4 to toast National Vodka Day!
Why Celebrate October 4th? While October 4th seems well documented as National Vodka Day, we have not found the origins of why, but it works for us. No harm celebrating responsibly on other days as well. October 4, 2014 is a Saturday!
The word vodka stems from the Russian word, voda, which means water. Rarely consumed outside of Europe before the Second World War, vodka would eventually draw many hard liquor fans with its flavorless and versatile appeal.
Today, vodka is made from many different things such as beets, potatoes, wheat and even grapes. The final product doesn't depend on the ingredients so much as it depends on the methods of production. You're unlikely to be able to taste the difference, since by law vodka is not even permitted to have a distinctive taste except for those that have been added in after distillation.
Because it's filtered of many dangerous chemicals and has less of an after-effect on the body, many view vodka as one of the least dangerous alcoholic beverages. Still, thanks to an alcohol volume that ranges from 35 to 60 per cent, it is one of the more potent drinks, able to intoxicate quickly and effectively.
Ironically, unlike the drink itself, it's not really clear where vodka was created, though many associate the clear drink with Russia. Its birthplace has also been linked to the grain-growing regions that surround Poland, Ukraine, Belarus as well as Finland and other Scandinavian countries. Still, it's said that the taxation on vodka in Russia helps cover a large portion of the government's revenue. The fact that vodka consumption in Russia is greater than any other country in the world must help must help.
The birth date of vodka is pegged at around the 12th century. Made initially for medical purposes, it wasn't until the 1350s that the drink gained a reputation for its intoxicating properties.
In Russia, people believed the drink held its own spirit and it was used at religious ceremonies and events. A vessel sometimes containing more than a gallon of vodka would be passed around and those who refused to drink would be considered sinful. By the 1600s, it was custom to drink vodka at Russian Imperial banquets, where all meals started with bread and vodka.
During Czar Peter's reign there was a custom that each foreign ambassador attending the courtyard should drink the 'Cup of the White Eagle,' a nice euphemism for this drink of vodka, which totaled a whopping liter-and-a-half of the tipple.
"Ten-four" means "message received." "Understood," "okay," and "roger that" are some other translations.
Today is 10/4 (October 4), so some CB radio users thought it was a perfect day to celebrate 10-4, the 10 code, and Citizen's Band radio!
Ten-codes, also known as ten signals, are code words used to represent common phrases in voice communication, particularly by law enforcement and inCitizens Band (CB) radio transmissions.
The codes, developed in 1937 and expanded in 1974 by the Association of Public-Safety Communications Officials-International (APCO), allow for brevity and standardization of message traffic. They have historically been widely used by law enforcement officers in North America but due to the lack of standardization, in 2006 the U.S. federal government recommended they be discontinued in favor of everyday language.
The development of the 10-codes began in 1937, when police radio channels were limited to reduce use of speech on the radio. Credit for inventing the codes goes to Charles "Charlie" Hopper, communications director for the Illinois State Police, District 10 in Pesotum, Illinois. Hopper had been involved in radio for years and realized there was a need to abbreviate transmissions on State Police bands.[2] Experienced radio operators knew the first syllable of a transmission was frequently not understood because of quirks in early electronics technology. Radios in the 1930s were based on vacuum tubes powered by a small motor-generator called a dynamotor. The dynamotor took from 1/10 to 1/4 of a second to "spin up" to full power. Police officers were trained to push the microphone button, then pause briefly before speaking; however, sometimes they would forget to wait. Preceding each code with "ten-" gave the radio transmitter time to reach full power.
Ten-codes, especially "ten-four", first reached public recognition in the mid- to late-1950s through the popular television series Highway Patrol, with Broderick Crawford. Crawford would reach into his patrol car to use the microphone to answer a call and precede his response with "10-4". Ten-codes were adapted for use by CB radio enthusiasts during its pop culture explosion in the late 1970s. The 1975 hit song "Convoy" by C. W. McCall depicting conversation among CB-communicating truckers put phrases like 10-4 meaning "understood" and what's your twenty? (10-20) for "where are you?" into common use in American English. A 1978 movie Convoy, loosely based on the song, further entrenched ten-codes in casual conversation.
World Animal Day
Did you know that a cow's "moo" has a different accent depending on what region they originate from? Or that bats always turn left when they fly out of a cave? Zebras are actually white with black stripes, not the other way around. And flamingos can only eat when their heads are upside down! Here's another head scratcher: a duck's quack never echoes, anywhere, and nobody knows why! These are just a few of the million amazing animal facts – facts that prove just how amazingly wonderful animals are – and how their presence on this beautiful planet only enriches our own individual human journey through life.
There are a lot of things in the world that threaten the future of animals that call this planet home. Every day, natural resources are being misused, wetlands and forests are being destroyed for new cities to be built, and habitats are being fragmented for roadways. Harmful species are being introduced into ecosystems they do not belong in, and illegal wildlife trade and poaching are wiping out entire populations of animals. It's estimated that nine percent of all species become extinct every million years. In other words, between one and five species go extinct every year. This rate of extinction has sped up five times in the Earth's history. A mass extinction was last seen in full sixty five million years ago when the last of the dinosaurs became extinct.
As human beings, we are neighbors, roommates, and friends to these creatures, and it's our responsibility to help protect them so that their future generations can grow and thrive, and, in turn, our future generations can be blessed with the joy of sharing their lives with them too. World Animal Day began in 1931 as a way to highlight the plight of endangered species. This day has since evolved into a day to honor all the animals of the world, regardless of the celebrators nationality, religion, faith, or political beliefs.
The mission of World Animal Day is to
celebrate animal life in all its forms,
celebrate humankind's relationship with the animal kingdom,
acknowledge the diverse roles that animals play in our lives – from being our companions, supporting and helping us, to bringing a sense of wonder into our lives, and
acknowledge and be thankful for the way in which animals enrich our lives.
This day is not linked to any person, organization, or campaign! It belongs to all of the citizens of the world and all of their animal neighbors! It's a day for advocacy, education, unity, involvement, and the raising of awareness for all of the animal issues that exist throughout the world. You can learn about what different activities and events are taking place throughout the world in celebration by visiting
this link
as new activities and events are being added everyday.
How Can You Get Involved on World Animal Day?
There are so many ways that you can get involved on World Animal Day! You can…
Educate people on the animals of the world, the many unfortunate plights some animal suffer through, and tell them what World Animal Day stands for! Many people are not aware of puppy mills and illegal dog fighting, and they need to have knowledge about such issues in order to take positive action! For some, they also don't know just how awesome a no-meat lifestyle can be! You can also help dispel the negatively held beliefs about specific breeds and animals, and let people know how important it is to "adopt, not shop!" But remember not to nag, nobody likes that!
Expand your own knowledge and broaden your own horizons by picking up a book by an animal expert extraordinaire, such as Jane Goodall, or a children's book of the same style which you can share with some of the younger people in your life.
Write a letter to your local newspaper, or put up a post on your favorite social media site, or blog informing people of the day and the meaning behind it.
Donate to a local animal charity or shelter. Local shelters are always in need of food, litter, and supplies. Check with your local shelter before going shopping as many have a giving tree/wish list.
Volunteer at your local shelter or look into fostering an animal. The Creatures Division will be talking more about this next month, so stay tuned!
Make your garden more animal friendly, add a birdbath, and include bee friendly plants.
Say "thank you" to all the people who spend day in and day out helping protect and save animals. Stop by a local veterinarian's office or no-kill shelter and leave some sweet treats for the volunteers who celebrate "World Animal Day" every day! (Make sure you leave them in an animal free zone!)
Surprise your own favorite animal companion with an unexpected treat and carve out some extra time during the day to enjoy their company. If you know somebody who doesn't have that same opportunity, volunteer to spend some extra time with their companion, too!
The purpose of this day is for people to "use this special day to commemorate their love and respect for animals by doing something special to highlight their importance in the world. Increased awareness will lead the way to improved standards of animal welfare throughout the world." So go out and do something fun and positive! Empower. Educate. Collaborate. Be a part of something special this October 4th to celebrate all of the animals of the world!
World Pet Day
Today is World Pet Day, a celebration where people across the earth come together and show their collective love for pets. But as you're showing your dogs, cats and other creatures extra love.
Sunday marks the annual celebration of World Pet Day, celebrating all of the happiness our furry friends bring to us and calling on devoted pet owners to donate to organizations dedicated to fighting animal cruelty.
According to the folks behind the holiday, approximately 7,000 domesticated animals die from abuse in the United States each year, and far more suffer from such abuse. Participating in this celebration not only allows us to make new memories with our best pet friends, but also helps those who need it most.
A pet or companion animal is an animal kept primarily for a person's company or protection, as opposed to working animals, sport animals, livestock, and laboratory animals, which are kept primarily for performance, agricultural value, or research. The most popular pets are noted for their attractive appearances and their loyal or playful personalities.
Pets commonly provide their owners (or guardians) physical and emotional benefits. Walking a dog can supply both the human and pet with exercise, fresh air, and social interaction. Pets can give companionship to elderly adults who do not have adequate social interaction with other people. There is a medically approved class oftherapy animals, mostly dogs or cats, that are brought to visit confined humans. Pet therapy utilizes trained animals and handlers to achieve specific physical, social, cognitive, and emotional goals with patients.
The most popular pets are likely dogs and cats, but people also keep house rabbits, ferrets; rodents such as gerbils, hamsters, chinchillas, fancy rats, and guinea pigs;avian pets, such as canaries, parakeets, and parrots; reptile pets, such as turtles, lizards and snakes; aquatic pets, such as tropical fish and frogs; and arthropod pets, such as tarantulas and hermit crabs.
Some scholars and animal rights organizations have raised concern over pet-keeping with regards to the autonomy and objectification of nonhuman animals.